Hi guys! How are you?? Hope you're having a lovely Sunday 🙂 Thanks for the compliments on my second Foodbuzz challenge dinner. It was a BEAST, but I'm glad to have a newfound appreciation for ravioli.
We've done a number on the cake already 😉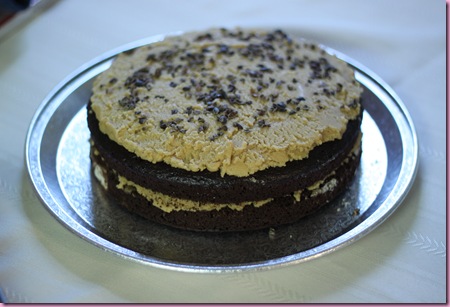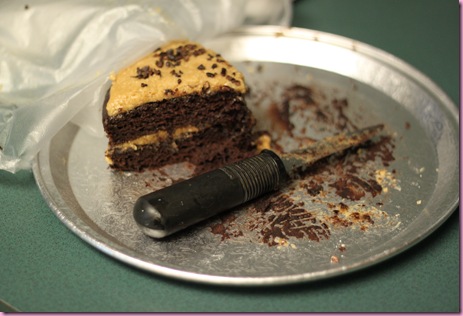 Heh heh.
So yesterday morning, my cousin Emily and I went to Dance Trance. I've been wanting to try it ever since Katy told me about it when we had our Seasons dinner! Zumba has done an amazing job of filling the "I miss dance" void (I danced up until 5 years ago and taught through high school and college), but I was so excited to try something different and more traditional style since Zumba is Latin and international rhythms.
Here's what a class looks like:
Flashing lights, loud music, amazing choreography, current popular songs… I was in love 🙂
While the moves were a lot of standard hip hop and jazz moves, instead of feeling like a traditional dance class, it totally had a music video/club vibe.
Amazeballs 🙂
For Dance Trance classes, you can either go during the week for the "breakdown" classes, where they go through the choreography and all of the moves, or you can show up to the full cardio class, where they do all of the songs for an hour and a half, without any breakdown. The verses and choruses repeat choreography so it makes it easier to pick it up. I'm excited to go back and see how much I remember 😉
Since Dance Trance is down the street from Infusion Tea, we made a little stop on the way home 😀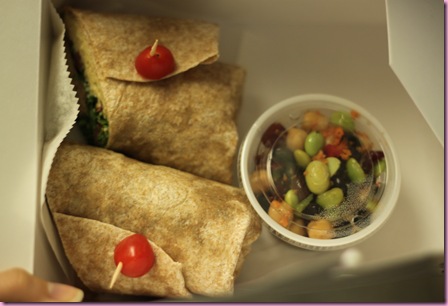 The standard Concorde Wrap (hummus, greens, tabbouli and balsamic) with bean salad.
I ended up saving it for dinner because the can of pumpkin was staring at me 😉 I found Libby's pumpkin at Publix the other day (finally!!!) and may have screamed in delight and danced down the aisle holding 6 cans.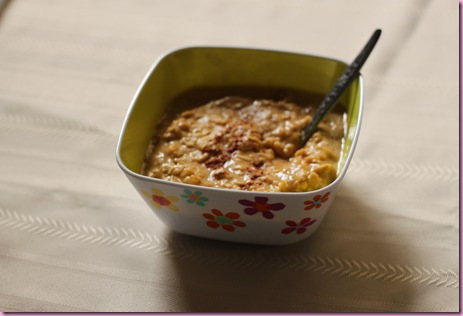 Pumpkin protein oats with:
-1/2 C pumpkin
-almond milk
-1/2 C oats
-1 scoop vanilla Sun Warrior
-Cinnamon and Stevia
Today I'm off to walk the puppers and then to work for a little while.
Hope you have a great day!
xoxo,
G
Something to talk about: Techie help!!! The blog has been a little iffy ever since I switched hosts a few weeks ago. Some friends have let me know that my posts aren't showing up in Google reader and the subscribe link on the top right side is broken. My webmaster broke up with me since I switched hosts and I'm not so good with technology….. If anyone knows how to fix these or knows of an awesome webmaster I could hire, please let me know! <3
Today's workout jam: "Hold You (Hold Yuh)" by Gyptian – I am obsessed with this song right now- perfect for a cool down 🙂