Barre for everyone (total body workout)
This is a barre workout that anyone can do, using only a pair of dumbbells. It's a great bodyweight endurance workout to strengthen muscles, burn fat, and challenge your body in an entirely different way.  
Hi friends! How are ya? Hope you're enjoying the morning so far. Today I have a podcast interview, am lifting some weights (arms from Lean Machine) and spending the rest of the day outside with the girls. I'd love to hear what you have going on!
For today's workout, I have a new barre workout for ya. I have to admit, it was so much fun (and kind of ridiculous) taking these pics on the gorgeous steps at La Encantada.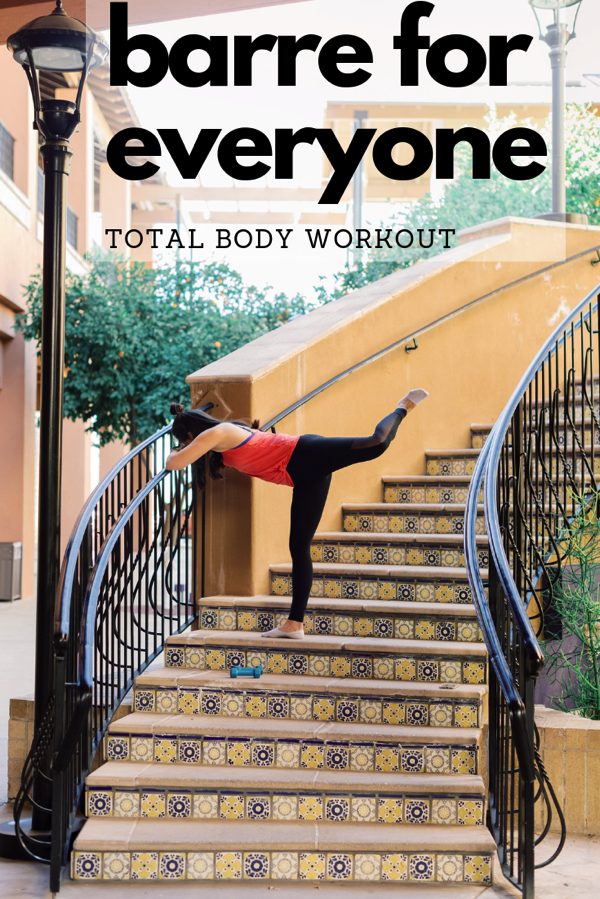 (Wearing Fabletics tights and lululemon tank)
This workout combines some of my favorite classic barre moves with endurance strength work using light dumbbells. The dumbbells may look small at first, but I promise that they burn after verrryyy quickly. (As always, check with a doctor before making any fitness changes. Honor your body and modify if needed. Barre works well for many populations, but isn't always a great option for those who have knee or hip considerations.)
Here's what the workout looks like:

Form cues and tips:
Barre for everyone workout:
Lunge left with pulse: for your lunge, make sure to watch your front knee and keep it stacked right over your front ankle. Come down to your lowest point and pulse here.
Lunge leg lift: next, you'll move into full range lunges with a leg lift. Squeeze your glutes to lift your leg, and keep your core tight and toe pointed.
Hip extension pulse: hold your leg high and start to pulse at the highest point, squeezing your glutes to lift your leg. (Think about using glute strength instead of momentum.)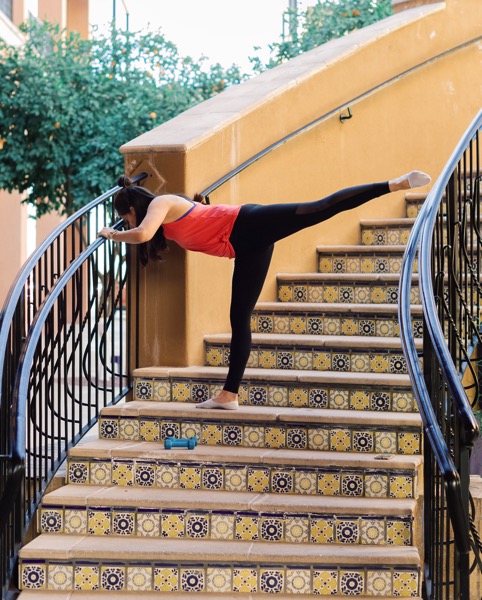 Tiny toe circles: hold your leg high and draw a circle with your toe- 20 circles in each direction.
Side leg lift pulses: open to the side, keep your core engaged, and flex your foot. From here, pulse up 20 times.
Plie squat with heels lifted: find your lowest point and make sure to keep your hips tucked under and your shoulders back and down.
Flare: hold your knees wide and then "flare" — pushing your knees open. (Make sure you're engaging your glutes to move your legs.)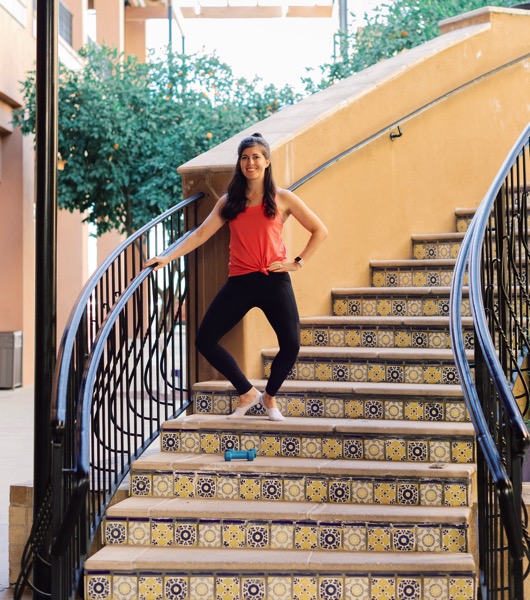 Hold: hold your lowest point! Keep your heels high and find your lowest, shaky point.
Strength Endurance:
Chest press: Hold the weights at 90 degrees. Squeeze your chest to bring the weights in, open back up, then press the weights overhead.
90 degree pulses: Hold the weights at 90 degrees and pulse up.
Plie squat and overhead reach: Come into a plie squat and use your back muscles to squeeze the weights behind you. Rise from your squat (squeeze your quads) and press the weights up overhead.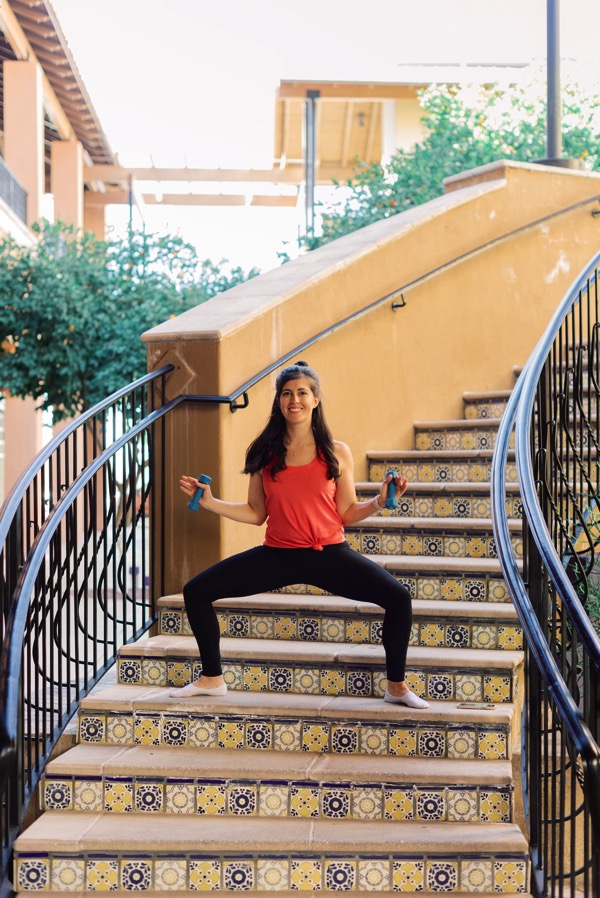 Triceps extension: Hinge forward from your hips and keep your core pulled in. Squeeze the weights in, bringing your arms close to your torso, then extend your arms behind you. Think about really squeezing the backs on your arms as you extend. Complete full range extensions, 20 pulses at the top, and then hold for 20 seconds at your highest, straightest point.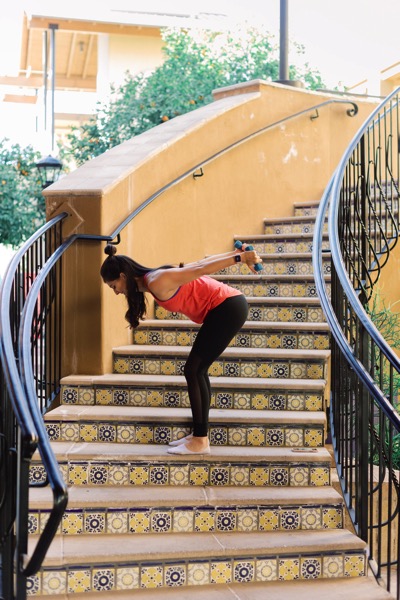 Please let me know if you give it a try!
xoxo
Gina
Wearing: Fabletics tights and lululemon tank
Photos: Tara Leinen
More of my favorite barre workouts:
Total Body Barre Workout Video
Full-length Barre and Pilates Abs Workout
10 Barre Workouts You Can Do At Home