Suja Rock n' Roll Half Marathon San Diego Recap
The images of dancing juices at the finish line must have worked, because after five years, I finally have a new PR for the half marathon <3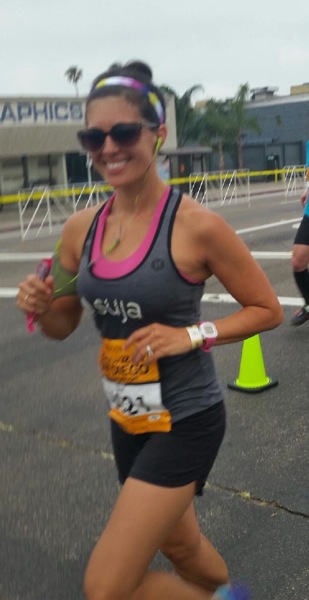 As you guys know, Suja invited me to participate in the half marathon here in San Diego and I was apprehensive about saying yes. After injuring myself and backing out of a contract last year, I felt nervous to partner with a company for another half. I didn't want to 1) jinx myself and get injured again and/or 2) wear their brand on my shirt and get picked up by the slow wagon. I knew that it was an opportunity to give myself another chance and I'm glad I decided to go for it. (For the record, the juices at the finish line were totally worth it.)
Suja hosted a few additional events for the Suja bloggers (Meghann, Monica, Leta and myself) and they were all a blast. We stopped by the Expo Friday afternoon to pick up my bib and check out the vendors,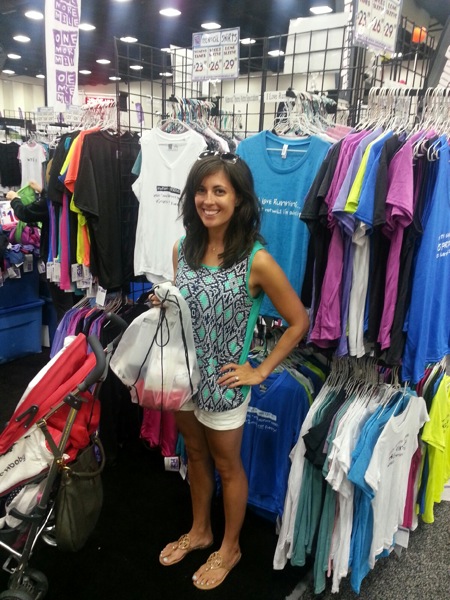 and later that night we were treated to a delicious dinner at Searsucker downtown. Annie Lawless, one of the co-founders of Suja was there, too! We're friends on Instagram, and despite her huge success with the brand -it's only been around for two years and has grown exponentially- she's extremely humble and fun to talk to. It was a great girls' night 🙂
For dinner, we shared a few appetizers: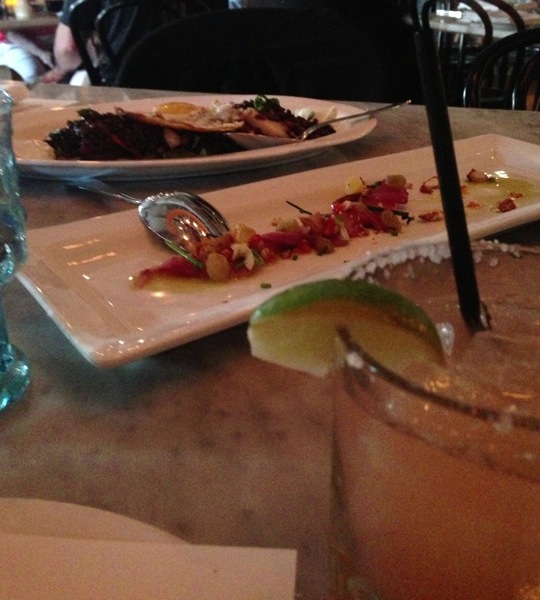 (my favorite was the artichokes)
ordered entrees (I rolled with the salmon which was crisp, light and served atop creamy sauce and roasted parsnip), and then headed to The Headquarters for the Suja Cocktail party.
Word to the world: Suja is especially glorious when mixed with sparkling white wine.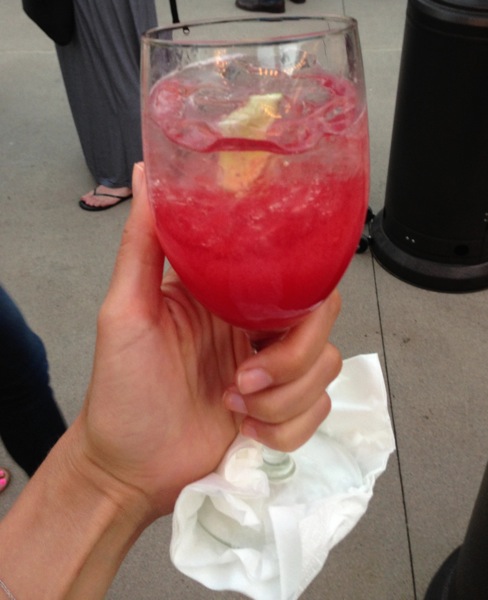 At the cocktail party, we had the opportunity to speak briefly with Meb Keflezighi (aka the winner of the Boston Marathon, who is from San Diego) and listen to the speeches. The Team in Training representative got the eye prickles going; it was awe-inspiring to hear their stories and how the representatives raised their funds.
The next day, we had lunch at True Food kitchen, which is in my top five all-time favorite restaurants. We have one in Scottsdale, and I had NO CLUE there was one here in San Diego. (I shop at Fashion Valley fairly often, but never make it to the restaurant side haha)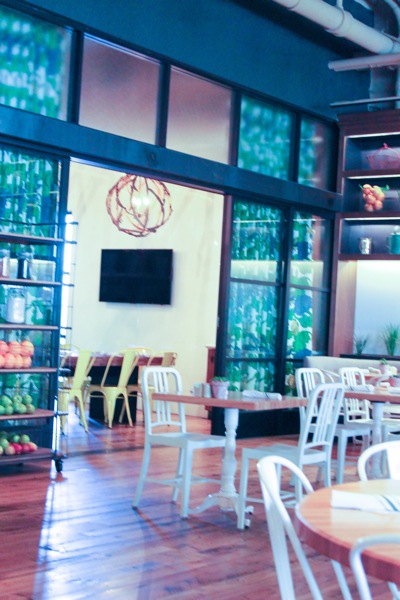 The offerings at True Food are hearty while using whole ingredients. They have generous serving sizes, locally-sourced options, and also have a wide variety of gluten-free, vegetarian and vegan dishes. I got a chicken, veggie and egg scramble with a side of sweet potato hash.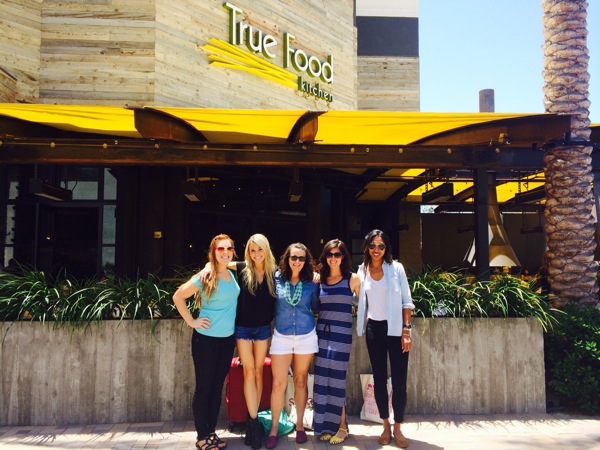 (With Monica, Annie, Meghann and Leta!)
I came back home for a beach day with the crew -Kyle, Meg and Lindy had just arrived- and then we all called it an early night after dinner at OB Noodle House and watching Pitch Perfect. Never gets old 🙂
Then, it was race day morning! I have to take a moment of appreciation for the Pilot who woke up at 4:20am to drive me to the race site. True love.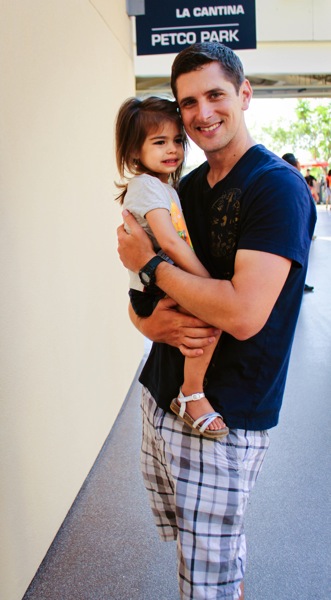 (He also went home to wake up sleeping Livi and bring her to the finish line. Love these two so much.)
When I got to the race, I chilled at the VIP tent by the starting line.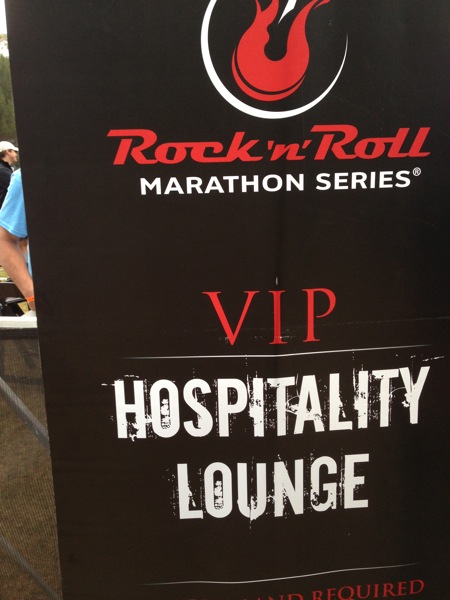 It was my first time doing anything like this -usually I'm sitting in the grass chugging coffee and shivering somewhere, or dancing in the portapotty line- and MAN. It was amazing. They had coffee, juices, full breakfast (granola, yogurts, bagels, peanut butter, bananas), water, a PT tent to get stretched out before the race and bathrooms. Hallelujah.
Oh, and stamped oranges. I got a kick out of this special touch: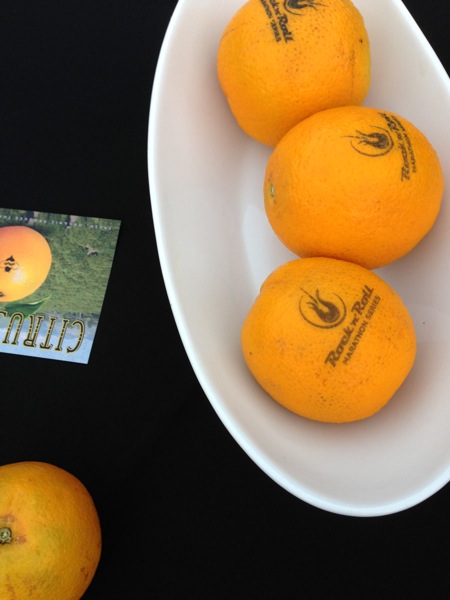 I had packed up some overnight oats to eat, but race morning, they seemed kind of heavy and I wasn't in the mood. In the spirit of breaking all of the rules on race day, I had 3/4 bagel with peanut butter and half a banana instead.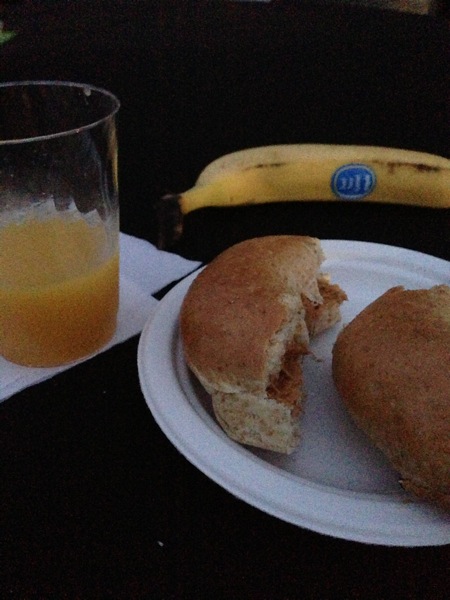 Blogger friends!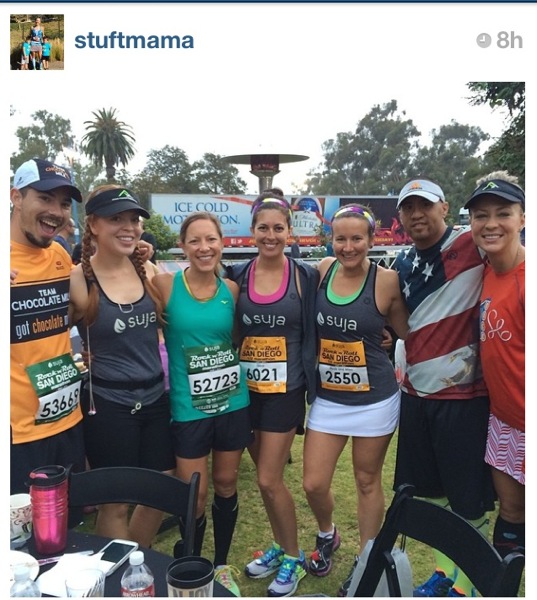 (Pavement Runner, Monica, Kristin, Meghann, TSA and SR)
Meghann and I said good luck to our friends and watched the marathoners head through the starting line,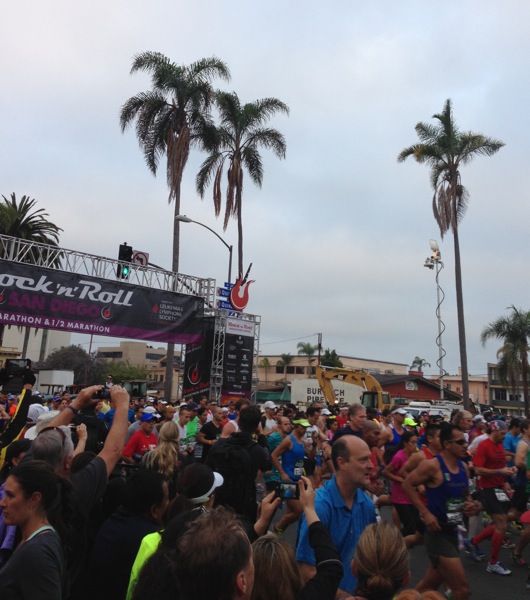 and got ready for our turn to start. Before I knew it, I had my music blasting and was enjoying the course and sites.
My playlist for this half, which I started around mile 3: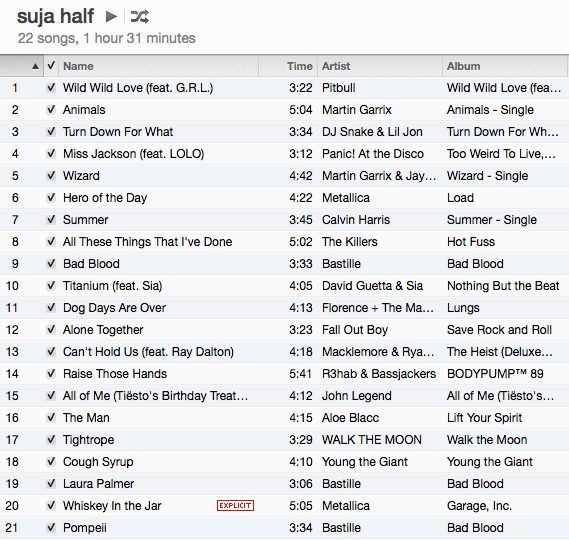 This was the first time in a long time that I've raced and felt GOOD. My knee didn't hurt -thank goodness- and while I got tired towards the end, I didn't feel like I was in pain. I felt excited the entire time, which was largely because I wasn't in pain. After being roadkill for my last half, this race was entirely different. As I mentioned before, I broke the major "race rules" and it worked in my favor.
-Race rule #1: Fuel the same way you do in your training. I had OB Noodle House the night before and ordered something totally different: grilled teriyaki chicken and rice, which came with salad. It was perfect! I loooooove their pho, but it seemed a little salty/greasy so I decided to get something more bland. Pre-race, I had the bagel meal above, and during the race, I took Meghann's philosophy for fueling. She told me, "Whatever they have, I eat or drink." So I had orange slices, Gatorade, lots of water, a Jolly Rancher someone handed to me and only 3 of the Shot Bloks I'd brought with me. Because I was fueling the entire time, I never bonked or hit the wall, but didn't consume too much to the point that it slowed me down.
-Race rule #2: Don't wear anything new on race day. Suja gave me the cute grey tank top and a tech tee so I could decide which one to wear. I prefer running in tanks, but the sports bra inside the tank top was cutting off my circulation. So, I cut the band on the inside of the tank on the sides of the built-in bra. It worked out well, and now the shirt actually fits my ribcage 😉 I also wore my beloved lululemon Turbo Run shorts, my Garmin and my Reebok ONE Cushions with the Superfeet inserts.
The course and race were extremely well-organized. The aid stations were frequent, the scenery was gorgeous, and I loved the live music. There was a group of African drummers which tempted me to Soli Beat and a reggae group I especially loved. Despite the fact that 30,000 runners were there, everything seemed to go smoothly. My only complaint was that the course was a little long. It was right on until the very end, but ended up being 13.17 miles instead of 13.1. NBD.
Here are some things I think helped me shave about 3 minutes off my PR:
-I practiced on the same terrain in the same environment. Living here definitely helped, and it also had combination of novelty from new sights + the convenience of knowing where we were running. I recognized quite a few spots but everything still feels very new and exciting here. When I was training in Tucson, I ran a lot of trails which was a mistake since many races are a mix of road and pavement. The ol' knees were used to it this time.
–Orangetheory and Barre. For my long training runs, I viewed them as they're supposed to be: easy runs. I kept my pace slow and focused on distance instead of time. At Orangetheory, it forced me to push my speed. I was able to maintain my "push pace" (about 8:35) for the entire race, and I know it's from getting used to that feel at Orangetheory. We never hold that pace for very long, but we sprint up hills and focus on speed intervals, so the hilly portions of the race weren't bad at all. For my training I did one long run each week and one Orangetheory class. It was enough to build up the distance and increase my speed. Most importantly, it taught me to keep running even when I was at an uncomfortable incline and pace.
Barre has increased my muscular endurance from the high repetitions of the workout. It's also helped with my abductor (outer thigh) strength and stabilization, and glute strength. Since my muscles are stronger now, they were able to handle the motions of running without compensation from my other muscles and into knees.
For my training, I did 6 weeks of long runs building up to the race in addition to one Orangetheory class each week. My mileage each week was 5, 6, 7, 8, 10, 6, race.
-Sleep! Usually I have a hard time sleeping a hotel the night before a race, so it was awesome to be here in our comfy bed. Also, two nights before I slept for 10 glorious hours and had banked up some awesome sleep.
-Pure determination. I thought about how badly I wanted to PR, especially since my first half marathon five years ago was also my best one. I really wanted to break the record since having a baby and prove to myself I could do it, so I kept that thought it my head during the race. I feel more fit and conditioned now that I did for my first half, was injury-free (wahoo!), and really wanted to make it happen.
My Garmin time was 1:53:48 and the official race time was 1:54:17. I'll take it 🙂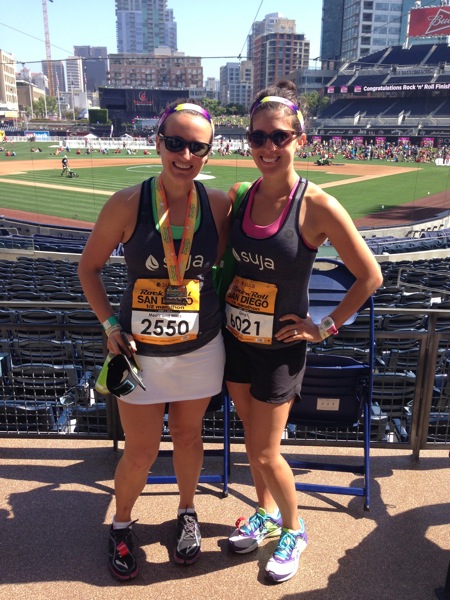 Thank you again to Suja for the opportunity to participate this weekend <3
Any race victories or PRs lately? What's something that has helped your running?
Shout it out in the comments below!
Have a wonderful morning <3
xoxo
Gina