aka the conversation starter in our kitchen.
When Juicero reached out to me and asked if we wanted to try one of their new juicers, I hesitated. I have a juicer, it has collected dust for who knows how long, and I've been just buying juices for convenience sake. And then, I watched the video.
No produce washing and chopping,
and NO CLEANUP.
I was sold instantly, and needless to say, I did a dance of celebration when the box arrived.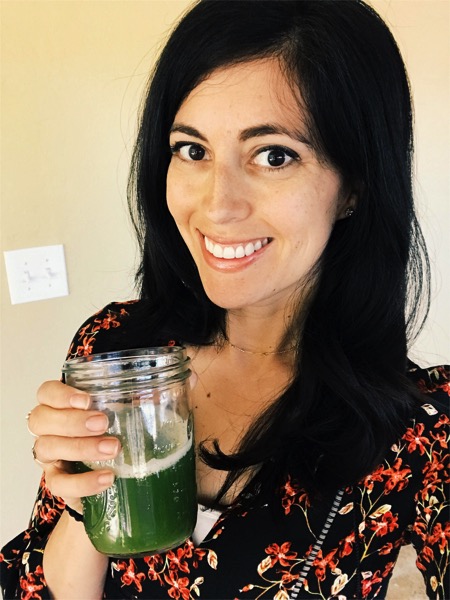 We set it up to WiFi (it's a very smart juicer that needs internet connection to do its thang), and pressed our first juice. It's been love ever since. I've found myself really looking forward to having a fresh juice, and challenged myself to replacing the afternoon caffeine jolt or chocolate with juice. It feels great to be back in the habit. While I'm still drinking coffee -I need to live- I found that I feel more energized from having more cold-pressed juices in my life.
Since we've had it for a few weeks now, I thought I'd break down the pros and cons of this beautiful juicer. (Side note: we started referring to it as the iJuicer because it's so sleek.)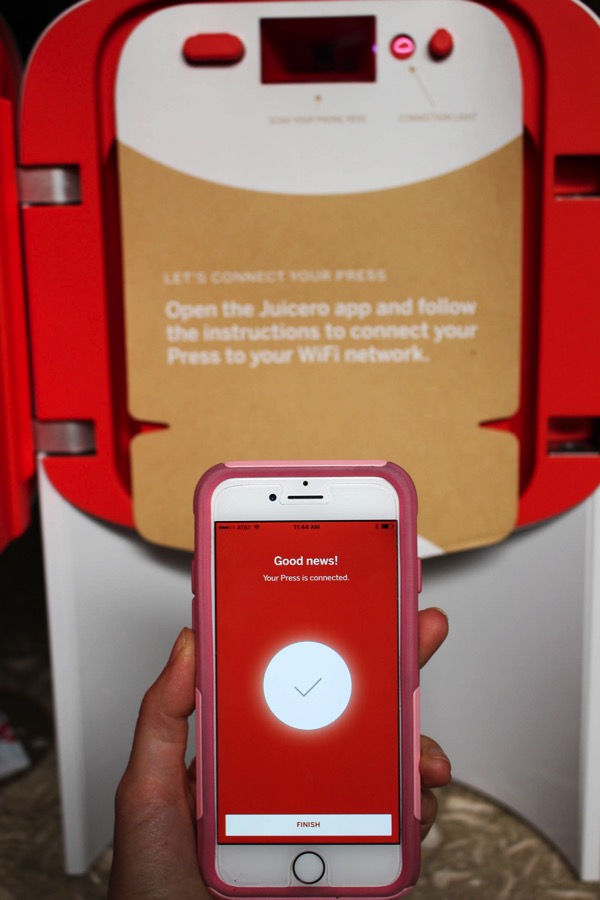 Pros:
-The produce is certified organic and has been washed, chopped, and packaged into a convenient bag. This is a huge gamechanger. I love fresh juices, but I kind of hate having to wash and chop everything, and then clean everything up. I used to bribe myself with juice: one I made the juice, I couldn't drink it until I had cleaned the juicer. Cleaning the juicer wasn't that bad, but it was enough of a chore to keep me from making juices regularly.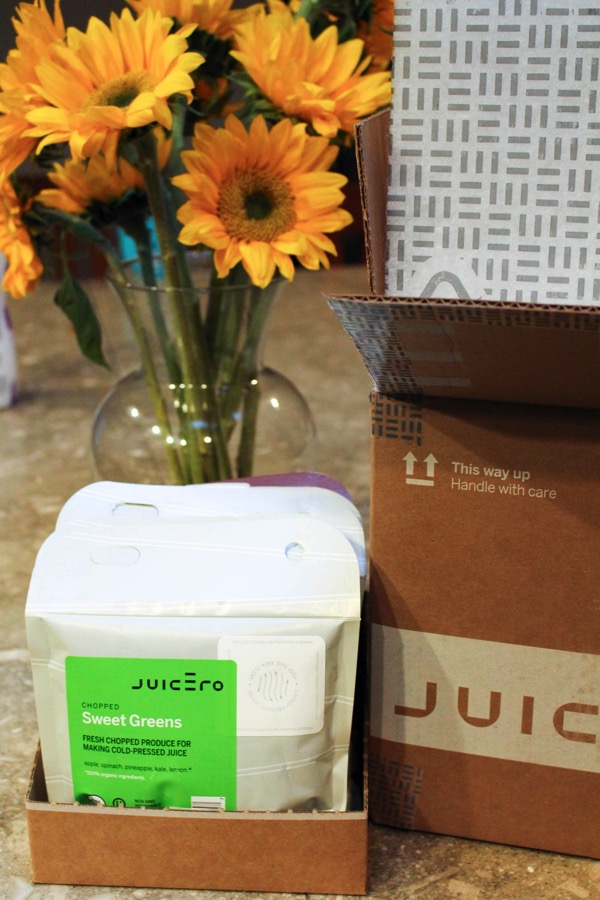 -You have the opportunity to try new juice flavors!! All of the combos we've tried have been new, and completely delicious. The Beta Glow is my personal favorite: carrot, lemon, apple and ginger. It's sweet with the littlest hint of spice. The Green Zing, however, will smack you in the face. It's SO spicy.. and I love it.
The juices are so delicious, and I especially love that they don't separate after sitting for a while. The texture is super smooth.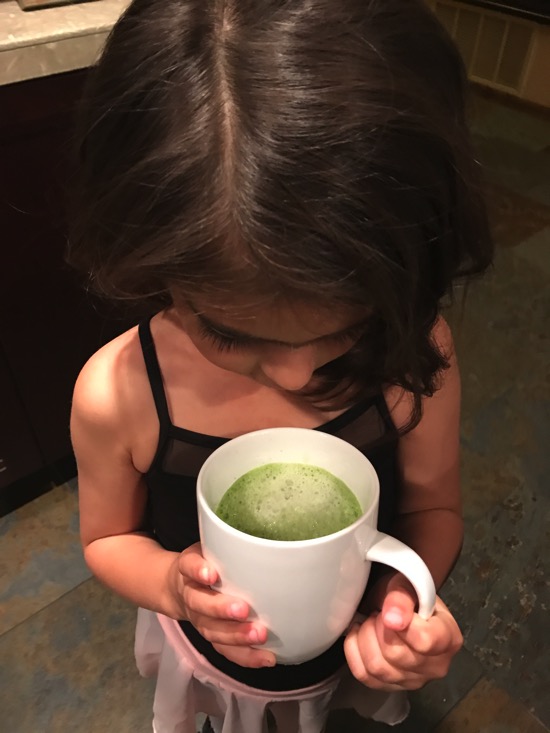 -It encourages you to get more nutrients from produce in your diet. I have to admit that there was a while there when I was eating mostly brown and white food. I was so busy chasing the girls around and trying to plan for the move and catch up on life, that an egg burrito was the only thing happening over here. I've gotten back in the swing of things, but found that a juice makes it easier to hit my 5 servings of produce each day.
-It's wicked smart. The machine has a QR scanner, which scans the back of the pouch when you juice it. It removes it from your virtual shelf in your app, and also will tell you about nutrients in the juice from the app. If you have a pouch in the fridge that's about to expire, the app will alert you to use it before it goes bad. If you put an expired juice pouch into the machine, the QR reader will note that it's expired, and will not press the juice.
Cons:
-It needs WiFi. One night our Wifi was being a little spotty, so we got an error. I tried tethering it to my phone, but it didn't work.
-You can't customize your flavors. One of the things I like about making my own juices is that ability to choose what's going in. For example, I LOVE mint in my green juice and it's rarely offered at juice bars. While I love the flavors they provide in the packs, I think it would be cool to make your own flavors from the website.
-It's expensive, but so are many cold-press juice extractors. Back in the day, I got a traditional juicer (which really just pulverizes the fruit) because the cold press variety were so expensive. (The benefit of cold pressing juices is that the nutrients remain intact for a longer period of time.) Cold press juicers were around $800, and you still had all of the prep work and cleanup to do. This juicer is expensive (around $400 ) but over time, I think the convenience adds up. The packs are about $5 per pack, and to get a juice from a juice bar is around $9 here in Tucson.
A fun video compilation of juices (including my brother Kyle, the master taster):
Juicer offered a 10% discount to Fitnessista readers using this link and the code GH10.
So tell me, friends: do you love fresh juice? Do you juice at home? What's your favorite juice or smoothie combo?
xoxo
Gina
This post was not sponsored, but we did receive a complimentary Juicero and juice packs. I loved them so much, I wanted to share the word with you!! This post does contain affiliate links, and I genuinely appreciate your support.