When your spouse or significant other isn't into fitness
Hi friends! How's your day going so far? The Halloween bug is slowly taking over our house and I'm so excited to get up some holiday decor.
I spent last night drinking a glass of wine and painting pumpkins: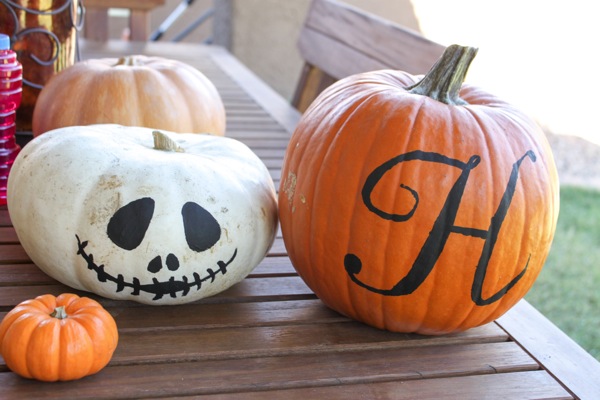 (I have awesome plans for the last pumpkin.. just need to replen my puffy paint supply)
Funny story: Liv and I were walking through Target last week and checked out the dog Halloween costumes. I said, "Look, Livi, Bell could be a hot dog!" Apparently, she got a kick out of it because ever since, she'll randomly say, "Bell-bell HOT DOG!"
Sorry, Bell. You may have to wear a hot dog costume on Halloween.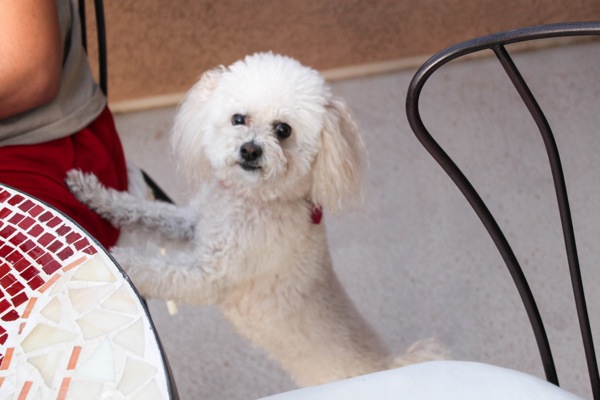 I also wanted to tell you guys about the shoes Reebok sent per our partnership: the new CrossFit Nano Speed. They are SUPER light, and feel like they propel you in a forward motion– just wearing them makes me want to run! They're the first shoe designed for running-based cross training -awesome for my weight and cardio circuits- and I've been wearing them to teach bootcamps and Tabata classes. I especially love the bright, funky colors.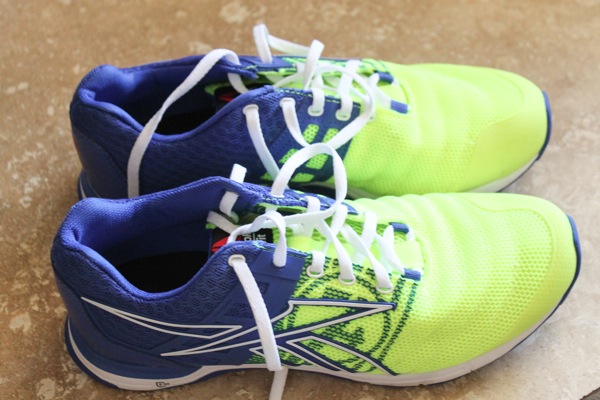 So, this weekend, I got a question in the comments section that I've been thinking about:
Kristina said,
"Just kind of curious…does the Pilot with his busy schedule make gym time? Is he as interested in health and fitness as you?
How do your perspectives affect one another? I've been in two previous relationships where the guy just didn't share these passions and eventually things didnt work out…"
I replied, "He hasn't until the past couple of weeks and started running again. We actually had to have a long talk about it… not because i wanted him to start teaching classes or anything crazy, but because i want him to live for a while"
and Jessica said, "This would make a great blog topic, my husband and I often struggle with this. He goes in spurts of working out and eating healthy. It can also be I motivating for me when he doesn't exercise."
The Pilot and I used to work out together all the time. When we first got married and were living in Fayetteville, he'd join me for a weights session or would be pumping iron while I took a class. This was also during a huge transition time with the squadron -we were all getting ready to move to Georgia and out of Pope- so his schedule was pretty low key. Then we moved to Georgia and that's when his schedule changed dramatically. He was constantly going through flight upgrades, gearing up to deploy, or deployed. During his deployments, he worked out a lot since the gym was one of the few things to do there, but when he was at home, he was working like crazy without room for much else. He has an incredible ability to pick up where he left off, so he'd occasionally join me for long runs or weights sessions. Even if he hasn't been running, he can easily do 8+ miles and has always rated "Excellent" on his PT tests.
The pattern has kind of continued from there, and it's something we've talked about. I've seen how much of a stress reliever exercise is for him, and told him I wanted to keep him around for a while. He can defy nature in the sense that the man can eat a dozen donuts and get another chisel in his 6-pack abs, but on the inside, I was concerned about his heart health from rarely doing cardio. We've been doing family walks together, a fun race with Livi in the jogging stroller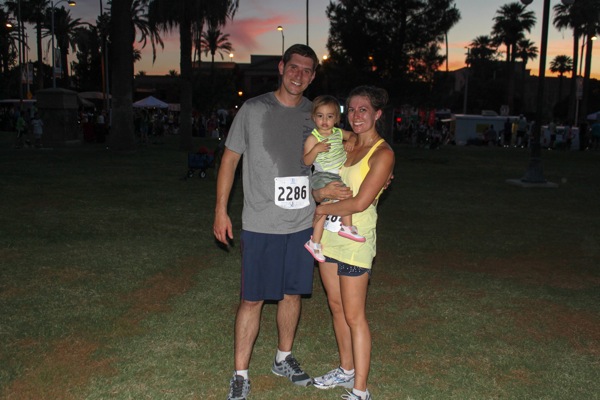 and trips to Sabino Canyon, but there's something to be said about the endorphins and benefits from a consistent routine.
Then, out of the blue, he started training for a marathon with a group of guys from work. He still works long days, but we've been able to work it out with our schedules so that he can train while Livi and I hang out. The Pilot and I each ran 10 miles this weekend, and while it was on separate days, it still kind of felt like we were working out together. We could complain about our sore legs to each other 😉 It was kind of nice, too, because Livi and I spent Sunday morning at the market together and then the Pilot met us there for crepes.
I definitely feel like having an interest in fitness can be a great bonding experience for a couple, but I don't think it's totally necessary. Fitness is something I do for health, but it's also one of my hobbies, as I really enjoy it. In the past, I dated guys that were really into fitness (bodybuilder-type dedication), and some who never set foot in a gym. In the end, the fate of my relationships had little to do with our hobbies.
In your spouse or significant other into fitness? Have you had a relationship where your hobbies were entirely different?
What's your favorite fitness date?
I think a hike and picnic is the perfect fitness date 🙂
Hope you have a wonderful night <3
xoxo
Gina