(try saying that five times fast!)
Before we get this party started, I have to tell you about two things.
1) Trader Joe's has K-cups!!!!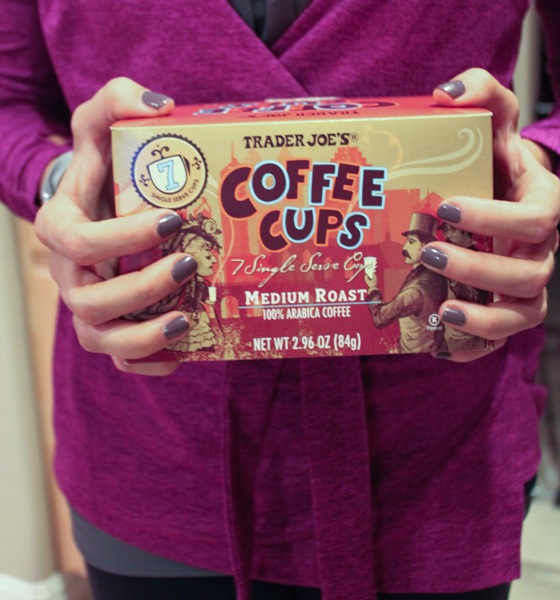 2) We're getting a spin bike today.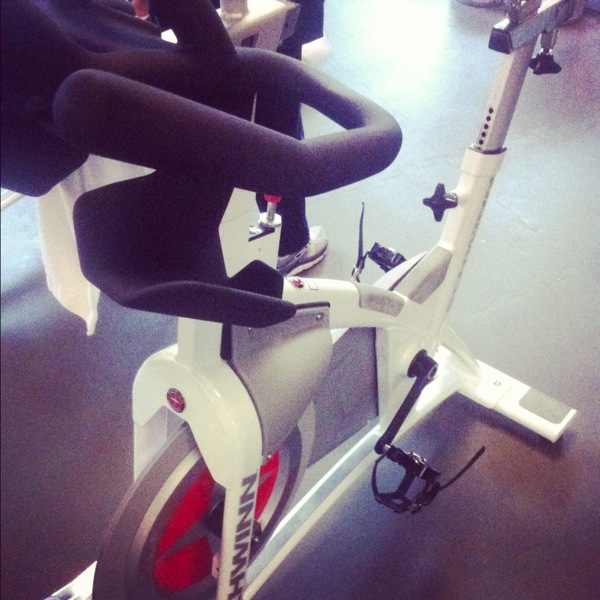 I'm a little too excited about the second one, as I've wanted a spin bike for about 5 years now. I was given the opportunity through work to buy one at a super sweet discount, had to enter a raffle for the chance to buy, and my name was chosen. I'm going to go pick it up today, and I can't wait. The last piece of equipment that our home gym was lacking was a source of cardio (besides the jump rope), and I think I'll use a spin bike more than I'd use a treadmill. I'll post a picture when I pick it up! What's a good name for a spin bike? 😉
I've received quite a few requests for my favorite fall fitness pieces, and I figured it would be a great time to share them since it's getting a little chilly.
Here's what I'm loving for fall workouts:
(not including the usual staples like my beloved Garmin, headphones and Camelbak)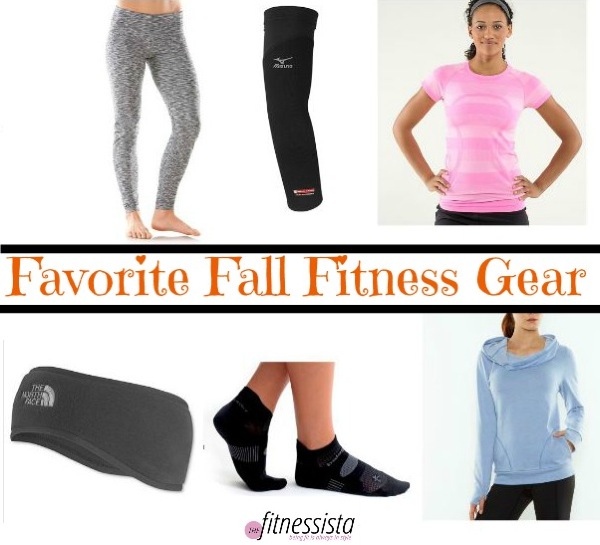 1) Moving comfort tights (<– I own this pair and get compliments on them every time! They feel amazing.) They're warm enough without being too thick or hindering. I'm SUPER picky about tights -I'm a shorts girl through and through- and these one definitely past the test. I feel like a lot of tights are either itchy or too warm, but these are soft, breathable and lovely. I especially adore the funky prints.
2) Mizuno arm sleeves. These are perfect for long runs and races because I'll often get too warm in long sleeves or a jacket.
3) lululemon run swiftly tee. This is an amazing lightweight material for all seasons: light enough for summer, but enough to keep me warm with a tank underneath.
4) North Face ear warmer. If my ears are cold, it's all over. This doesn't get too sweaty, and is great for outdoor morning workouts.
5) Balega socks. I used to never be a "sock" person -basically, if I could find two socks, I considered it a win- until I tried these. They wick sweat away from your feet, and are super comfy.
6) Anytime anywhere pullover. I love to and from pieces for workouts, especially since I'll wear a tee or tank, and am on a pullover kick right now. They're a little less casual than a hoodie, and work for running errands (and life), too.
7) Gloves. For these, I don't do anything fancy; I go to Target and get the $1.99 pairs in case (or "when") I lose one.
What's your favorite fall workout item? Are you a pants or shorts kinda girl (or dude)?
Hope you have an amazing day! I'm off to test out the water treadmill.
xoxo
Gina