where the palm trees sway
Hi friends! How was your weekend? I hope you had an amazing one! It was rainy and lovely around here, so Sunday was spent snuggling and relaxing. It's also been super windy, so our yard is officially a palm tree shedding ground. There's something creepy about watching them gently sway at night.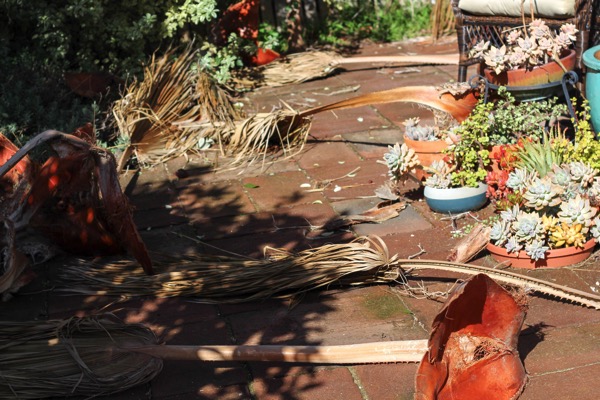 Some pics from the weekend: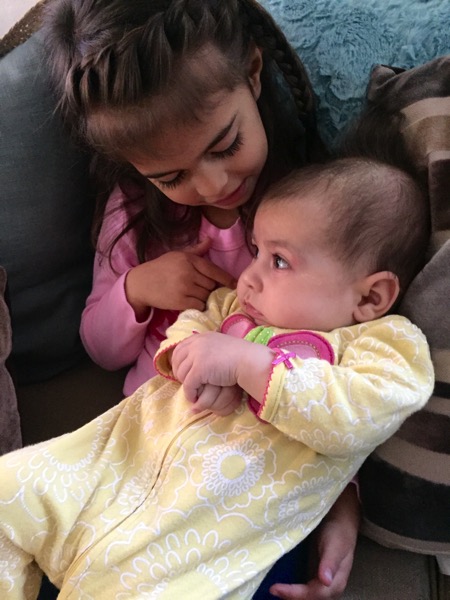 ("Penelope, you are my best friend. Ok?")
Friday night I was SO excited to finally try out Plant Power. Plant Power is a vegan fast food restaurant, with tons of healthy and raw options. Needless to say, I've been fangirling over this for months. When it finally opened, I was like WE HAVE TO TRY IT and basically danced all the way down there. I was excited to see that it was bright and clean, with lots of healthy options for the fam… even though the Pilot was like "What is 'beefy' and why is it in quotations?" The verdict: let down! I'm hoping it's just growing pains. I debated over the menu for 18 years and finally decided on the Holy Guacamole burger (tempeh patty) wrapped in cabbage. The burger was mushy and had the weirdest texture.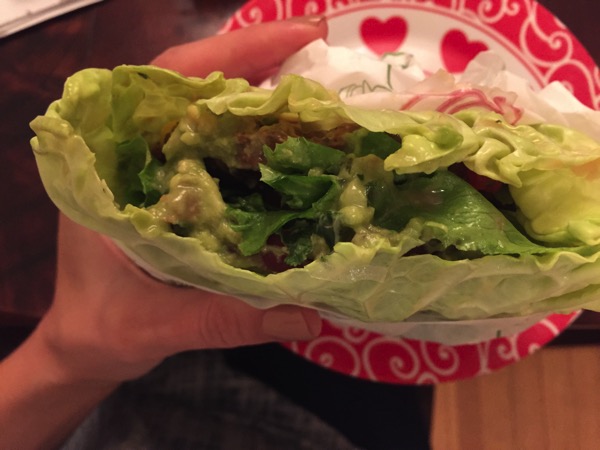 I mean, I ate it, but it was not my fave. Also, I picked up a chocolate chip cookie to share with Liv and it was really salty. I love salt in my baked goodies, but someone went a little overboard. Even the bag fries I stuffed down my face while driving home were mediocre. The best part about the meal was the prices -$21 to feed our whole family- but the food was just ok. I'll definitely go back and try something else, but I thought the burgers would be where the magic is! Sadly, no.
Speaking of fast food, Starbucks for the whole family: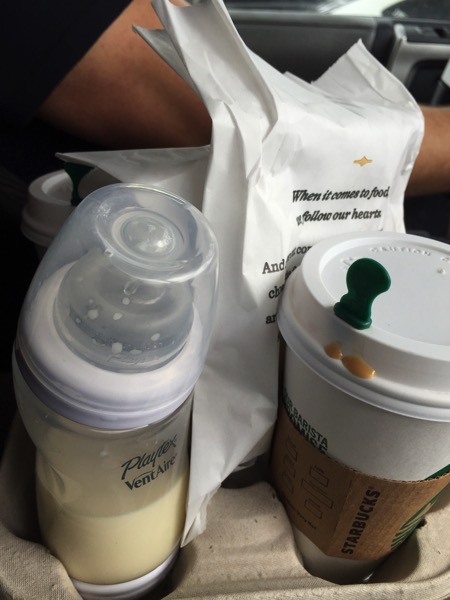 (Don't worry, I just put P's bottle in there to tote it up to Liv's ballet class)
and Saturday I took a beautiful yoga class. It was everything I needed, and the instructor talked about creation and how we have the ability to create our own destiny. It's so easy to get caught up in things "happening to us" instead of focusing on the actions we can take, and the ways we can initiate change. It was exactly what I needed to hear. With the medical stuff going on, I've had a lot of the "why is this happening?" type of thoughts. It was a good reminder to focus on the things I can control. Also, I did my first postpartum headstand! I've been afraid to go up all the way since my core is still pretty weak, but I decided to go for it. No yoga dominoes occurred, and it felt so good to be upside down. 🙂
Shopping at Lorna Jane: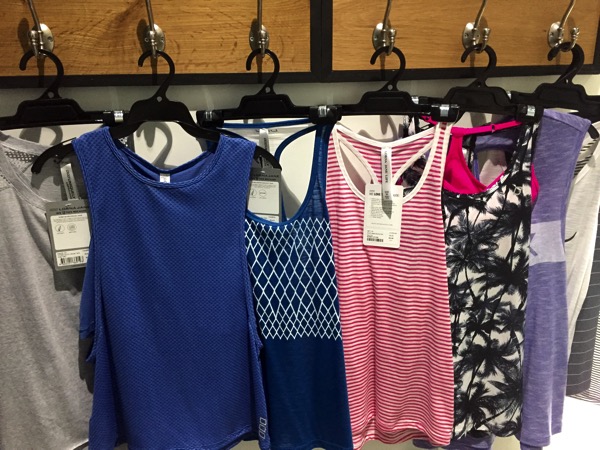 (picked up a few new tanks including this one)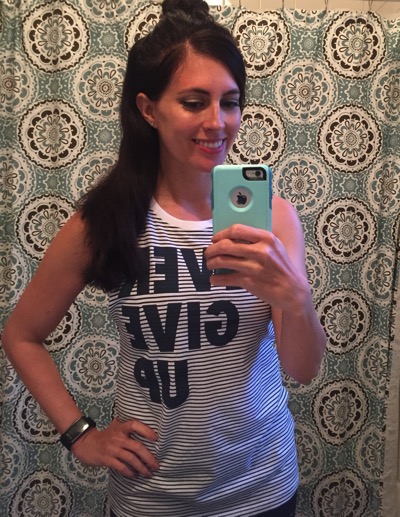 Saturday night we ate at Soup Plantation since we still hadn't done a full grocery haul and were officially out of options.
P snoozed in my arms while I tried to avoid dropping salad onto her.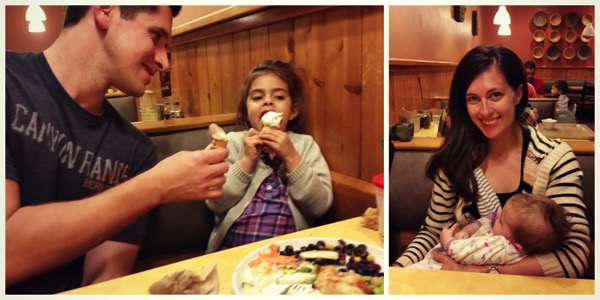 (Also, Liv is officially over saying "cheers" with dessert. She's like imma eat this thing.)
Sunday was strength and cardio a la PBB, the weekly errands/chores, and shooting the rest of the Winter Shape Up pics with Henry.
We also met up with friends at Crack Shack, Richard Blais' new restaurant. Is very family-friendly, and they have a huge patio which will be perfect for the summer.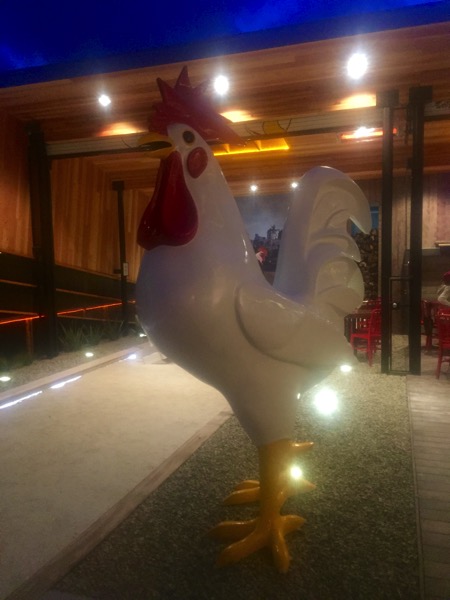 (With this giant statue. The kiddos ran around it while the adults made as many…rooster…jokes as possible.)
I ordered the kale caesar with smoked chicken and it was amazing.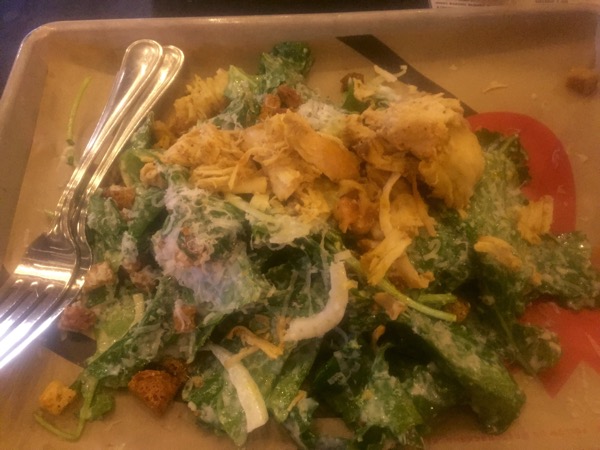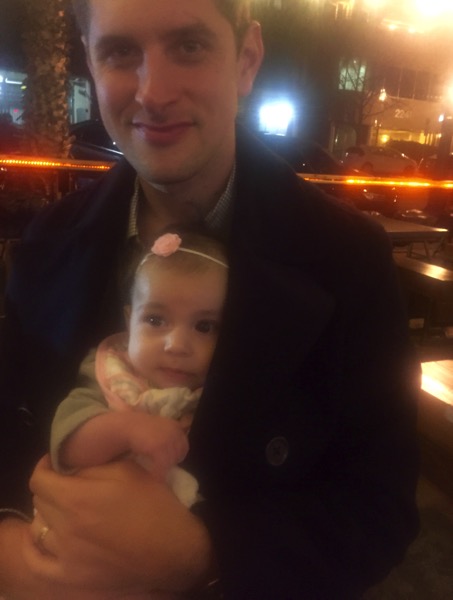 After a week off, I was back on the meal prep wagon and tracked everything to share in tomorrow's post.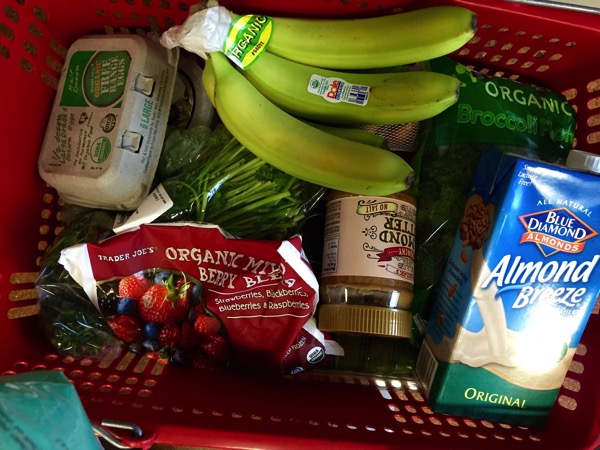 (Ingredients for a week of snacks)
Since this post is already all over the place, can we talk about Grease Live? I practically groaned when I changed the channel to watch it, because TV musicals have not been the best lately. I love that it makes the arts accessible, but not if it's going to turn potential fans off forever. (Cough, Sound of Music and Peter Pan.) Grease Live was AMAZING. I loved some parts even more than the movie, and Vanessa Hudgens slayed it. Also, my girl crush on Julianne Hough is on a new level.
Hope you have a wonderful night and I'll see you in the morning!
xoxo
Gina
Don't forget to check in with your workout and enter the Crunch Live giveaway here!
HBD to my brother Kyle!! <3