Hiiiiii 😀 How are you? Hope you're having a lovely morning, despite the chocolate and vino hangovers than many of ya might have 😉
I started off my morning with a bowl of breakfast quinoa: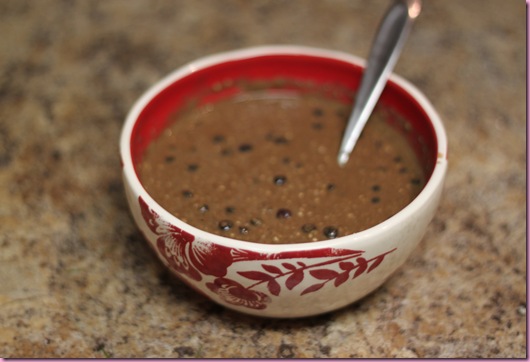 With:

-protein

-almond milk

-blueberries

-cinnamon, raw cacao powder, instant decaf espresso

-raw honey
Lurve.
A recent dinner:
Sautéed onions, zucchini, mushrooms, tomatoes, garlic, basil and oregano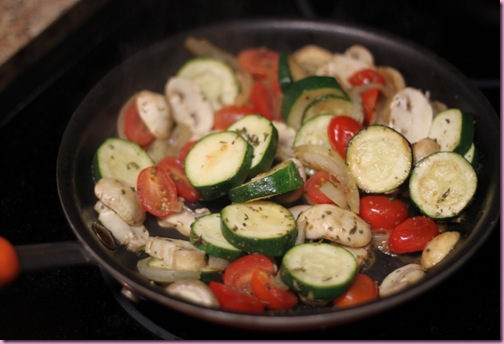 Quinoa pita/tortilla with marinara and goat cheese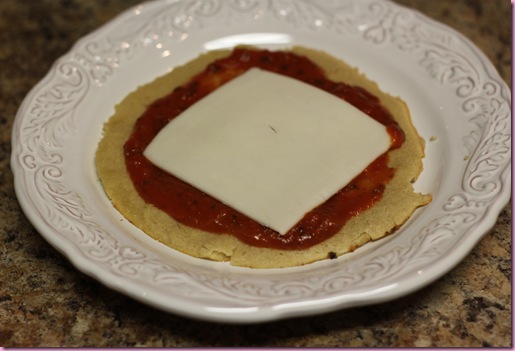 Put it all together: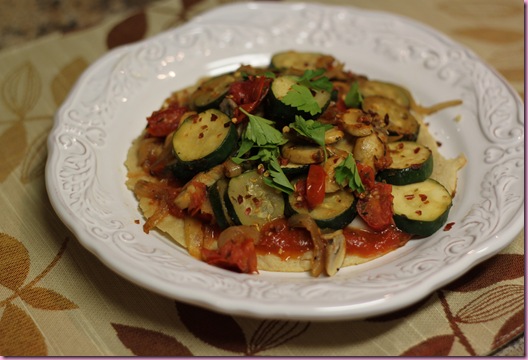 Ka-pow!
SO good 🙂
So, as you guys know, Winter Shape Up 2011 has come to an end.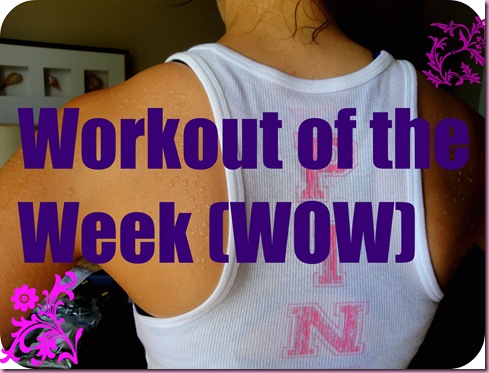 I LOVED reading your success stories and workout re-caps. Mayjah props to everyone who participated and I hope you're feeling a difference from all of your hard work! Quite a few of you mentioned that you had other spring fitness goals you were working on, too- hope you've been ninaja-kicking your goals, too. You're all amazing <3
Here are two success stories that I received via email:
From Alicia
I've been following the WSU for the past 4 weeks. I still have my last workout scheduled for tomorrow, but I wanted to get my results in to you! My weight has been pretty steady throughout. But, I did see some loss in my measurements!

Waist: -.5" !!!!!!!

Chest: no change

Hips: -1.75

Thigh: -.75"

Arm: -.3"

Even more exciting I have seen my stamina building. I can tackle a full minute of burpees (minus the jump at the top) without giving up! Mountain climbers are still a struggle, but I'm gonna rock them in the next cycle of WSU! Thank you so much for giving me a guide to follow, love the links, I did have to look up a lot of the moves and then create stick figure drawing so I could remember! It was awesome to hear the other girls attacking it as well. I can't wait to see my end results. I'm so ready for summer already!!!!!!
and from Carolyn <— real-life friend 🙂
Winter Shape Up was an awesome change to my fitness routine. I enjoyed trying a few new recipes and loved the design of the workouts because they kept me engaged and focused during each one. I supplemented my three weekly workouts with at least one hike and dance trance class. No measurements or weight loss to report-numbers make me compulsive but I can tell I have toned up. My face appears slimmer and the pants that were tight four weeks ago are now fitting great and even starting to get baggy in some areas! I plan to start Gina's 12 Week Summer Shape Up (from 2009) next week and I am excited to see the physical changes and strength gains that will bring. Thanks for the great program design G!!
Don't forget, you can repeat the program if you would like to make it last a little longer 🙂 (4 more weeks is the perfect amount of time until the sun starts to peak it's sunny face out)
I'm off to teach, walk Bell, meet a friend for tea + acupuncture, then to Zuuuuuuumba!
See ya later today! I'm hoping to make a Gina-fied version of *this recipe* tonight 😀
xoxo
Gina
*Still no word yet on where we'll be stationed… hopefully soon! *fingers crossed*
Something to think:
Everyone Needs This List

The most destructive habit – Worry
The greatest joy – Giving
The greatest loss – The loss of self-respect
The most satisfying work – Helping others
The ugliest personality trait – Selfishness
The most endangered species – Dedicated leaders
Our greatest natural resource – Our youth
The greatest shot in the arm – Encouragement
The greatest problem to overcome – Fear
The most effective sleeping pill – Peace of mind
The most crippling failure disease – Excuses
The most powerful force in life – Love
The most dangerous pariah – A gossiper
The world`s most incredible computer – The brain
The worst thing to be without – Hope
The deadliest weapon – The tongue
The two most power-filled words – I Can
The greatest asset – Faith
The most worthless emotion – Self-pity
The most beautiful attire – A Smile
The most prized possession – Integrity
The most contagious spirit – Enthusiasm