You can [cord] bank on it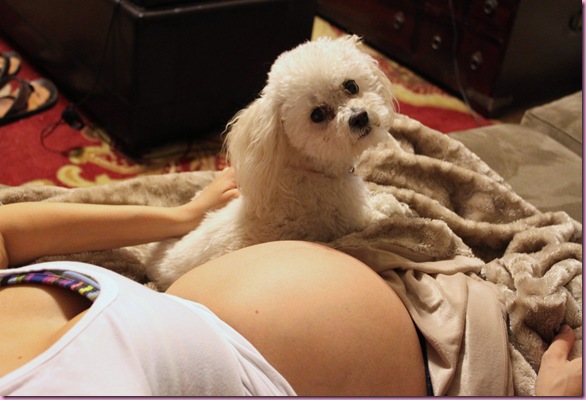 [Bella loves the belly]
As we've been rolling along with everything, we've had to make a lot of medical-related decisions for the baby. Some were easy (like deciding to skip the eye treatment after birth- it's only absolutely necessary for those with a history of STDs and can make the baby's vision blurry during a critical time of bonding), and other decisions have taken a great deal of research and consideration. [A few people have asked about this, and we do plan to vaccinate our baby. We're most likely going to skip the Hep B vac when she's born, but the required vaccinations will be followed, but spaced out more so she won't have to get a lot of shots at once]
One of the things we have yet to make a decision about: cord blood banking.
It was one of those things that I heard about and immediately wanted to do, but after doing more research, am not sure if it's necessary in our situation.
What exactly is cord blood banking?
"Cord blood banking is the process of collecting the blood from a newborn's umbilical cord immediately after delivery and cryogenically storing it for future potential medical uses. Cord blood, which is rich in stem cells, is usually discarded along with the umbilical cord and the placenta after birth.

Collections can take place after vaginal or cesarean births and caregivers do not alter routine delivery procedures to collect cord blood. Because the collection occurs after the cord has been clamped and cut, there is no risk or pain to the infant or mother.

Thousands of families are banking their newborns' cord blood because it contains stem cells that are unique to the newborn, and genetically related to their families. Cord blood banking enables parents to preserve these precious stem cells for their own potential use for the many developing applications of stem cell technologies, such as its use in treating heart disease and diabetes. It also serves as a type of safeguard in case of future need for treatment of the dozens of cancers and blood disorders that are already being treated with cord blood stem cells."
The cord blood is removed by clamping both sides of the umbilical cord, and a nurse or doctor will extract the cord blood before the placenta is delivered. It's a fairly easy procedure –a little more complicated but possible if you have a C-section- and you need a kit in advance from your bank of choice to give to your doctor.
Diseases that can be treated using cord blood: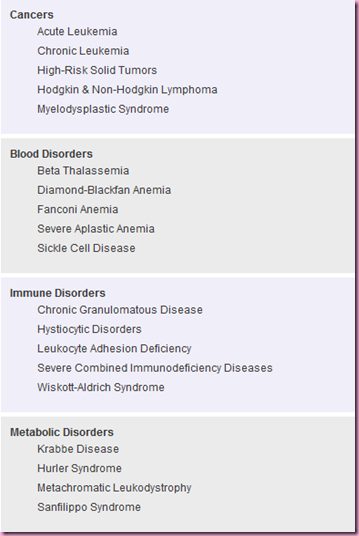 Source
Banking cord blood can be extremely beneficial, but we're still on the fence about it.
Many people who choose to bank their child's cord blood often have a close family member with one of the above diseases. If you don't have any risk factors (which we don't), the risk of this happening is low, but knowing your baby's personal risk is obviously impossible. In the case of many of the diseases listed, bone marrow can be donated from a matching relative and used for treatment.
Another thing that I'm concerned about is that collecting the blood could cause the baby to have anemia or a low blood count after birth, especially since they use those final moments to store up as much iron and nutrients as possible from the umbilical cord. 
The cost of cord blood banking is very high (around $2000 + monthly storage fees) but we're not letting cost affect our decision. You can't put a price tag on a baby's health, so whatever we need to do financially, we'll do it.
My midwives have said that they don't think it's necessary in our situation, but I can't help but wonder about the "what-ifs" and being devastated later that we didn't do it.
Of course, we're going to continue to weigh the options and make whatever decision is right for our family,
but I'm curious:
Did you bank your baby's cord blood? What factors had the greatest impact on your decision?