20-minute head to toe workout
(all you need is a pair of dumbbells)
Hi! Hope you're enjoying the day so far. It was a perfect cloudy morning and afternoon: a trip to the library, soup in the slow cooker, and cleaning up around the house. I feel like I'm currently surrounded by a mountain of laundry, but at the same time, I kind of love sorting and folding tiny dresses and jammies. (Can't really say the same about allthetowels. Blah. Haha)
Some bummer news: our goldfish friend, Goldie, has swam to greener lakes. We noticed she was acting lethargic last week and had a fuzzy spot on the side of her body, so the Pilot went to PetSmart to talk with the fish expert about it. We got medicine for her, but within a couple of days, she was gone. I think I took it harder than anyone. Liv was just like, "Oh, she died?" and I'm feeling emotional about a fish that surprisingly lived for a few months. I still have no idea how my elementary school goldfish lived for something like 8 years.
A workout to share today: 20 minute total body workout! This is one I did this weekend, and I loved that it worked every muscle group quickly. These moves are meant to be completed circuit-style, from one exercise to the next. Depending on how much time you have, you can do the entire set up to three times. As always, talk with a doc before making any fitness changes and honor your body. Modify if you need to! Here's the workout:

And a gif I'm posting as a test to see if it works!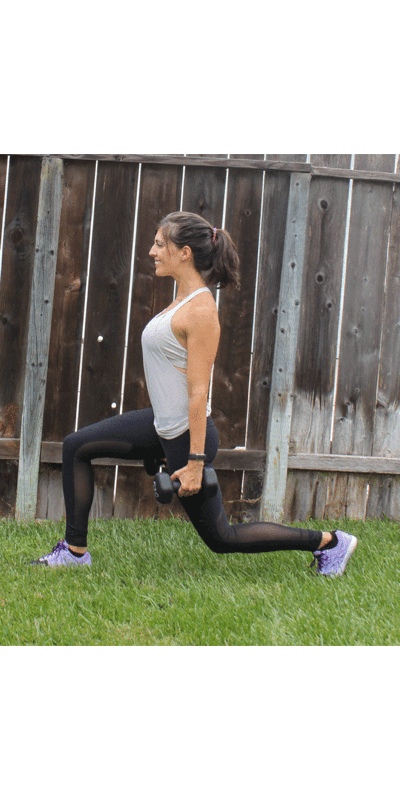 Please let me know if you give this workout a try!!
Also, I'll be teaching at an event in a couple of weeks and we get to choose what format to teach. I was thinking of doing Zumba and barre, but could do anything like a HIIT/bodyweight combo, DJ dance, or bootcamp. Would love to hear any ideas or suggestions!!
Hope you have a wonderful night!
xoxo
Gina