Hi friends! How's your morning going so far?
I started mine off with a nice run, and am looking forward to some foam rolling later. With the different types of workouts that I do, I always seem to count down the days until yoga…. it's my favorite workout of the week. 
I got  a few requests for another asana-kicking workout -the first one was a DOOZY– so I was really excited to put this one together. It has a leg and core focus, with some pushups thrown in for funsies. Not only will it kick your asana, but these moves will also work on strengthening and sculpting it 😉
Hope you enjoy!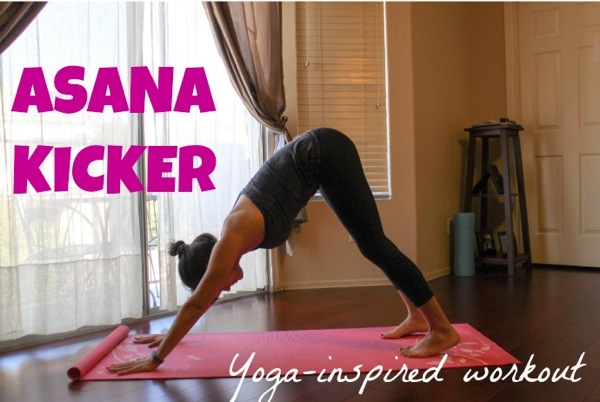 (my heels WILL touch the floor… one day)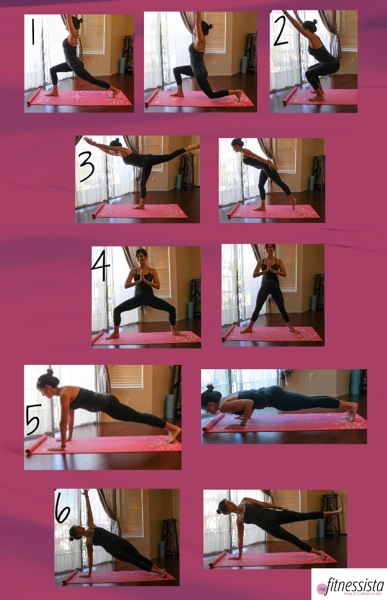 [Heads up: I wouldn't recommend this workout if you're just getting started with yoga or have yet to take a live class. It's always beneficial to get live form help before attempting yoga on your own. If you're comfortable with your practice and can safely perform the basic poses, this is a fun and intense strength hybrid. Also, just like the last yoga-inpsired workout, I do not provide form cues since I'm not a certified yoga instructor. These moves are yoga-esque in nature and build on some of my favorite strengthening asanas)
Here's the workout:
Warm up with 10 sun salutations.
1) Lunges on the right (10), hold lunge for 5 deep breaths, Lunges on the left (10), hold lunge for 5 deep breaths
2) Chair squats (10), hold chair for 5 deep breaths
3) Lift and tap (check out the arms); 10 on each side
4) Horse plie squats (10), hold squat for 5 deep breaths
5) Tricep pushups (10- on knees or toes), hold for 5 deep breaths
6) Side plank with leg tap (10) each side
Repeat 1-2 more times, if desired <3
Let me know if you give it a try!
Off to celebrate Livi's last day of being 1! What?!
Have a great day <3
See ya later with a juicing post.
xoxo
Gina
Fellow fitness instructors, what classes do you teach? If you're not an instructor, what class would you love to teach? It's one of my goals to do Baptiste training when we move to San Diego, in addition to barre training.. and all of my other random goals 😉
Did your family have special birthday traditions for you? My mom always decorated our door with streamers, and nana would come over before school to bring a pink donut with a candle and sing "Happy Birthday."