Pushups are a necessary evil, really.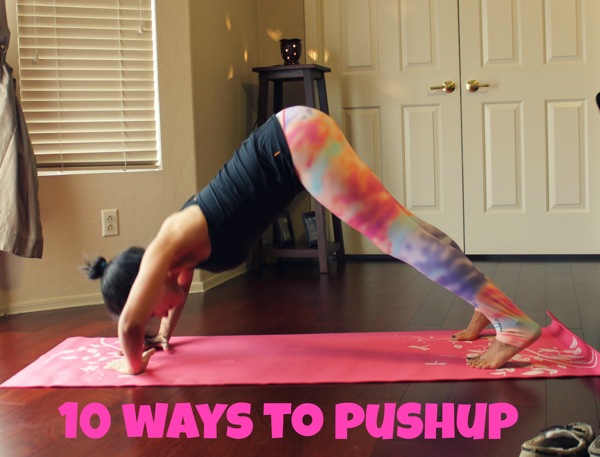 For me, pushups are right up there with putting laundry away and emptying the dishwasher. Not the most fun, but you feel pretty great when it's over. I think I like them even less because I'm not very good at them. My upper body has always been weak and as much as I'd like to be, I'm not a "let's have a pushup contest!" kinda girl. But as the yoga saying goes, "The things we like the least are those we need the most." Or something like that…
Anyway, pushups are an incredible total body strengthening exercise. You use your chest, shoulders and triceps to complete the movement, but you're also engaging your legs and core. Pushups also increase your heart rate, thus increasing your total calorie burn for the workout. Wins all around. To be honest, though, regular ol' pushups are kind of boring. I find that I enjoy them more when I switch it up and incorporate different variations of the classic exercise.
Here's a reminder about basic pushup form.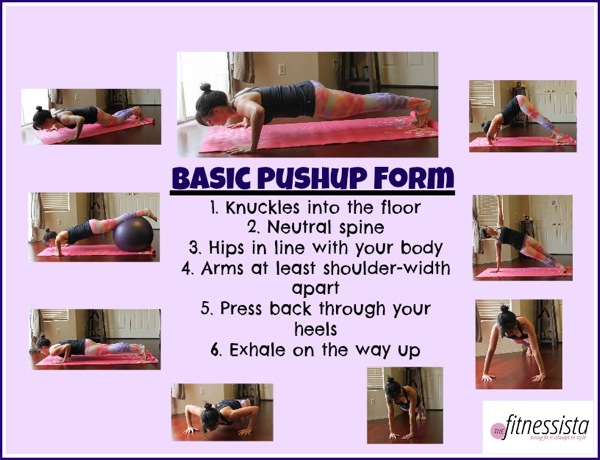 Now for pushup variations to keep things exciting during your next workout. 🙂
10 Ways to Pushup
-Modify by completing the pushup on a wall or on your knees. You can place your hands on the wall and step your feet back, or totally switch it up with hands on the floor and feet on the wall
-Pushup on a stability ball (decline pushup). The closer the ball is to your ankles, the more challenging it will be.
-Incline pushup. You can place your hands on a weight bench, BOSU or stability ball with knees or feet on the floor.
-Walking plank and pushup. Stay in a plank position and take 5 steps in one direction and complete one pushups. Walk in plank 5 steps back the other direction and complete another pushup.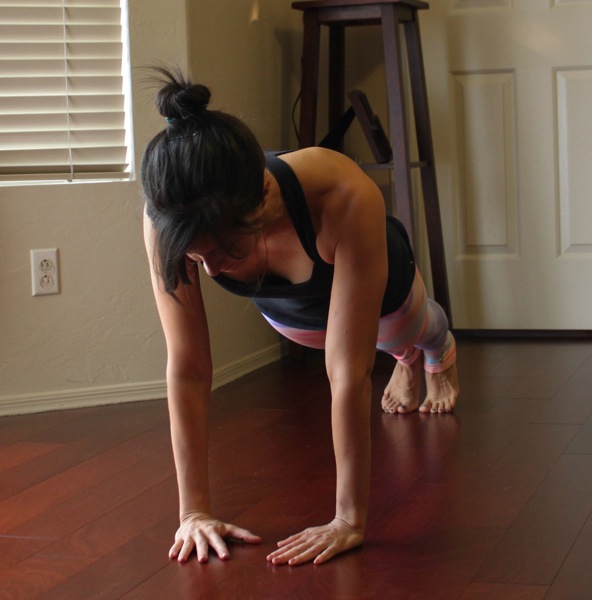 -Walking pushup. As you come up from your pushup, bring one hand to meet the other. Place the opposite hand out to the side and pushup again. Do 5 pushups in one direction and 5 back the other direction.
-Triceps pushup. Keep your elbows glued to your sides for this one and a narrow hand placement.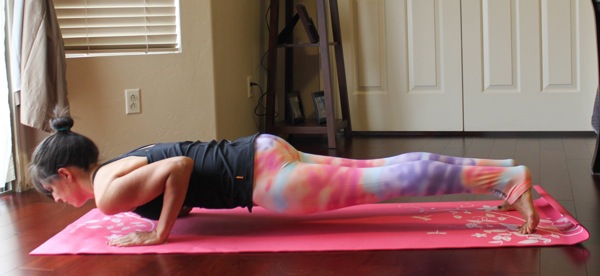 -V pushup. Make a diamond with your hands and come into a "V" position with booty up and heels pressing back (the very first pic of this post). Bend your elbows to come down and squeeze your triceps to come up.
-Pushup and side plank. Add a side plank to the top of the pushup movements.
-Tempo variations. Try coming down for 3 slow counts and up for 1. Intense!
-One-arm pushup. If you're feeling fancy, add a clap in there too 😉 Let me know how that one goes haha.
Hope you got some new ideas to change it up next time!
Pushups: love 'em, or not your fave?
A little challenge for you: set a timer for one minute and do as many pushups as you can within that minute. You can modify if you need to, or stop and take a breather during the minute. Leave a comment to let me know how it went! It's only 60 seconds 🙂
Have a wonderful day!
xoxo
Gina
More:
20 things to do with a stability ball