-This week's surprise snow.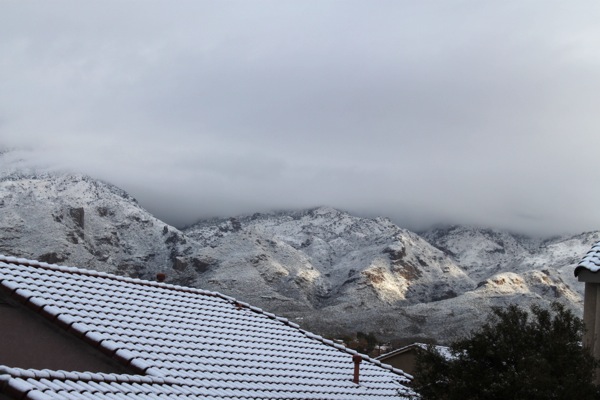 Snow-covered cacti: not something you see very often.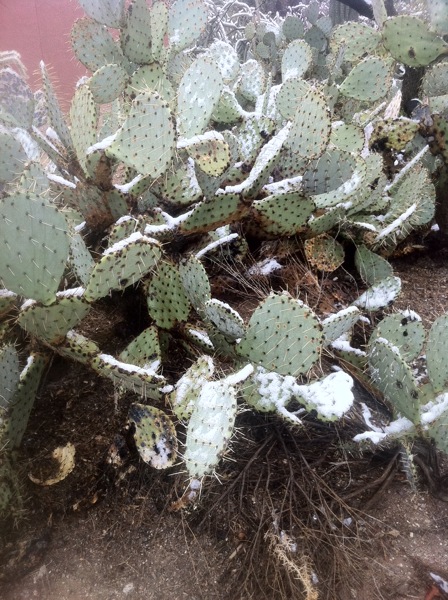 -Caroline's naptime acrobatics taken to an entirely different level.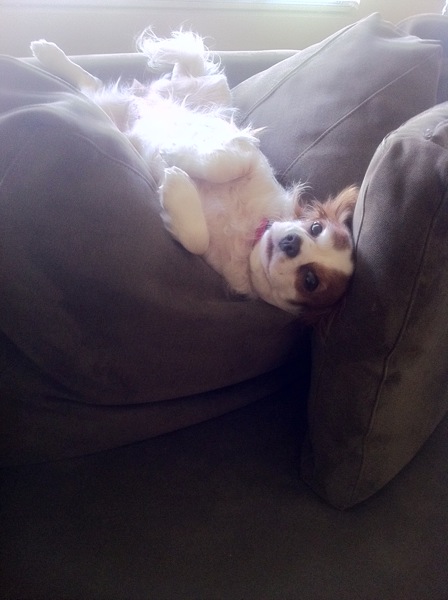 (I took that picture before she fell then proceeded to act like nothing happened.)
-Mangoes!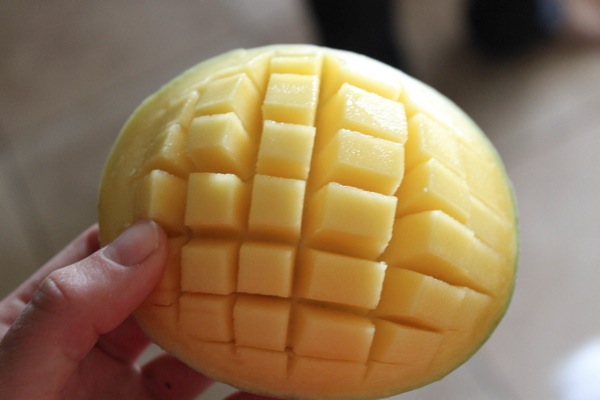 They're not in our usual fruit rotation, but it's always fun to switch it up and Liv loves them. They were delicious with breakfast this morning.
-Latest SitchFix (more about StitchFix here). I ended up keeping everything -a sweater vest, maxi dress, blouse, cuff and blazer- and am especially excited about the striped maxi dress.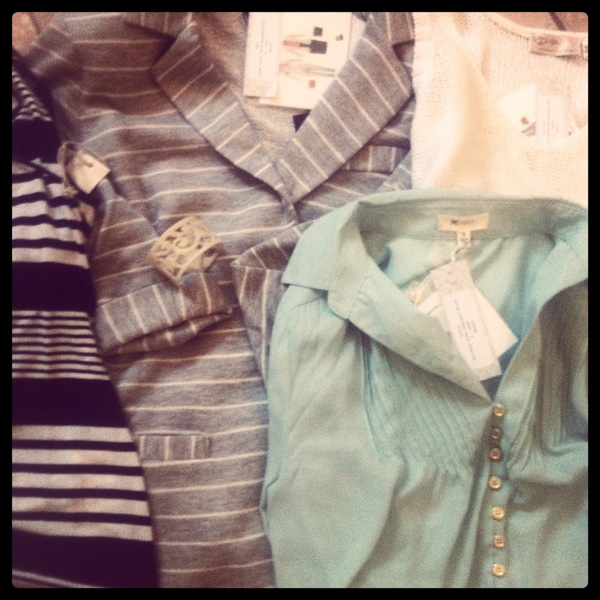 Loooove.
-Snuggle time. She feels like such a big girl these days, always on the move, so it's especially heart-melting to get a daytime cuddle sesh. While the Pilot and dadoo were working on the wood floors in her room, I took her into the guest room to see if she would nap. She fell asleep curled next to me, and I stayed awake the entire time just enjoying the moment because it's so much more rare now.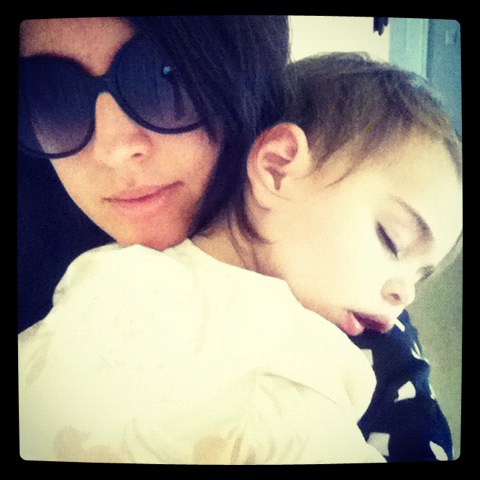 -Dessert party! A friend's daughter recently began studying nutrition and whole foods, so I invited her over to make raw chocolate tarts.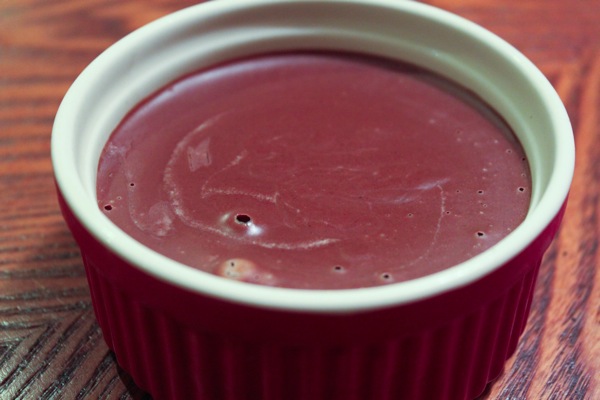 We enjoyed gluten-free pizza from Renee's,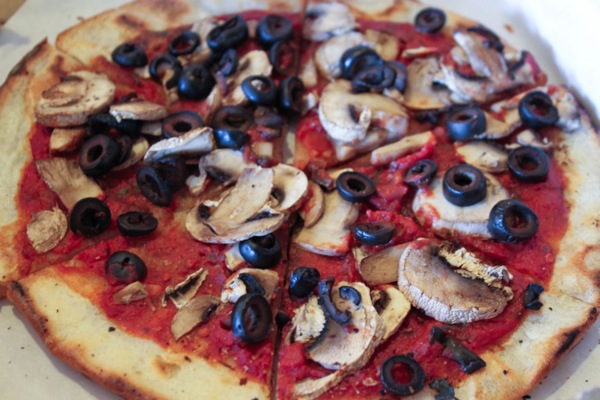 salad with roasted beets, garlic-infused olive oil, spinach and balsamic
and some tart batter 🙂 The very best thing about vegan desserts: no salmonella worry (even though let's be real, it's never stopped me before).
-This facial spray, nestled in between a new nighttime moisturizer (Korres), a fave eye palette, and some bracelets I'm saving for Liv when she's a little older (from the gem show- yep, $3 a piece!):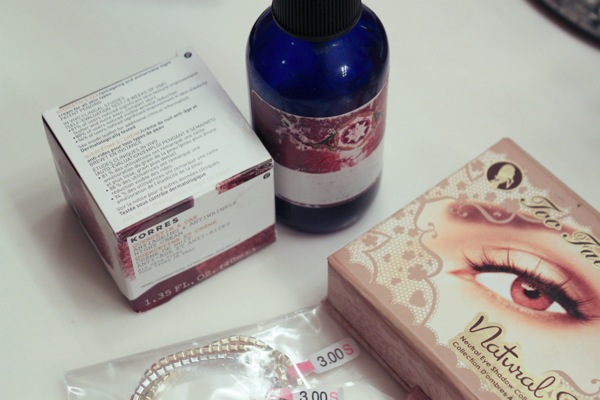 A friend at work, one of the yoga instructors, asked everyone in the locker room if they wanted "a spritz." The other girls were already walking out the door when she asked, but of course I was the one to say, "what's a spritz?" She said,"It's for your skin- come here and close your eyes." I walked over, closed my eyes, and she misted my face with the most glorious aroma I've ever experienced. It was a bright, rose-y, lush scent, and the spray totally refreshed my skin (and energy!). She brought me a bottle the next day and since then, I've been walking around smelling like a beautiful spa (which is much appreciated on the non-shower days). I'll ask her if I can get the mixture ingredients/ratios to share- I know it has rose water in it, which is supposed to be fantastic for skin firmness and under-eye baggage (rejoice).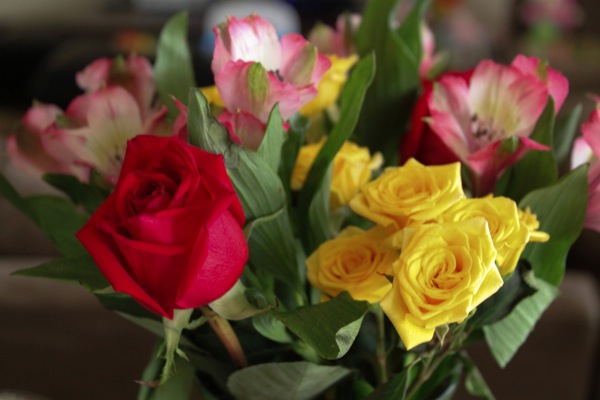 I hope you're all enjoying the start of your weekend! What are you up to? Any new faves to share? Keep the Champion giveaway entries coming! I'll announce the 25 winners on Sunday with my meal and fitness ideas for the week.
xoxo
Gina