I'm caretaker of the house today <3 There's always little lovebug and the pups, but the Pilot had surgery this morning. He's doing great and is just laying low- it's been a nice treat to have him home on a Monday, even though he's resting and recovering.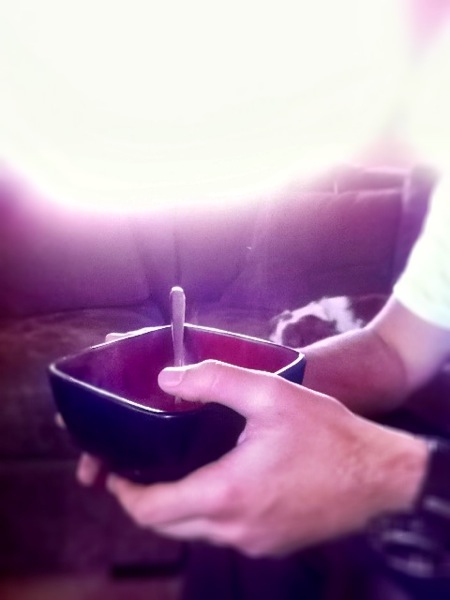 I wasn't feelin' anything heavy for dinner, so made a quick and easy 3-ingredient meal for Dine-In December.
I present to you one of my new favorite combos: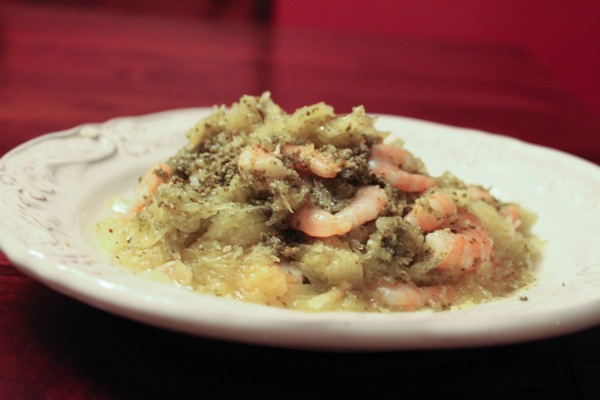 pesto, shrimp and spaghetti squash. (Try it, you'll love it!)
The spaghetti squash cooked in the slow cooker with a little water – on high for 2 hours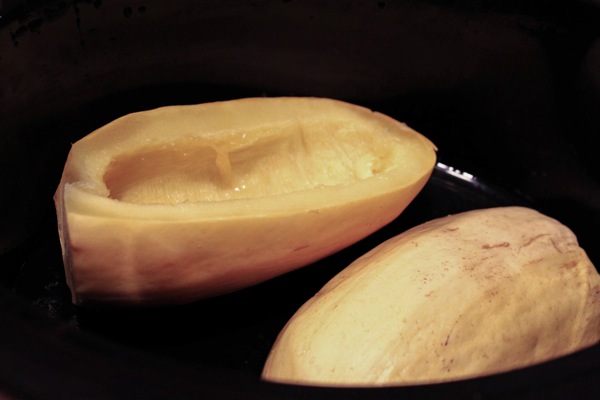 and I combined it with sautéed shrimp (olive oil, salt, pepper and garlic)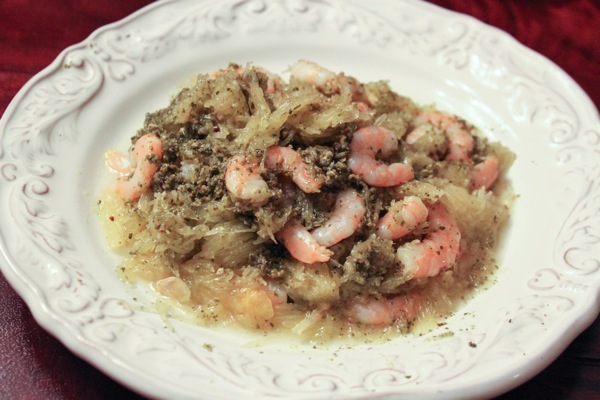 and pesto, homemade with love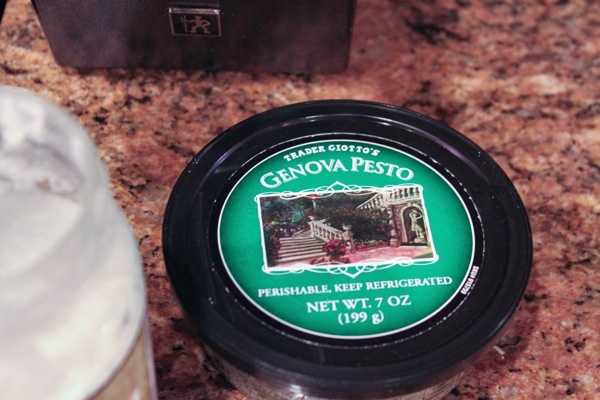 by a man named Giotto 😉
(I love making my own pesto…and soap.. and butter… but time was of the essence. Here is my favorite recipe for homemade pesto– it's especially amazing with fresh summer basil)
Just combined it all and feasted! Since the squash was already cooked, it was a 5-minute active prep meal.
I put a little pesto with Liv's spaghetti squash and figured it would be fine since she's had a little pesto before. Our favorite gluten-free crepe from the farmer's market is filled with pesto and veggies,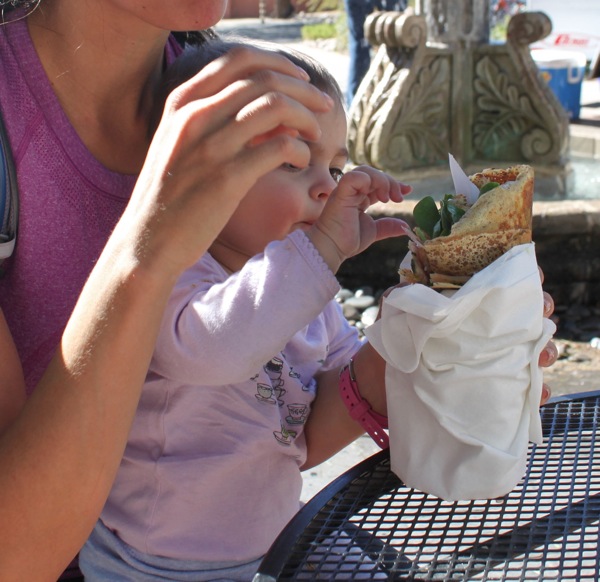 and she goes crazy for it. Still, we googled symptoms of anaphylactic shock before giving it to her, juuuuust in case any reactions occurred from the nuts (not like it would stop anything, but at least we'd know what to look out for). Did you know that one of the symptoms of anaphylactic shock is "fear of impending doom?"
Fear of impending DOOM!
Quite possibly the scariest symptom description ever.
Thank goodness there was no doom, nor reactions, and she loved the spaghetti squash with pesto, signing for "more" each time her tray was empty, along with peas with coconut oil and some chicken. Her hair seemed to enjoy it too 😉
Hope you have a great night and I'll see ya in the morning! Giveaway coming atcha tomorrow, too.
xoxo
Gina
What's your favorite 3-ingredient combo? 
Some of mine:
– banana, chocolate almond butter
-goat cheese, cranberry, pecan
-hummus, balsamic, quiona
-salmon, sweet potato, asparagus
-brownie batter, wine and.. the big smile on my face? haha.