Schweaty November Workout
Hey friends! It's THE WEEKEND 🙂 What are you up to? My friend Hayley gets in from Atlanta later this morning and besides baby shower adventures, we have a few shenanigans planned. It should be a lot of fun.
For dinner last night, I had my heart set on a new type of pizza- I had been scheming it in my brain all day. All I needed to do was stop and get the ingredients, but after the Pilot got off work and we chilled at the madre's for a little while, we realized it was 8:30 and we were both starving. No time to mess around with pizza.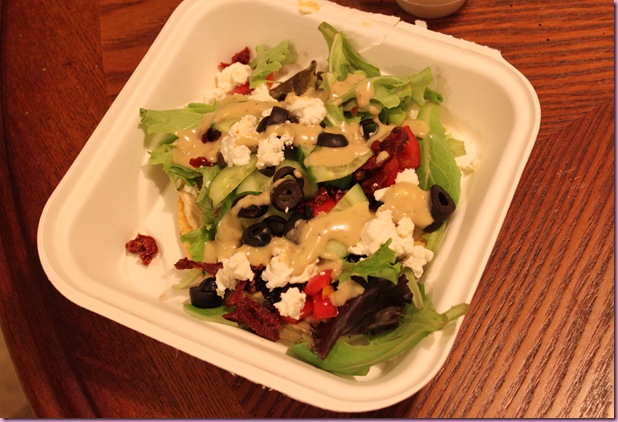 Renee's Organic Oven to the rescue! The Pilot ordered himself a sandwich, and got me this AMAZING hummus tostada with goat cheese instead of feta. It had a crunchy corn crust, hummus, veggies, salad greens and goat cheese. I topped it with some Goddess dressing + red chili flakes, and it was everything I could wish for.
This morning, I made a quick egg-rito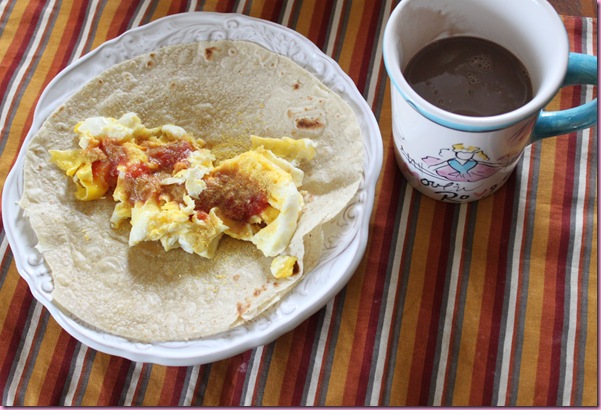 which I couldn't roll up, since the tortilla was too crispy. I love Trader Joe's brown rice tortillas, but if you don't act quickly, they get hard fast (I'm not even going to say it, haha).
Along with some candy cane dark chocolate almond milk 🙂
I'm off to take LaBlast from the creator himself (so excited!) and then to the airport.
See ya later today!
xoxo
Gina
*Hope all of my friends at Foodbuzz and Dole continue to have an amazing time- wish I could have been there! If you're in San Francisco, please eat a block of goat gouda from Cowgirl Creamery for me 😉
Something to do: Schweaty November Workout!
Ready to get schweaty?
Thank you guys so much for the amazing feedback on the monthly workouts I've been posting- I'm so glad you've enjoyed them, and I'll be sure to throw in more ab and leg burners this month to squeeze in in between holiday adventures and busy schedules. I love hearing what you think about the workouts, so when you give it a try, please leave a comment on this post and let me know how it went! It's fun to cheer each other on this way, too.
Schweaty November Workout

You can do this workout in the comfort or your own home, with dumbbells, a medicine ball and a stability ball, or at the gym. Be prepared for staring potential from other gym-goers at your hardcore-ness. The cardio blasts in the workout make it FLY by and will leave you very nice and schweaty. Repeat on non-consecutive days or into your current fitness schedule as you'd like- hope you enjoy it!

*As always, check with a doc before making any fitness changes and honor your body and injuries <3

| | |
| --- | --- |
| Warm-up | Cardio of choice, 5-7 minutes (moderate intensity) |
| Bench step-ups | 3 sets of 12 on each side |
| Pogo jumps (Stand with one leg lifted –knee is bent- reach down and touch the floor, bringing the leg behind you and keeping it lifted, jump up upon straightening back to starting position) | 30 seconds on each side |
| Walking push-ups | 1 minute to the right, 1 minute to the left |
| Bicep countdown curls | First do 10, 9, 8, and so on, but when you get to 1, do 10 |
| Overhead press and calf raise | 3 sets of 15 |
| Medicine ball slam | 1 minute |
| Medicine ball toe taps | 1 minute |
| Alphabet abs- with legs on top of a stability ball (plank position), draw your knees and the ball in towards your chest and start to "draw" the alphabet using the ball | As far as you can get! |
| Bent-over row, tricep kickback combo | 3 sets of 12-15 |
| Cool down and stretch |   |

Spice up your playlist:

[A motivational mish mosh of many music styles]

1) "We Found Love" Rihanna

2) "Undisclosed Desires" Muse

3) "The Change" Evanescence

4) "Candyman" Glee

5) "Fly" Nicki Minaj and Rihanna

6) "What I Be On (ft Fabulous)" Trey Song

7) "Drop Dead Beautiful" Britney Spears

8) "Noche de Entierro (Nuestro Amor)" Mas Flow, Los Benjamins, Daddy Yankee