6/3: Thoughts from the week
-This is the reason why mesh bumpers exist.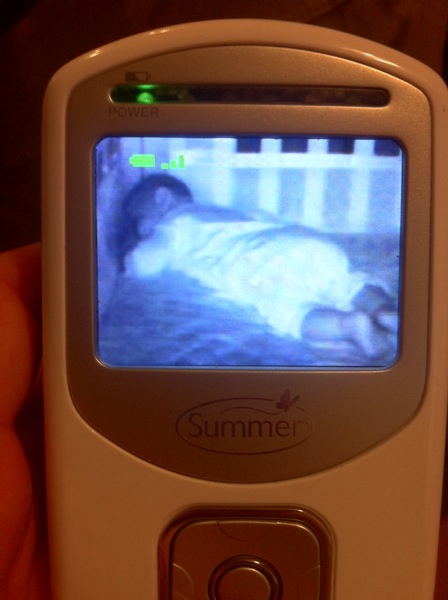 As far as appearance goes, there's much to be desired, but totally worth it because no matter where we put Livi in her crib, she inchworms up to the corner so she can sleep with her face next to the bumper.
To everyone to said not to buy the entire bedding set: you were right.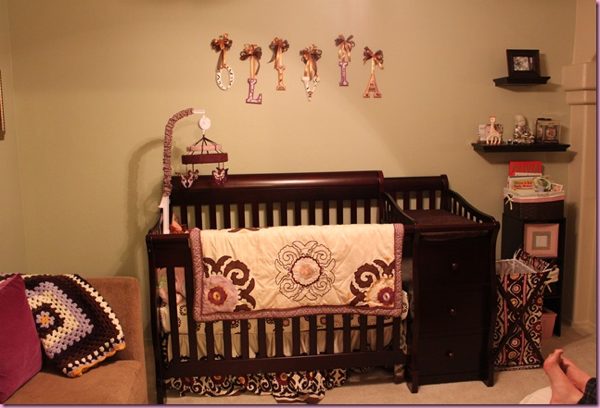 All you really do need is a fitted crib sheet, a mattress cover (and a backup of each to have for middle-of-the-night bedding changes), a bed skirt if you're feeling fancy, and mesh bumpers if you want bumpers at all. Our comforter is for decoration on the nursery couch and the fluffy bumpers are stored in the closet. They'll never be used, even though they're so dang pretty.
I've been thinking about baby stuff and how some of it ends up being wasted, and some things I didn't think were worth it ended up being total lifesavers. It's challenging because you never know what your baby is going to like, and some things that work for some families obviously won't work for everyone. Some that weren't used very often in our house: the Bumbo seat and tray (I have a brand-new one if anyone wants it- some babies love it, others like mine just sit in it with a look on their face that says "take me out now, please"), the swing (she tolerates it ok, but it's not her fave), sleep sacks, pacifiers, cloth diapers (we use them, but I don't love them as much as I thought I would).
Some of the things that were worth their weight in gold: all of the baby wraps and babywearing stuff (the Moby, K-tan and BabyHawk for me, the Ergo for Tom), the babysitter balance, the pump (a huge reason why Livi has been able to get as much breast milk as she does. I hate pumping, but I'm sticking it out for as long as I can), the video monitor and books. She likes toys, too (especially her plush puppy, Lamaze toys, Abby Cadaby doll and Sofie the giraffe) but she gets SO excited to read books. It makes me happy because I love to read, and love reading to her. 
Random things that we've gotten a lot of use out of: the mobile hanging over her crib (for nap time, I tell her to have a nice nap and I love her, turn on the mobile and walk out. On the video monitor I see her watch the mobile go around and play music and when it's done, she rolls over onto her belly and falls asleep), the bottle warmer, the plastic tub from Target. It's so much easier to give her a bath now, instead of having to get in with her like I used to.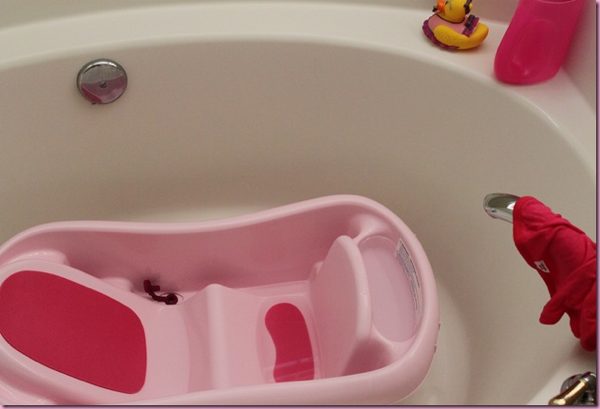 -Thank you SO much for all of the awesome travel tips and advice. Thanks to your help, and our little road trip experience today, I feel a lot more comfortable about it. It was an hour drive each way and she was a champ. I think I'll be able to juggle her stuff for the trip, and am a lot less anxious about her ears popping now (just gave her some water on the drink up, and a bottle of milk on the drive back down the mountain). Thank you!!
-I think there's a secret (or not so secret?) competition in families to see whose name the baby will say first. All day today, Livi has been saying "Ma ma, mama, mom, ma, maaaaaa, ma." It's without any intention whatsoever, but I still win, right? Apologies to Kyle, who has been trying to teach her to say "Kyle is the best uncle ever" since the day she was born 😉
What was your first word? After the usual ma-ma and dada, my words were "what's that?" and "why?" 
For everything I'd say, "what's that?" and as soon as I got the answer, "why?"
-Baby shows are creepy. I've never been one of those "don't let her look at the TV ever" type of person but since I don't watch a ton of TV, she's not exposed to it too much. I was scrolling through the guide channel to see if there was anything I could put on during the day for background noise (E! and CNN are the usuals over here, but hearing Ice Loves Coco is the worst) and found out we have a baby channel. So excited, I switched over to see what was on. SCARY. Giant images of farm animals dancing around.
It reminded me of this:
When I was about 3 or 4, my favorites were Sesame Street, Mister Rogers (best ever!) and watching Wizard of Oz over and over again. I'd hide when the green witch came, though 😉 We talked about our TV philosophy the other night and are thinking maybe when she's older, Tom and I will let Liv pick one show each day and let her watch it via DVR so we can skip the commercials and advertising companies direct towards children. Back in the day, I begged my mom to buy Flintstone push-pops as soon as I saw the commercial for them, haha.
-Even though she's still a little baby, it feels like she's growing so fast. Everyone says the days are long, but the years are short, and I'm starting to believe it. Before bed, I'll rock her and smell her baby hair, listening to Jewel for as long as I can until I put her down. I try to take mental pictures on top of the tons I take everyday with my camera. Time is creeping and flying at the same time, and I'm trying to savor every second <3