Hi friends! Happy Monday! I hope you're having a lovely day. I'll be back soon with some adventures from the weekend, plus some other fun posts I have ready to go (a raw brownie recipe + a super random vulnerable post), but in the meantime, I wanted to share the signup for the 7-day reset.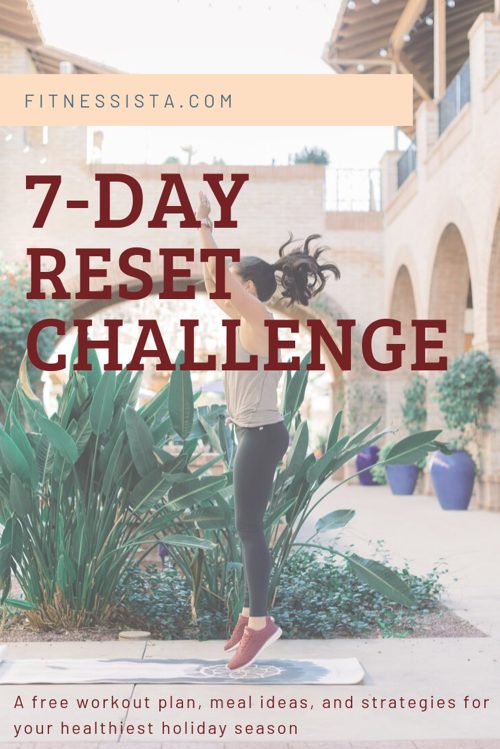 This starts 1 week from today and I'm so excited to share it with you all!
Here's what the 7-day reset is:
– A chance to reset healthy habits as we head into the holiday season. We set our intentions for the week and really dial into what our body is needing to feel energized and amazing as we begin October and the catapult into the end of the year. With everything we have going on, it can be really easy to let our strategies and habits slide at a time when we need them the most. (For example, I probably meditate the least in December and that's when I could easily use it the most.)
Here's what you'll get:
– A 7-day workout plan with quick video tutorials for each day. This is where I'll share modification and postpartum options. All workouts can be completed at home using a pair of dumbbells and a killer playlist.
– 7 days of healthy meal ideas. I'll share some of the staples I've been loving lately, which include lots of plant-based and gluten-free options.
– Daily emails from me with your workout tutorial or tip for the day, plus a sprinkle of motivation mojo.
– A Facebook group to stay accountable throughout the week where you can check in, ask questions, and get support from fitness-loving friends all over the world. This is where I'll do next week's live workout and also share some of my tips for fueling throughout the day, decreasing sugar intake, and answer any live questions.
– The cost? Free fifty. 😉 This is all at no charge and I'm super pumped to work out, connect with ya'll, and share some of my favorite healthy tips as we head into this crazy amazing season.
Here's how to sign up:
Simply add your email address to the widget below or this link here! I'll email you the 7-day workout plan, Facebook group info, and meal ideas this Friday so we're ready to rock and roll on Monday.
xoxo,
Gina