Hi friends! Nice to see ya on a Sunday! I'm writing to you with exciting news: Summer Shape UP 2019 is here! (Don't worry, today is an off day on the schedule, so get ready to rock and roll with the first workout.)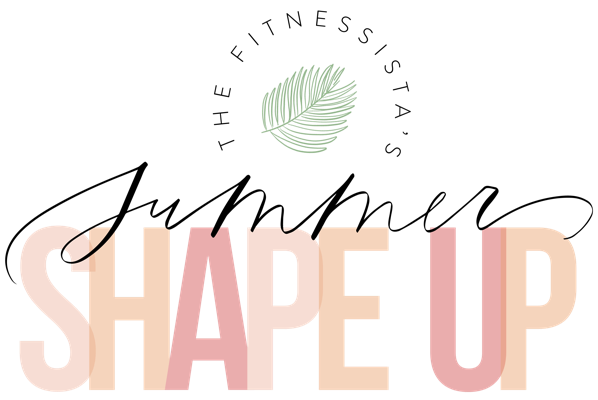 What is Summer Shape Up?
Summer Shape Up is a free, fun, four week nutrition and fitness plan you can do at home! I've been running Summer Shape Up since my very early blog beginnings. Thanks to the shared motivation between participants, check-ins and supportive comments, each year Summer Shape Up gets better and better. This time around, I asked Emily Field to develop four weeks of macro-based balanced meal ideas to go along with the fitness plans!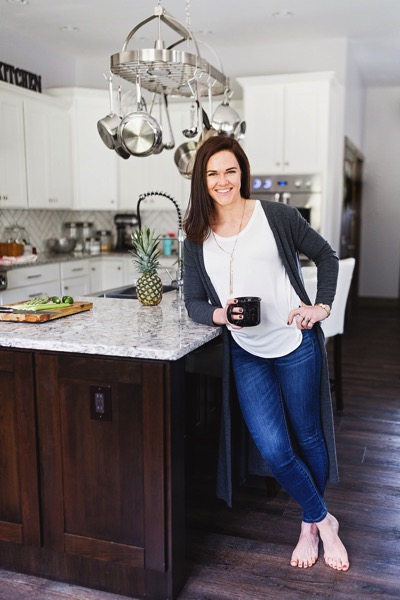 Emily is a breath of fresh air in the wellness space, and has been my personal macro coach for the past year. She has taught me so much about nutrition, especially when it comes to creating stable energy, balancing hormones, and avoiding the hanger beast. She provides so much free content on her Instagram page, in addition to her coaching packages, and I'm so thrilled to be working with her on Summer Shape Up this year.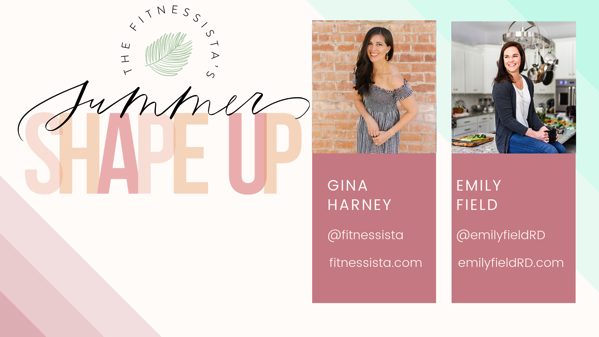 WHAT WILL YOU GAIN FROM PARTICIPATING IN SUMMER SHAPE UP?
We're confident you'll experience benefits like more energy, better sleep, and fewer cravings by prioritizing whole food nutrition, strength training and high intensity interval workouts. In turn, you might notice your clothes fitting better and later, start walking taller and more confident as a result.
Truly, only YOU know what you could gain from putting some intention and focus around eating balanced meals while engaging in effective exercise for 4 whole weeks – so we encourage you to create your own definition of success.
WHAT ARE THE WORKOUTS LIKE?
You'll get a full workout schedule that includes strength training, high intensity training and steady state cardio activity. The plan will include the title of the workout (all of these workouts will be posted on the blog and linked in this blog post below), as well as rest and recovery days. We encourage you to move the workouts around to best fit your needs – but always protect those rest days because you'll need them!
Exercises are general recommendations for healthy (injury-free), gym-going women. Don't worry – you don't have to be an elite athlete to complete the workouts! Rather, you're a great fit for Summer Shape Up if you have some experience with basic strength training movements and cardiovascular programming. The suggested workouts should not substitute doctors' individualized recommendations, and we recommend you always check with a doctor before making any fitness or nutrition changes. As a rule of thumb, if something doesn't feel right, don't do it! You know your body best. In some cases, I do provide low-impact and pregnancy modifications, but ultimately, it's up to you to heed doctor's advice and use your best judgement to complete a safe workout.
We have 6 brand-new workouts for you and 3 follow-along videos. A special thanks to my fave video guy Grant Hunker for filming/editing the videos, and to my friends Katie, Meredith, and Renée for being my workout video buddies. Fun story: Katie and I used to work with Meredith at the health resort here in Tucson, and I've known Renée since middle school. We danced together and taught at the same studio. 🙂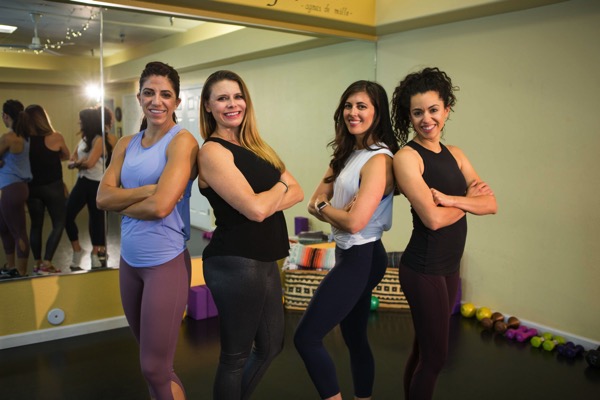 I'm sure many of you recognize my good friend Katie from previous videos! She filmed the Summer Shape Up videos with us at 9 weeks postpartum, so she'sproviding all of the prenatal and postpartum modifications for you. <3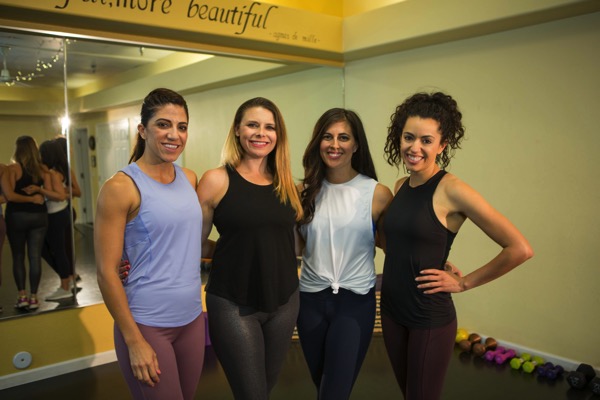 WHAT IS THE MEAL PLAN LIKE?
Emily has put together four weeks of simple, balanced meal ideas. Her style: easy to make, common ingredients, meals that keep you full and satiated. No skimpy sized portions or diet food allowed! We know that if you're going to show up with energy for challenging workouts, you're going to need to eat balanced meals made with plenty of whole foods.
In addition to breakfast, lunch, dinner and snack recipes, you'll find macronutrient counts for a typical serving and suggestions for increasing PFC (protein, fat and carbohydrates) depending on your wants and needs. In addition, you'll see options for plant based meals (vegan/vegetarian). These are noted with a * in the meal plan.
Every Friday, we will email you with your fitness plan and meal ideas for the following week. Check out the plan and schedule your workouts as best you can throughout your week. Use the meal ideas as inspiration for your menu. Include one, two, or several of the breakfast, lunch, dinner and snacks recipes in your weekly rotation.Check in with us after you do the workouts or after you've made yourself a balanced meal. Tag Emily @emilyfieldrd and Gina @fitnessista on Instagram or leave us a comment here on the blog. We want to celebrate with you as you get your sweat on and eat to support those challenging workouts!
Your free Summer workout and nutrition plan:
This blog post will serve as the hub for all things Summer Shape Up related. Pin it, save it, bookmark it, put it in your pocket, keep it in a place where you can easily access the information.
Week 1 Macro Balanced Meal Plan
Summer Shape Up 2019 workout plan
Week 2 Summer Shape Up Meal Plan
Week 3 Summer Shape Up Meal Plan
Week 4 Summer Shape Up Meal Plan
If you'd like to receive this information a little earlier each week, sign up for my Summer Shape Up newsletter below:

Leave a comment if you're excited! What's a goal you're setting for the next 4 weeks?
We're cheering for you!
xo
Gina