7 Ways to be More Productive
Today I thought we could share some planning and productivity tips with each other. Lately, I've received some questions about how to be more productive, so I'm sharing some of my tips here. I hope you'll also share your own strategies since I always love to hear what helps others make the most out of their day.
To be honest, I thrive on a modest amount of procrastination. Nothing makes me work harder than knowing something is DUE, and I tend to do the best work and have laser focus under pressure. I'll complete small tasks along the way, but the night before a big project is due is when you'll really find me cranking along. (Hi, night before Summer Shape Up. Every. Time.)
I'm also easily overwhelmed, and if I have too much going on, I'll find myself avoiding things. For this reason, I really have to motivate myself to keep momentum going so I don't find myself beneath a mountain of looming deadlines and untouched work.
At the same time, I'm pretty organized because there's a lot going on around here. I work from home and out of the home, so I make sure the kiddos are taken care of, get the most out of my work time, plan for the nights where I teach (usually the Pilot is home), with preschool, extra activities, doctors' appointments, and the necessary chores for our family and house.
Here are some of the things that have helped me to stay on top of things: (for the most part. Things still fall down the cracks every now and again haha)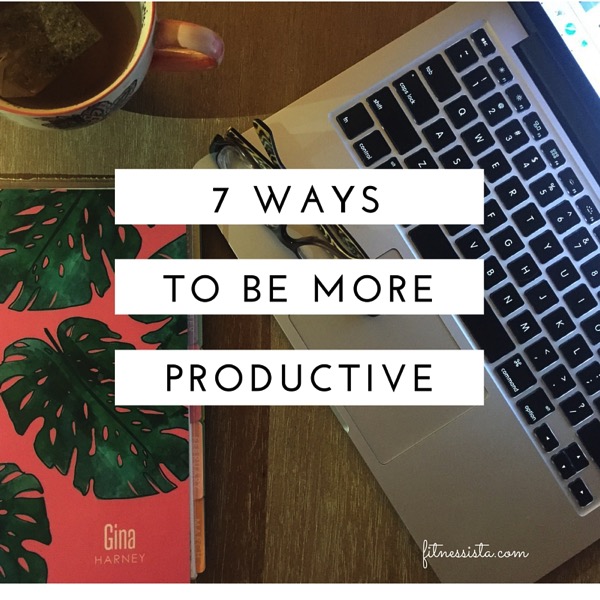 How to Be More Productive
To-do lists for life. I make sure to include the absolutely essential tasks, and the ones that can be pushed back. My Erin Condren planner holds it all, even though I'll admit that I liked the old design better, with blank spaces instead of hour-by-hour. Each night, I write down everything that needs to be done the next day and check for deadlines and appointments. I don't usually schedule it by the hour -I'll just notate class or appointment times- but instead focus on time blocks.
If it takes less than 2 minutes, do it. I used to let tiny tasks hang over my head, and would spend more time worrying about them than it would actually take to just get them over with. Now I tell myself if it takes less than two minutes, do it now.
Eat that frog. I got this idea from Brian Tracy (he is inspirational and has a pleasant voice for his audiobooks. I highly recommend this one and this one) and take care of the task I dread the most first. This is weird, but I don't enjoy invoicing. Even though one would think a quick request for payment you earned would be NBD, the acts of putting them together and sending them off feels tedious. Per Brian Tracy's suggestion, I get the things I don't necessary love out of the way first. This way, you're not spending mental energy on the dreaded task. Also, you'll start the day off feeling like you accomplished something important, and the rest of the to-dos seem more pleasurable that way.
Have one or two big goals for the week. On the top of each weekly page in my planner, I'll write 1-2 more intimidating things I want to accomplish. (Like "Send in tax stuff," "Renew personal training certification," "Reorganize blog pages." etc.) These are things that might take longer to finish, or may require multiple pieces or correspondence, so I'll do a little each day (usually late at night) to get the bigger things taken care of.
Eliminate distractions and try to avoid multitasking. I think as women we all tend to multitask here and there (and sometimes you have to), but I find that focusing on one thing at a time allows me to actually complete these things. Otherwise I have bits and pieces all over the place and nothing to really show for my efforts.
I love the Amy Porterfield podcast, and she recently discussed her morning "Tiger Time."(When I first heard this phrase, I thought maybe it involved yoga tiger breaths, but sadly, no.) Four solid hours in the am are strictly dedicated to content creation. No emails, no meetings, no Facebook groups or social media distractions; just content. By doing this, she's able to stay in the zone and really work on developing quality material for her courses, blog, live videos and podcasts. I starting implementing my own mini "tiger time" around here (during P's first nap) and spend that entire first time block dedicated to content creation (like this post!).
Make a list of ideas. I have an ongoing list of ideas I'd like to create or implement, and when I'm looking for something to do or find myself lacking inspiration, I refer to these lists. They help me to stay on track and keep my eye on the larger goals (like the blog revamp I've been scheming for the past year. If you have anything you'd like to see for the revamp, please let me know!).
Take breaks to avoid burnout, and do something for you (even something very small) each day. This is SO important. I love working from home and feel very fortunate to have flexible and portable work, but when you mom + work from home, it can be easy to feel like you're working all day. (Even when it's fun work!) I plan at least 15 minutes each day just for myself, whether it's reading a book, painting my nails, a walk, watching a show, catching up with a friend, or enjoying a glass of wine with the Pilot. Just a small bit of downtime always refreshes me, and I find that I'm way more productive.
What are your tips for productivity? What do you do to stay organized? I always love hearing your tips and advice!
xoxo
Gina
Similar: why I don't believe in balance.