At the patch + HIIT Bootcamp is coming!
Hi friends! Happy Monday! How was the weekend? Ours was jam-packed with events and was so much fun. The party started on Friday night. One of my good friends had a birthday last week, so we all went out for dinner at Lovin' Spoonfuls (a local vegan restaurant) and then salsa dancing! The hibernating Zumba instructor in me was set.free. They had a live salsa band – they were SO good!! – and we danced the night away. I can't wait to go back!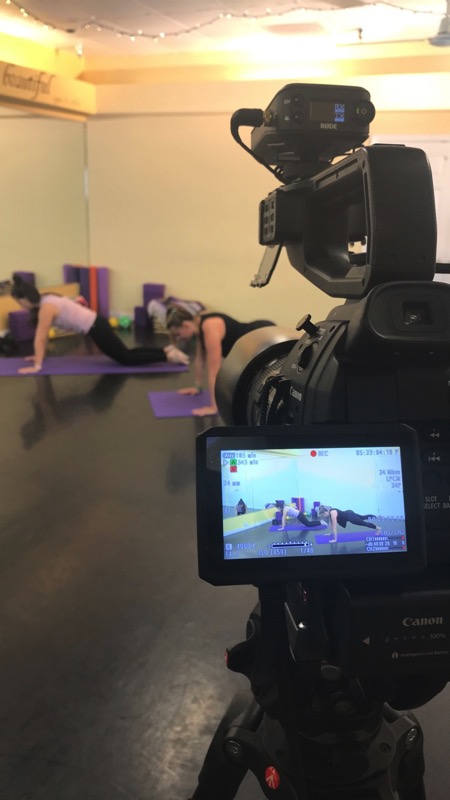 Saturday morning, I hung out with the girls for a bit and we played outside, and then my dad and stepmom watched them the rest of the afternoon. Katie, Grant and I filmed all of the videos for HIIT Bootcamp (more details below!) and my legs are so sore today. I'll definitely be hopping on the Peloton later to shake them out! While we were filming, the girls lived their best lives at my dad's house. They recently built a putting green in their backyard with 4 holes, so the girls golfed, played on their playground, swam, and hung out in the playroom. I came home from filming and shoved a sushi roll down my face before crawling into bed.
Sunday, the Pilot had to work, so the girls and I went on a little pumpkin patch adventure.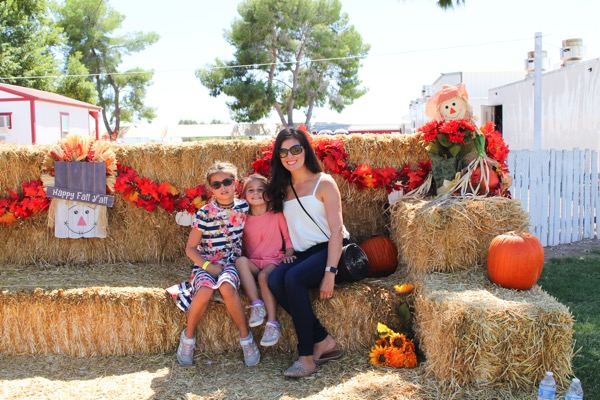 (Wearing these jeans, this bodysuit and these shoes)
It was our first time visiting the Marana Pumpkin Patch and we were blown away by everything they offer. There are huge jumping pillows, a train, corn maze, zipline, pony rides, a giant slide, petting zoo, little restaurant, and swing ride. We LOVED it and can't wait to take the Pilot. We ended up being there for over three hours, alternating between the various rides and activities,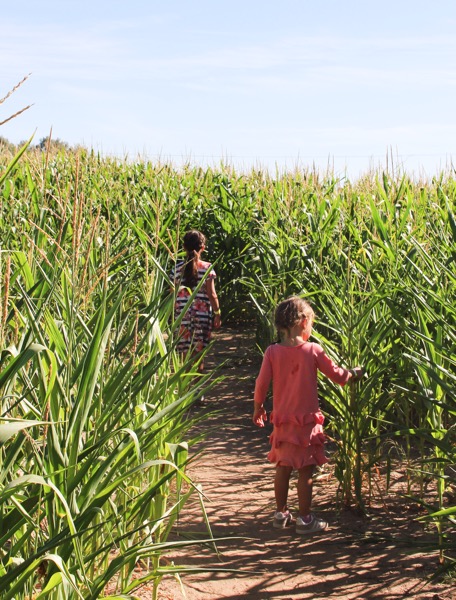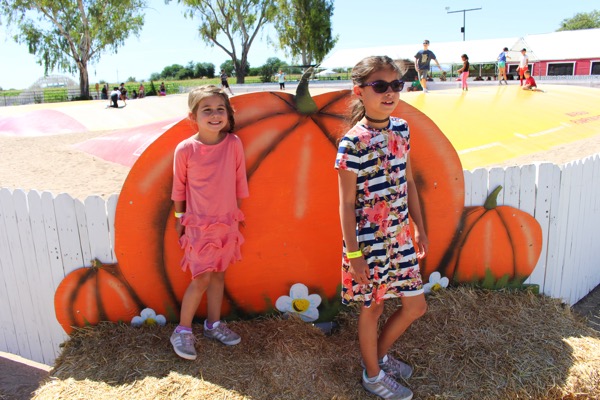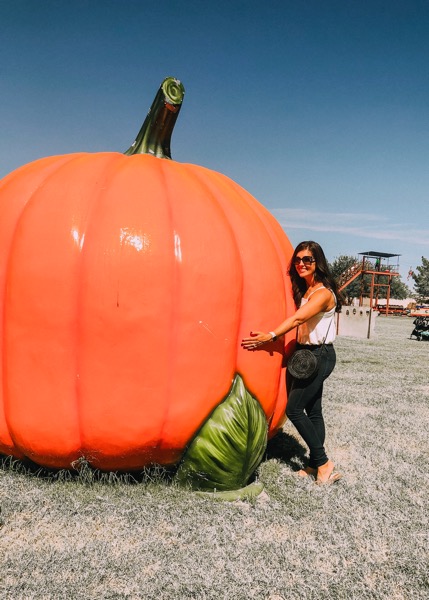 stopping for a quick bite,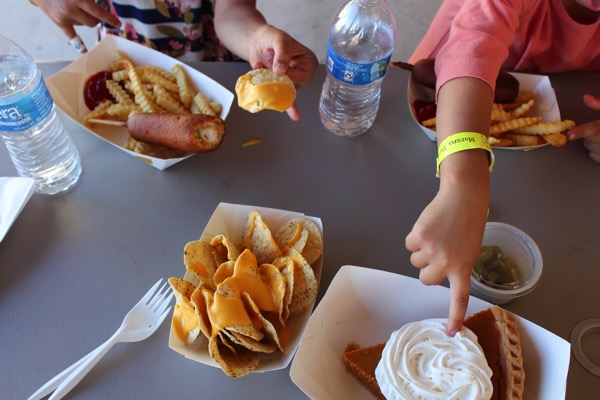 and petting all the animals. Our family has an intense love for petting zoos; that alone was worth the 45-minute drive! I could pet baby goats pretty much all the livelong day.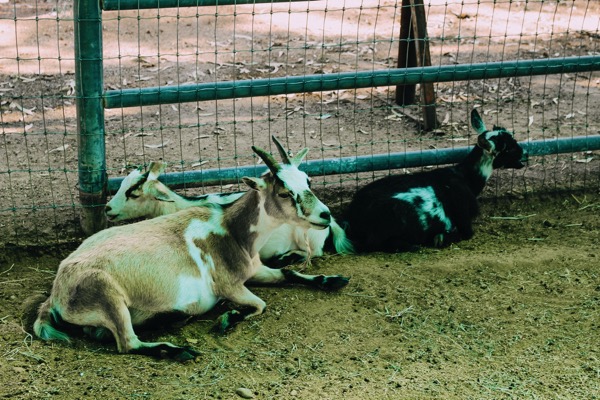 The funny thing is that we didn't even visit the actual patch. We wait a bit longer to get pumpkins and keep them inside because I found out the hard way that they're a nice snack for javelinas.
Now, I can't wait to tell you about HIIT Bootcamp!
HIIT Bootcamp is coming! Grab your spot this Friday
When I went through my survey results from this year, I was flooded with requests for more short and effective workout videos. I know how it is! We're all crunched for time and want to get the most bang for our buck. We're juggling multiple tasks and chores, but still want the ability to create a consistent routine for ourselves. HIIT is my very favorite for quick and intense workouts! It's one of the most effective ways to become stronger, fitter, and faster, while promoting heart health. I knew I wanted to create a set of HIIT videos just for you, and combine them into a super effective plan for awesome results.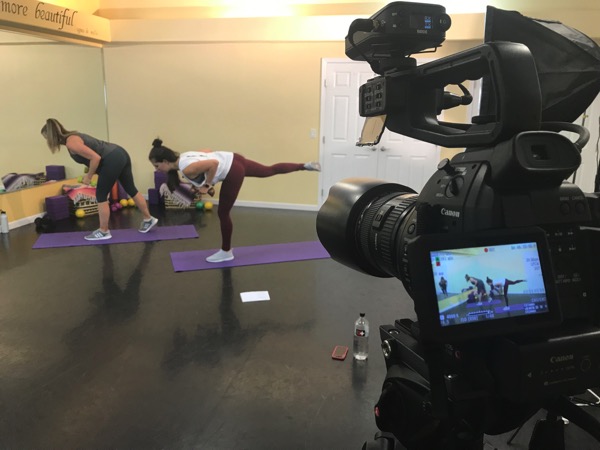 For this set of videos, I brought in two invaluable resources: my friend Katie, who in an incredible personal trainer, group fitness instructor, and Pilates instructor, and Grant Hunker who is a filming/editing/video wizard. (He filmed Soli Beat, many of the workouts on my YouTube channel, and our previous Barre Bootcamp.) I was so pumped to have a modifier who could really hook you up with beginner and low-impact modifications along the way, and have these videos professionally filmed and edited.
We filmed everything this weekend, and if you sign up, you'll receive everything in your inbox by Saturday, October 26.
The official challenge starts on the 28th!
*throws tiny dumbbell confetti into the air*
You can follow the workouts at your own speed, or participate in the 4-week HIIT bootcamp challenge with a full calendar (two options), emails from me for inspiration and accountability, and group motivation.
Here's how this all works:
-The pre-order for bootcamp will go to email subscribers on Friday and I'll post everything on the blog here next Monday. (If you sign up, you will not be charged until you receive the videos in your email inbox on Saturday, October 26.). Spots are limited, so be sure to check in and grab your spot!
-The challenge will launch on October 28 (perfect for a blast of motivation as we head into the holiday season!! The challenge ends right before Thanksgiving)
-If you want to have first dibs on your (spots are limited), be sure to enter your email address below.
Are you joining in the fun??? Gather up your HIIT -loving BFFs for this one- I have a feeling it's going to be a blast.
Happy Monday and I'll see ya soon!
xo
Gina