Will shake for chicken.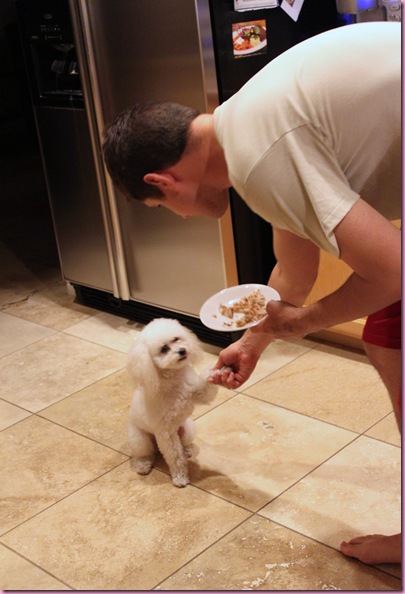 Would probably sing an aria whilst riding a unicycle for chicken, but you know.
Another lovely Pilot-grilled feast: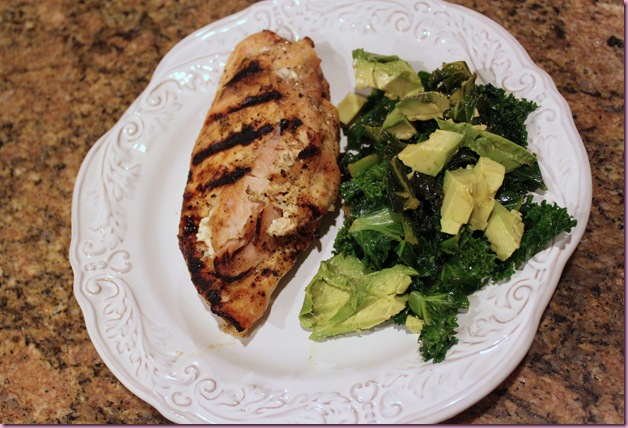 I prepped the food and when he got home, he grilled it up while I did the baby bedtime rituals. We had dinner before 8pm, and it was awesome.
Wilted some kale on medium in a little olive oil and veggie broth,
removed it from heat and added the juice of 1/2 lemon, splash of Tamari, cayenne, garlic, sea salt and pepper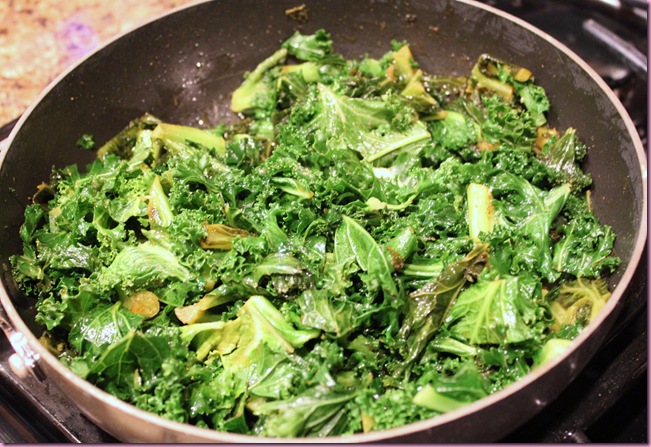 We split an avocado atop the kale, along with grilled chicken, stuffed with cheese and turkey. I was going to "cordon bleu" it, but alas, the mini food chopper is broken and didn't even think about using the Vitamix. I have a tendency to get a in smoothies-only mindset with that thing and it's capable of so much more…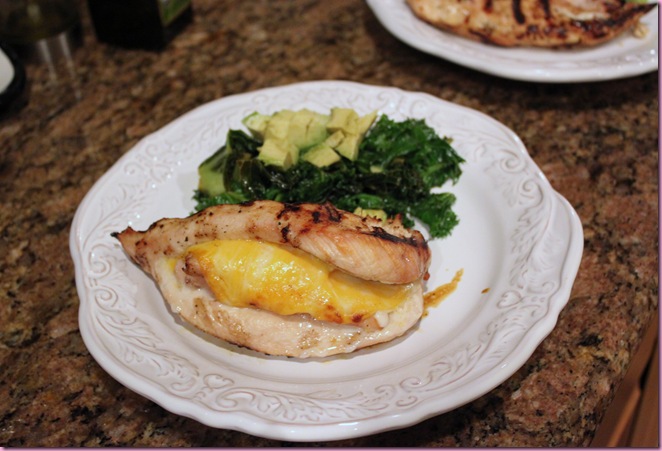 (The Pilot's with Colby Jack, mine with goat cheese)
It was a glorious meal, and I saved half my chicken for extra protein after hitting up the weights.
More eats:
My favorite Larabar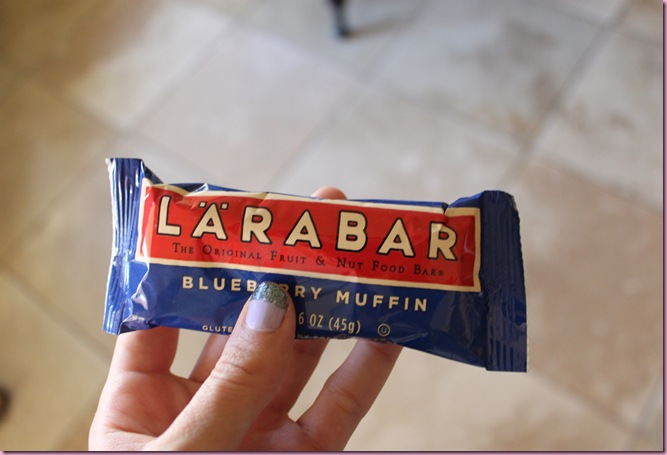 (Coconut Cream Pie, Cappuccino and Cashew are up there, too)
Salad in a mixing bowl: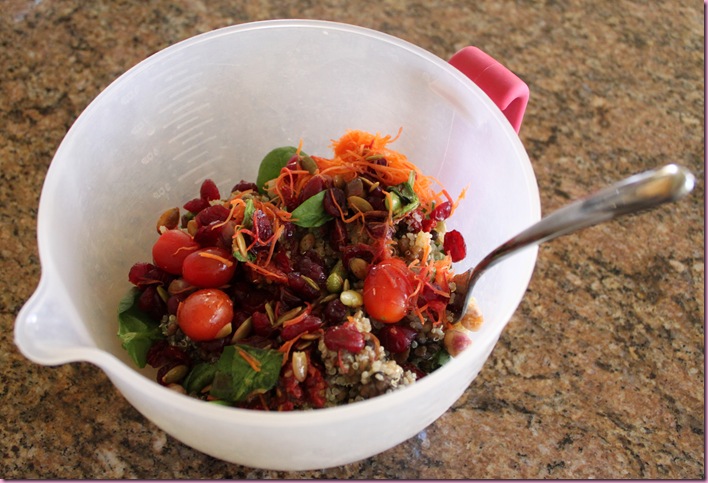 (which sadly only filled up half of it. I need a greens stash replenishment like you read about)
And the story of a cookie that I almost set on fire.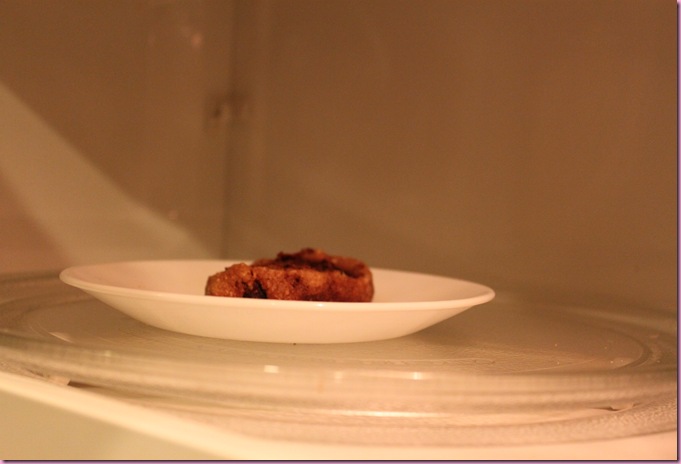 I had the brilliant idea to cut off a piece of the dough I've been snacking on and put it on a plate in the microwave for a late-night sweet treat.
Well, 2 minutes is too long, my friends.
I forgot about the cookie after about a minute, raced back into the kitchen and was greeted with a rank, charbroiled aroma and couldn't even see said cookie in the micowave- it was filled with smoke.
"Hey, will you please help me over here? I think my cookie is on fire!"
"A cookie! Where did you get a cookie? I want one"
"The dough is over here. Will you please come help me figure out how to turn the fan on so the smoke alarm doesn't go off?"
(I can never find the "fan" button when I actually need it)
"Wait, you made cookie dough? What kind did you make?"
"Halp meeeeeeeeeee"
Priorities, haha.
He made me feel like I was insane to have put cookie dough in the microwave –"would you put a raw turkey breast in there?"- but I'm pretty sure I've done it before. Plus, it was vegan dough so it doesn't really matter how cooked it gets. Needless to say, neither of us enjoyed a cookie last night. We were both a little traumatized from the stench.
Speaking of burns….
here's what I did at the gym last night- a lovely burn for the areas that get a double-take as you walk away
(Head's up: Brides-to-be, make sure to workout your back! It's a common wedding dress focal point when you're standing at the altar. The best part about it is that since the back is naturally pretty lean, if you emphasize back toning exercises, you see visible toning very quickly)
*Always check with a doc before making any fitness changes. Honor your body and injuries, and be sure to exercise with proper form.
[print_this]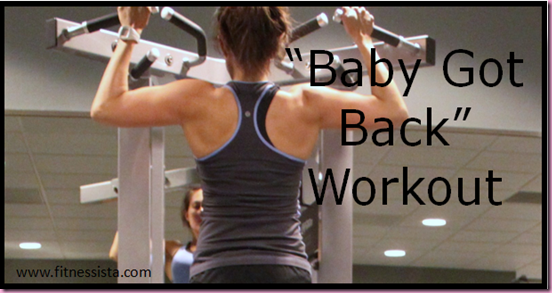 -Warm-up: Cardio of choice, moderate intensity, 5-7 minutes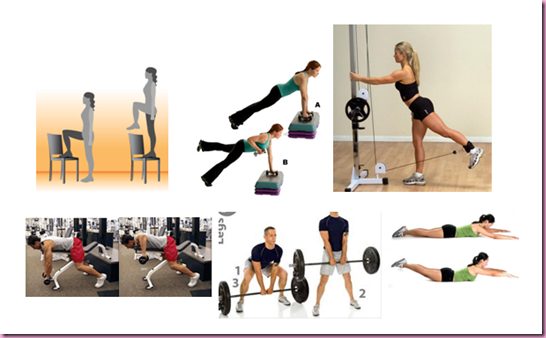 3 sets of 12-15 reps of the following, unless otherwise indicated:
–Bench step-ups (10 right, 10 left, 10 facing each side)
–Superman (lift legs and arms at the same time 10 times, flutter/swim for 30 seconds; repeat 2 more times)
-Following with cardio (15 minutes of HIIT, optional) and/or stretch.
[/print_this]
Hope you have a happy humpday! <3
See ya later with a Fashion post.
xoxo
Gina
Today's workout jam: