(and by that, I mean the simplest kind with no-frills, minimal tying, and awesome cuddly time with baby)
When I was at Tiki Port with a friend this past weekend, she asked me about babywearing. It made me realize a couple of things:
-We're definitely past that stage now… and it already feels so long ago!
-There are a few strategies I'd love to repeat in the future. (No, not preg right now.)
Babywearing was definitely one of my favorite things about the newborn/infant phase. It was great bonding time since Livi was always close to me, and it also gave me a set of free hands.
Sometimes I'd wrap her and just sit lounge on the couch with her snuggled up to me, and listen to her tiny snores. Best ever.
Tom and I wore Liv until about 6 months ago, and finally packed away the Ergo. I still carry Liv around often -my right bicep is bulging for isometric bicep curls all day- but I think she's mostly done with babywearing. Last time I put her on my back in the Ergo, she asked me to get her down. She likes to be up, down and exploring 🙂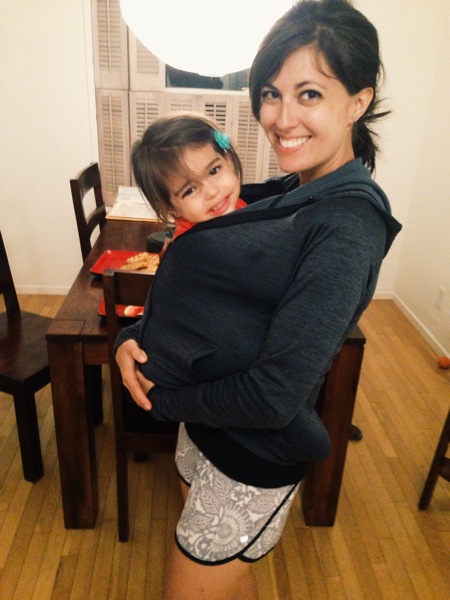 (Or wrapped up in my hoodie)
I thought I'd share some babywearing faves to spread the word for future mamas and also create a reminder for myself. Details like this can be forgotten -I already have no clue how often I pumped and it was a huge part of life for 6 months- so I thought I'd post it here on the Family page.
1) Newborn: Baby K'Tan. We ordered the organic cotton version and it surprisingly comfy and supportive. I wish I would have bought one size smaller, since it can stretch out a little. I liked the K'Tan better than the Moby because it required no tying -easy to bring on the go and slip on before taking Liv out of the carseat- and was extremely comfortable for both of us.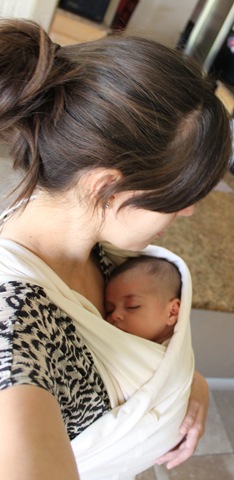 2) Infant: BabyHawk. I loved this Mei Tai because it also had minimal tying, and I could also wear her on my back. (Back carries are appropriate when the baby has proper head control and can sit up on their own.) They have gorgeous colors and patterns, too.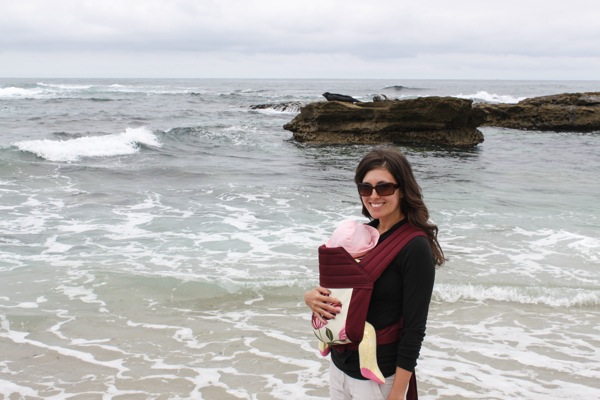 3) Infant – toddler: Ergo! If you are expecting, lurk Zulily like it's nobody's business. They have awesome deals on Ergos (usually around the holidays) and Costco sometimes carries them, too. Ergo carriers are built for the long haul and are a fantastic investment. With the infant insert, Tom was able to wear Liv from the infant to toddler stage. It was a little too big on my torso initially, but as Liv grew, I really appreciated the structure and support. It also has an awesome flap to shade baby's head from the sun and a large pocket to stash wallet essentials.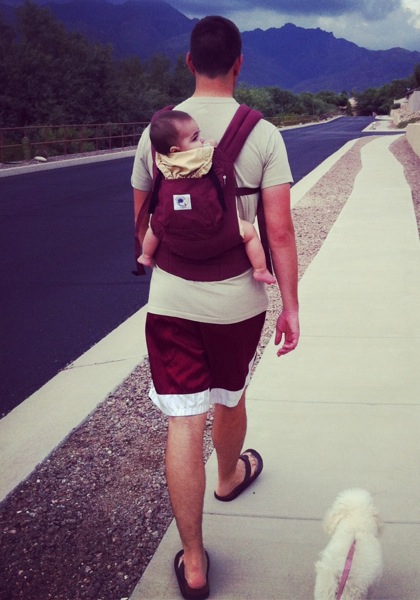 So there ya go: my three faves! Even though we had three very different carriers, there's an entire world of babywearing that I didn't fully explore. t subscribe to a babywearing group on Facebook, and am always blown away by the various types of ties and fabrics for woven wraps. I started to get into it for a little while, but was kind of intimidated.  The good news is that many babywearing supplies (especially the woven wraps) can be resold at nearly purchase price. I also feel like they pay for themselves quickly; I used them almost daily for two years and have also lent them to friends now that we're not using them.
Fellow mamas: any awesome wraps or babywearing tools that you love? What's something you've already totally forgotten since giving birth? 🙂
xoxo 
Gina