Blue Apron vs Hello Fresh


If you've been wanting to try Blue Apron, click here to get 3 free meals. (<— First 25 to order) Read on to find out more about Blue Apron vs. Hello Fresh!
As you guys know, I'm a huge fan of meal kit delivery services. We've been using Blue Apron in our family for a couple of years now, and the convenience is a game changer. I enjoy trying unique recipes and ingredients, but with services like these, you don't have to pay for large bottles of ingredients you may not use. I find that it dramatically cuts down on waste, encourages us to try new things, and is a cost savings. Now that we're in Southern Georgia, which has less grocery store options, healthy food is significantly more expensive. We went to buy some pantry essentials and fruit, and it was $200. We were shocked. Needless to say, buying the ingredients for full dinners is ridiculous. I'm super thankful these exist, especially since it majorly cuts down on errand time.
We've been using Blue Apron for quite a while and absolutely love it. Here's a little bit about Blue Apron if you haven't heard of it!
About Blue Apron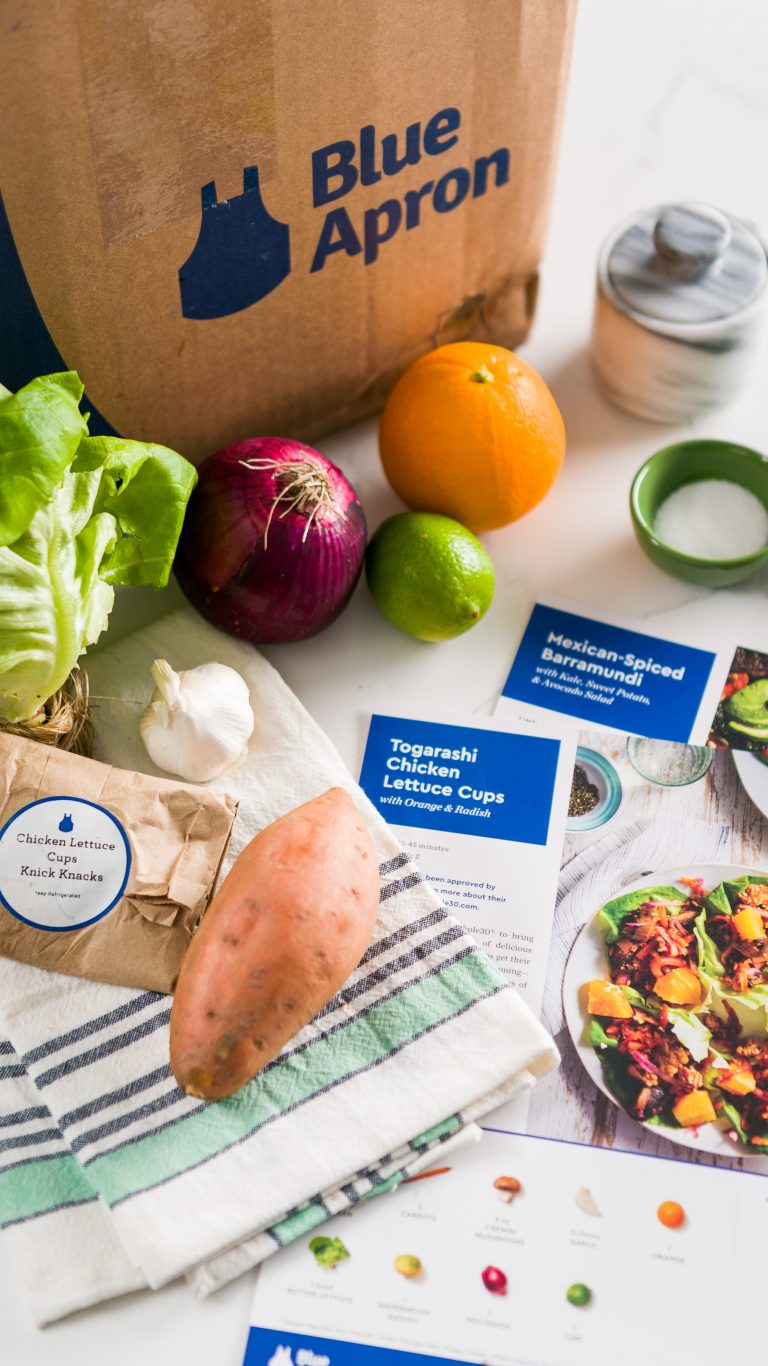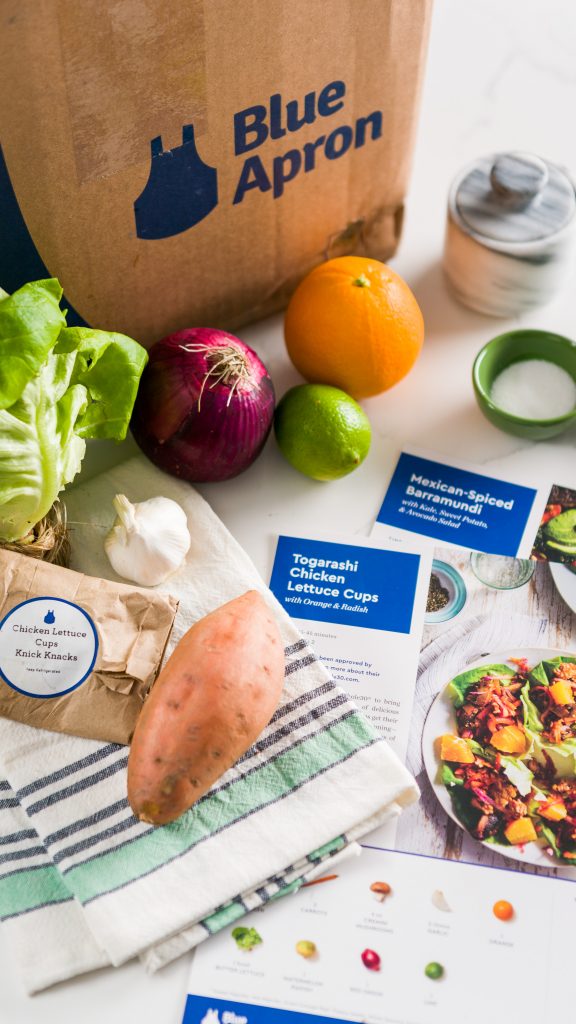 -Blue Apron allows you to create chef-designed meals at home. All of the ingredients for each recipe are provided, and delivered in an insulated box so everything stays cold and fresh.
–Sustainability is a critical aspect of Blue Apron's mission. The packaging is easy to recycle, and the ingredients are sourced from responsible farmers and fisherman all over the US. You can read more about their recycling plan here.
-They're always adding new recipes to the rotation, and you can pick between the 2-person or family plan. Each recipe takes less than 40 minutes to prepare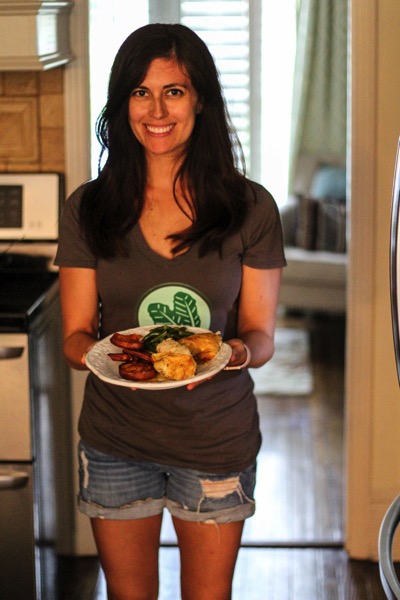 I was excited to give Hello Fresh a try in an effort to switch things up a bit!
How Blue Apron and Hello Fresh are Similar
-Both companies send you everything you need to create the meals at home
-The price is the same (both services are $59.94 per week for 3 recipes on the 2-person plan)
-They include step-by-step recipes and color photos
-Nutrition information and wine pairings are included
-I found both services to provide generous serving sizes, and the recipes were similar to make as far as difficulty goes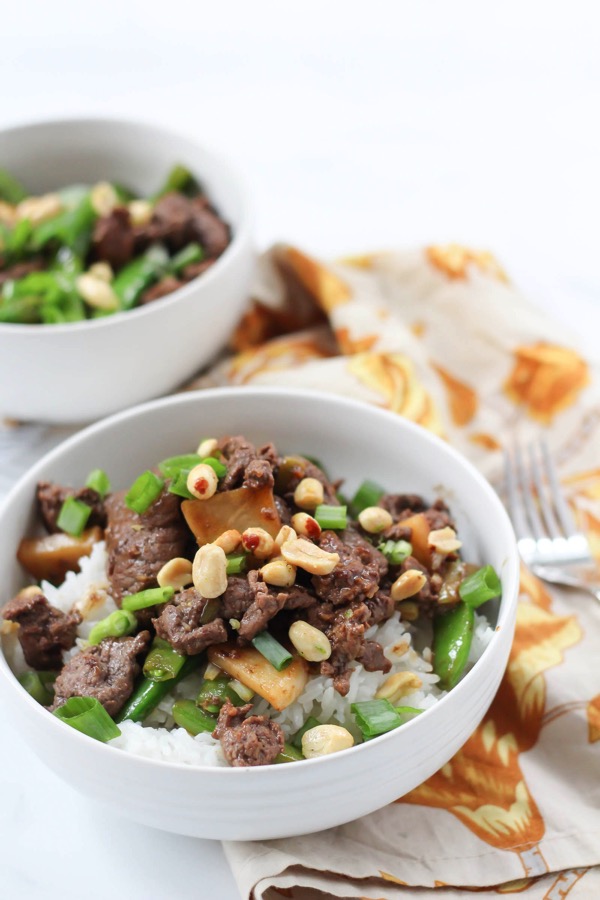 Blue Apron Ginger Beef Stir Fry
How Blue Apron and Hello Fresh are Different
-For Hello Fresh, you can choose your recipes. With Blue Apron, you can input settings (for example, I always put no pork on ours) and they surprise you from there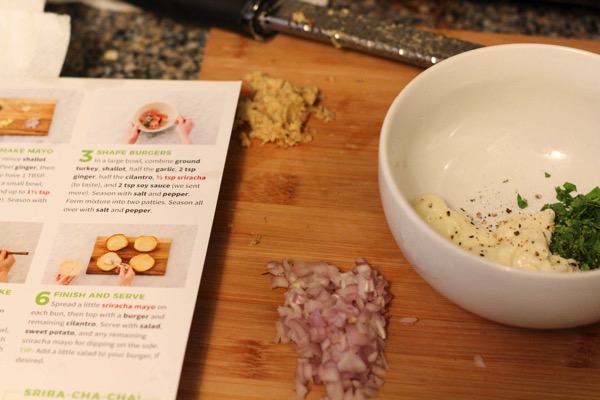 -The delivery days are different. Hello Fresh usually arrives on Monday, and I'll receive Blue Apron on Wednesday or Thursday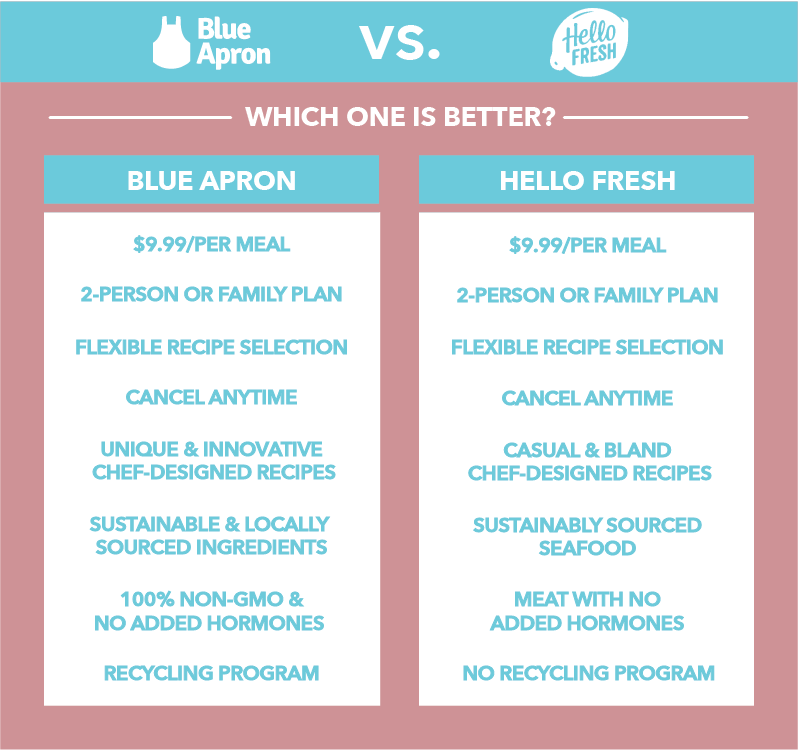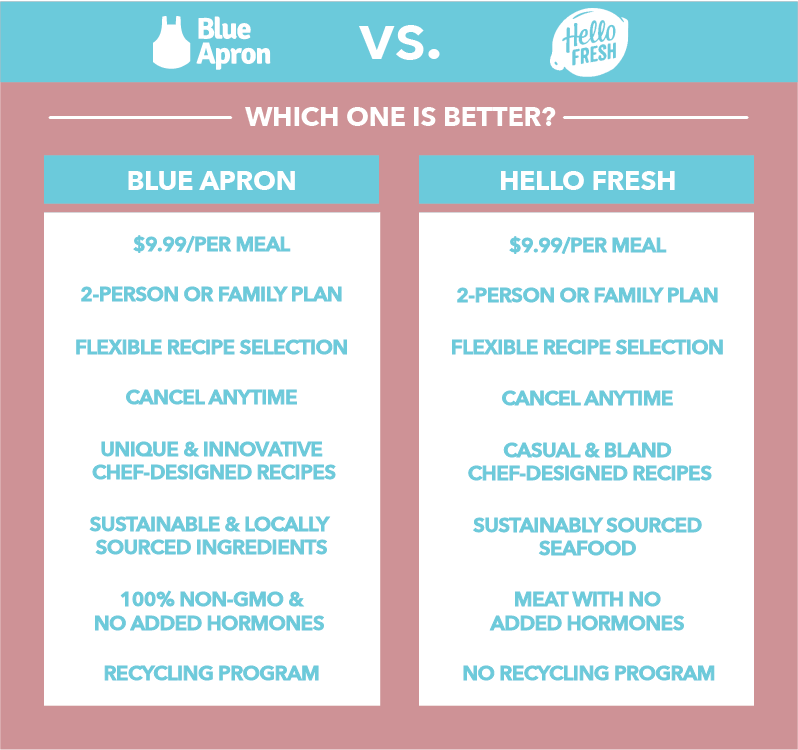 Blue Apron vs. Hello Fresh: My verdict
I like the fact that Hello Fresh Arrives earlier in the week. Usually I have the gusto to make our dinners towards the beginning of the week, and by the end of the week, I'm ready to go out with friends or get takeout. When we get Blue Apron, we shuffle our plans around a little bit so we're cooking towards the end of the week. (Usually this means that the Pilot makes at least one recipe, which is awesome.)
I feel like both services have fresh ingredients and they were similarly packaged. I did think it was wasteful of Hello Fresh to include enormous sheets with the nutrition information with ALL of the recipes for that week (so I got large sheets of paper for recipes I didn't make). Blue Apron tucks the small nutrition sheet into a tiny envelope. I felt like recycling the packaging for both services is fairly easy.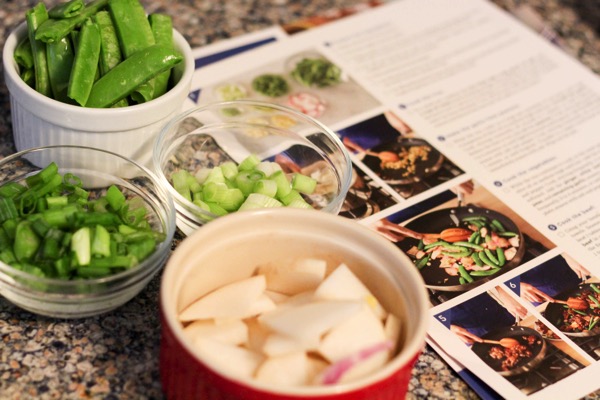 When I was comparing the products in my mind, I was curious to see which one we'd prefer as we opened the packages. Hello Fresh uses cute branded ingredient packaging, and the recipes looked pretty good. I felt like I was already used to the beautiful Blue Apron branding, with full color photos on the recipe how-tos.
As far as the recipes and actual meals go, the Hello Fresh recipes were good, but nothing blew me away. It didn't feel special to me, and all of the recipes we tried (sriracha turkey burgers, soy-marinated steak, and Spanish-style cod with chickpeas) felt like something I could have made on my own.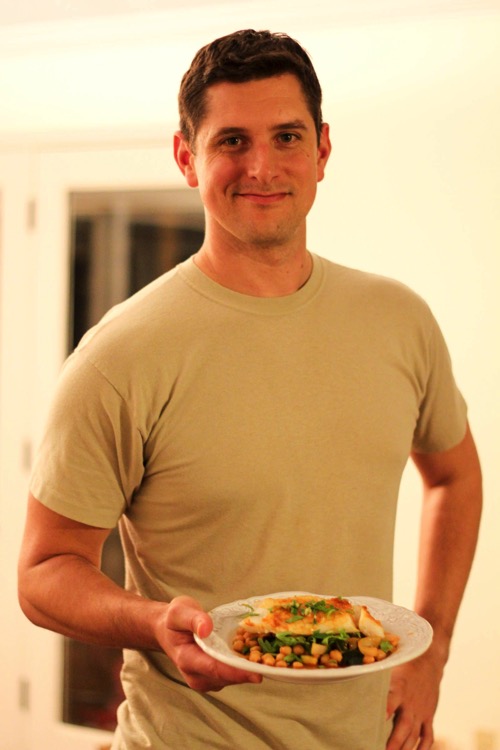 The sriracha turkey burgers were my favorite thing we tried, but all three recipes felt bland and like they were missing something.
Blue Apron recipes always blow us away, and feel like something we'd get from a restaurant. I feel like if you're going to take the time to make dinner, it should be something delicious that you truly enjoy.
If you've been wanting to try Blue Apron, they kindly offered 3 free meals to the first 25 readers to order here.
Thank you so much for reading, and hope you have a wonderful day!
What are your thoughts on Blue Apron vs. Hello Fresh?
Have you tried any meal kit delivery services? Which one is your favorite?
xoxo
Gina