Expanding horizons with Blue Apron
This post is sponsored by Blue Apron.
I'm fortunate that I haven't had many aversions lately when it comes to food. First trimester was a little rough, but after that, almost everything became appealing again. The one thing that doesn't sound appealing all the time: cooking. I'm not sure if it's because I'm extra tired, or just not in the cooking mojo, but I feel like it the food is there, and ready to go, I can do it. Otherwise, if it sits in the fridge without a known destiny, chances are that I'll ask the Pilot to throw it on the grill.
Blue Apron to the rescue.
We have been huge fans of Blue Apron for the past year. We're able to make restaurant-quality meals at home, and I especially love the fact that they send you exactly what you need, so you don't have bottles of random condiments and spices that will sit untouched for the rest of eternity. Shipping is free, and the ingredients arrive in a refrigerated box so everything stays fresh. They offer two plans: a 2-person plan and a family plan (for families of 4). The servings are very generous, too, and around 500-700 calories per serving.
It's also helped quite a bit with my pregnancy cooking rut. I'm excited to try new things, but may not feel as enthusiastic about planning and grocery shopping. With Blue Apron, someone kindly already sent me what we need to make something new and delicious. All it takes it a little bit of prep.
Blue Apron has also helped me to streamline my cooking processes, since I make a little mise en place before starting to cook our meal: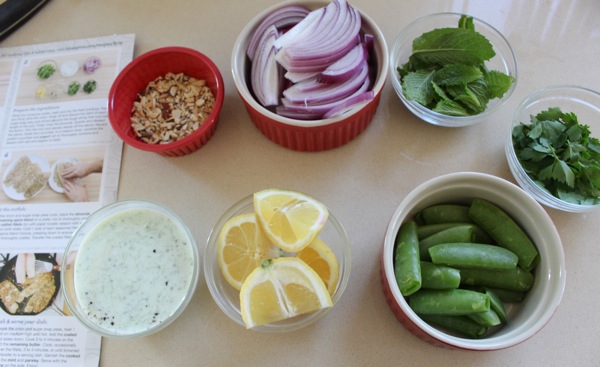 and has encouraged us to try entirely new things, like this Dukkah-crusted Catfish. Can you believe it was my first time having catfish ever??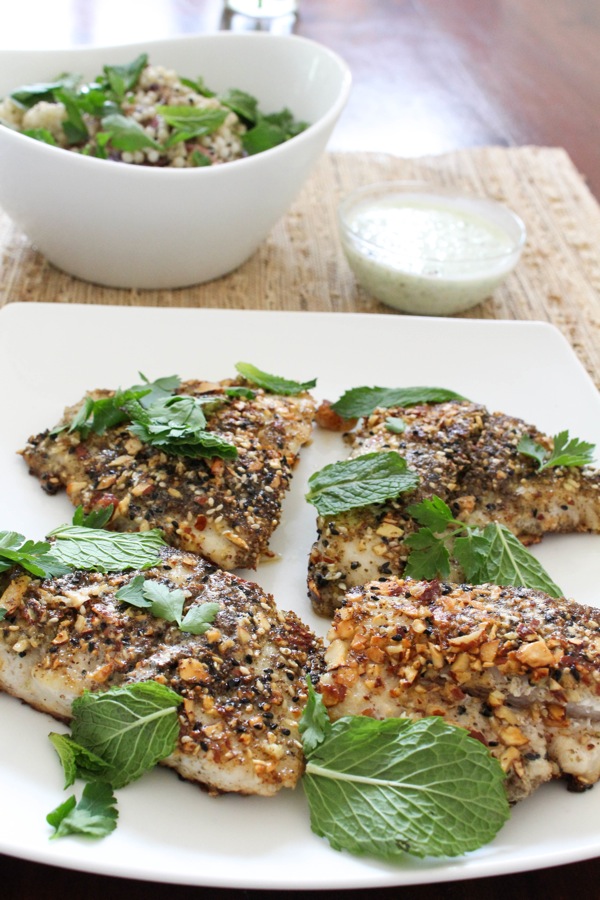 And just looking at these pics is making my mouth water.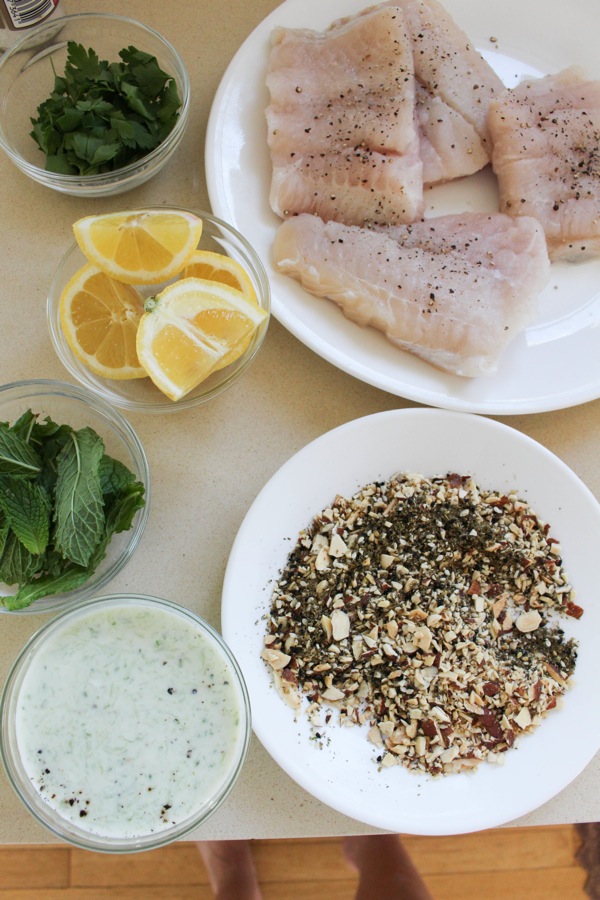 The catfish was coated in a hearty and naturally gluten-fee mix of Dukkah spices and chopped almonds, topped with a creamy cucumber yogurt sauce (I used plain goat's yogurt for mine).
After making a quick couscous and snap pea salad,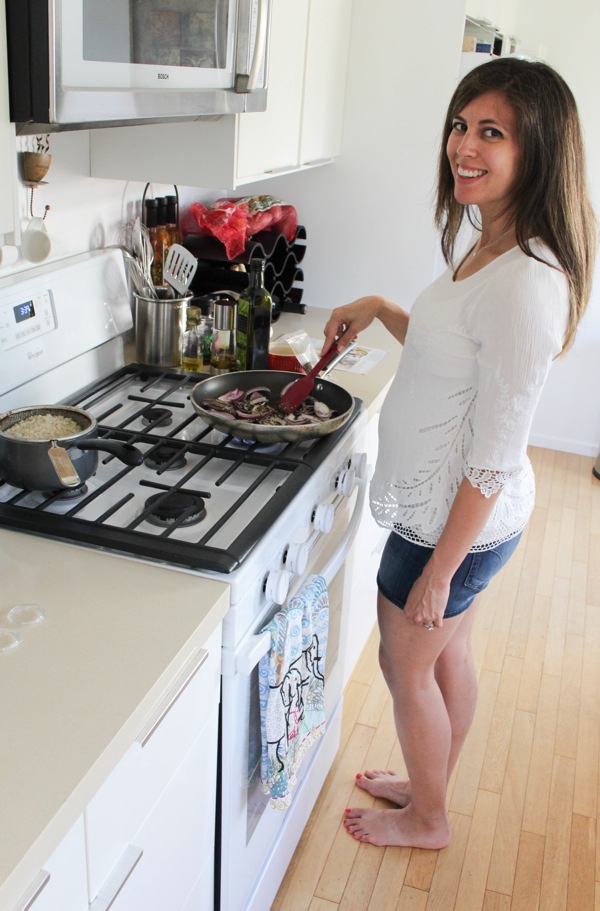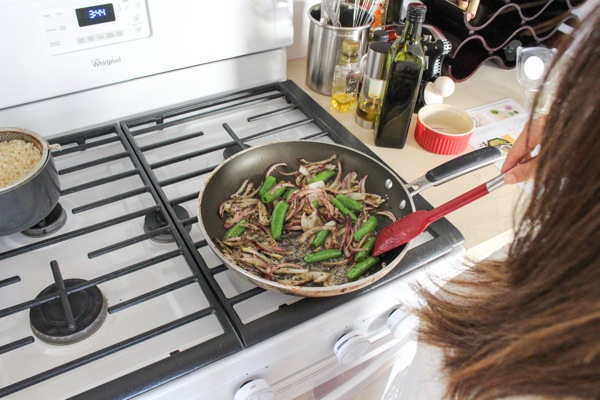 I cooked the catfish in the pan and it was ready to go!!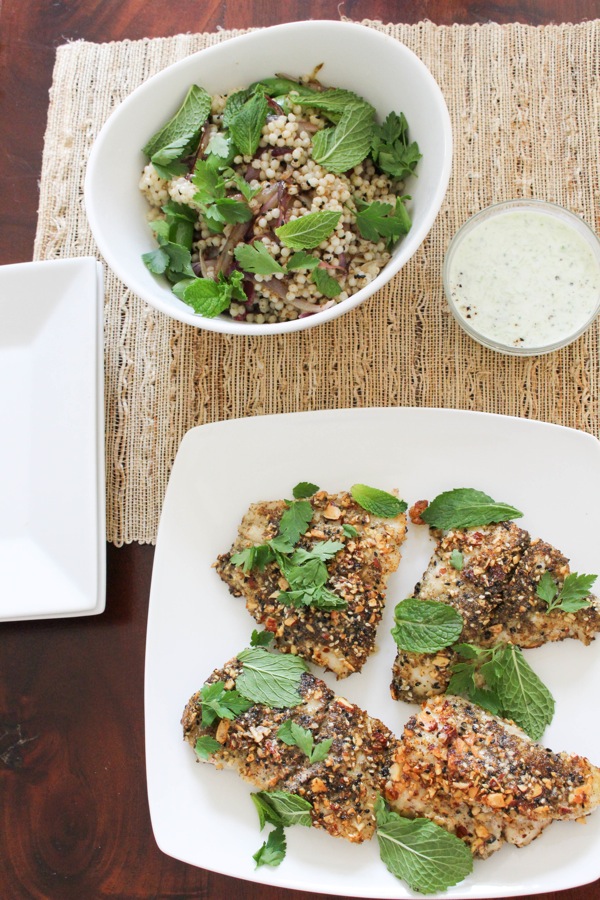 The fresh mint and parsley was a lovely addition.
Here's the recipe if you'd like to give it a try!!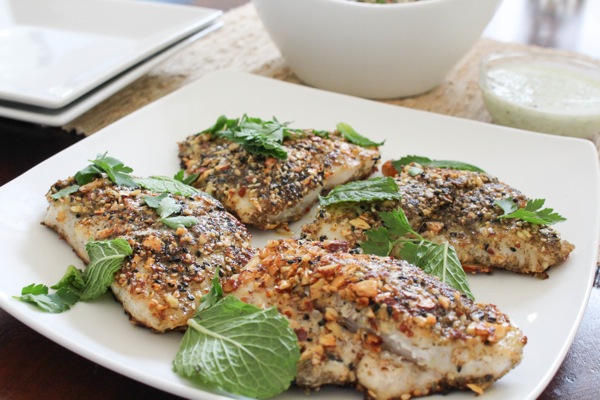 They have a selection of recipes on their site, too, if you'd like to try out some Blue Apron-style recipes at home, or want to recreate dishes from your Blue Apron shipment later on. I can't wait to try these salmon burgers and the pulled BBQ chicken sandwiches.
They kindly offered an awesome freebie for readers, too. The first 50 to order will get two meals free! Just click here.
Anyone else try something totally new lately?? What's something fun that's on the menu this week?
xoxo
Gina
This post is sponsored by Blue Apron. Thank you for your continued support of this blog and the companies who help to support our family.