Boogie Shoez and BC Update
Hellooooooo 😀 How are ya?? I've had a glorious day off <3
It's SO beautiful out right now!! Crisp and cool… lovely.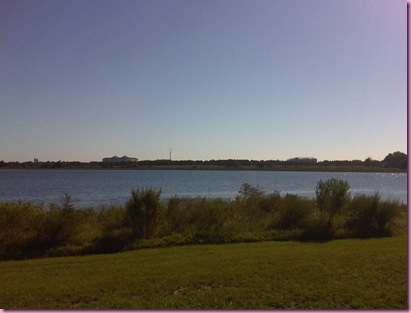 The puppers and I took advantage of the fall weather by going on a long walk this morning.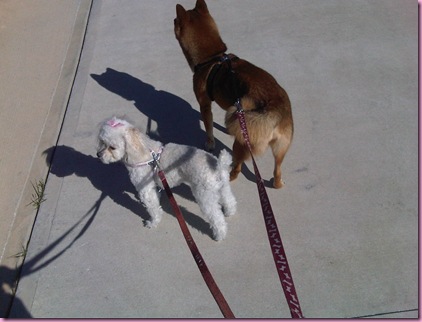 Long walk = sane puppers. They've been so mellow all day 🙂
I came back to the casa for a snack and chilled awhile, and the magically found myself here….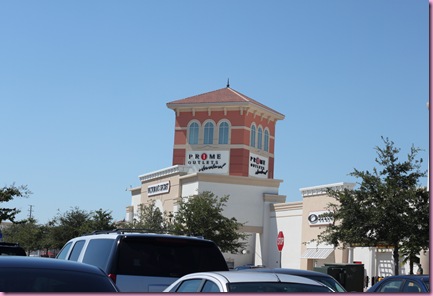 Prime Outlets!!
Shopping snackage: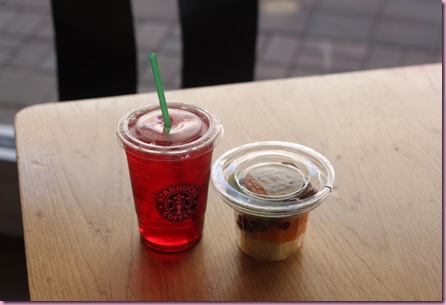 Unsweetened Passion tea with a fruit cup that tasted sour :/ Tea was delicious though!
I picked up these kicks to wear to Dance Trance, since my jazz sneakers are packed up in the POD.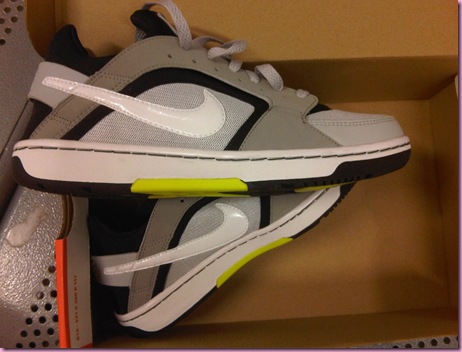 I STILL can't believe I bought a pair of shoes without a smidgen of pink or purple 😉 They're pretty fun though, feel amazing and will be great for Zumba, too.
After the shopping trip (and exchanging my dinosaur netbook at Best Buy for a faster one), I came back for a beast.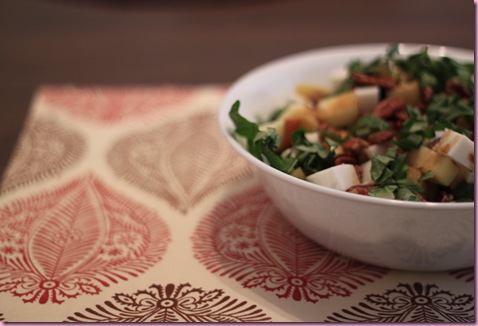 BEEEEAAAAASSST!
A serving bowl filled with:
-arugula
-chopped organic apple
-goat Gouda
-pecans
-homemade balsamic (from the other night)
–Garlic Gold and basil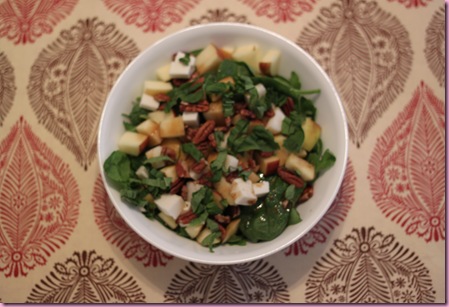 So. Insanely. Good.
I wish I could make this for everyone who has ever said they don't like salad 😉
Caution: Male readers, avert your eyes….**************************************************
It's time for the birth control pill update post that I've been asked for since I stopped taking the Pill one year ago. In the meantime, we've been using the Fertility Awareness method, which is discussed in Taking Charge of Your Fertility (a book I talk about *here*).
Since I stumbled on how to put this update into words, I used my crazy art talent to draw a cartoon for you….
Me, a couple of weeks after taking birth control pills: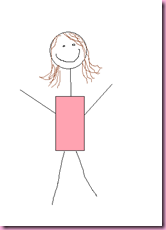 Happy, feeling pretty amazing and stoked that I didn't have to remember to take a pill at the same time every night. I wasn't sure if my cycles were going to be normal after stopping the Pill, but like clockwork, everything was as it should be.
Me, a couple of months after that: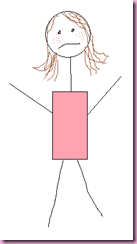 Kind of moody and a small colony of mini volcanoes took residence on my face. Everything else still normal.
A couple of months after that: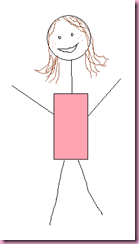 Moodiness is gone (I think all of the chemicals in my body had found their way out?) and while my skin isn't like it used to be (I also haven't been eating as raw as I used to), it's not as bad as it was. Everything else, totally normal.
Me now: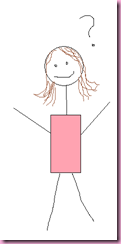 Happy, empowered, but a little confused…
I am SO insanely thankful that Kristen posted about TCOYF. As soon as she talked about it in her blog, I picked up a copy, read the giant book within a few days, and learned more than I did in any of my required "health" classes growing up.
I had no idea that our bodies can tell us what exactly is going on if we take the time to observe a few signs each day. Since I was on birth control pills for 13 years for medical reasons –I had extremely painful, err "lady friends"- I wish I had learned about TCOYF before I started taking birth control pills. Would it had helped my symptoms? Absolutely not. But I would have liked to know that everything was cool and normal before then, because it looks like I may have a hormone imbalance. I may have had this my entire life, but had no idea since everything appeared to be bueno.
I'm very happy that I know what's going on with my body each month, but am now a little confused. You see, every month when you ovulate (I just wrote "ovulate" on the blog and I'm gonna roll with it), within 24-48 hours of that, your waking temperature will spike up and stay up until your "lady friend" arrives. This is baller because you know when to expect said friend, and it also tells you that you did indeed ovulate. The thing with me is that even though everything is super regular, my temperature spike is extremely late in the cycle. Now, I'm working with a homeopathic doc as well as a traditional doctor- as a team, they'll hopefully level out a hormone imbalance I may have. (We're waiting for the test to get back on that) So, um, yeah.
Do I recommend Fertility Awareness Method in lieu of other birth control options? Abso-freaking-lutely not. You have to do what's best for YOU, and taking the Pill worked for me for medical reasons and then later on for.. other reasons 😉 There are so many options out there and the best thing you can do is educate yourself and make the best decision for YOU. Do I think every woman should read TCOYF? YES. If you haven't read it yet, get thyself to Amazon or a bookstore 🙂
With all that being said, I'm off to dance 😉
xoxo,
Gina