Breakfast dessert and disaster strikes
Hey guys! Hope you're having a good day 😀
The jumble-aya last night came out beautifully: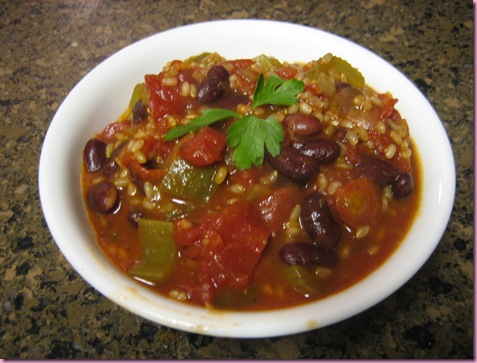 The combo was so delicious and comforting- spices, veggies, kidney beans and short grain brown rice.
I forgot how much I really love brown rice: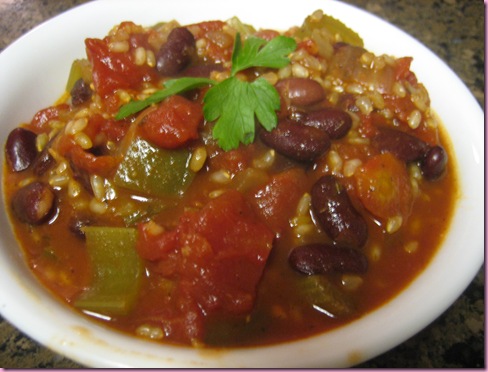 (I had 1.5 bowls of the good stuff)
The pilot and I chilled for a while, he snacked on macaroons while we watched Family Guy and called it a night.
This morning, I had something I hadn't had for bfast in wayyyyy too long: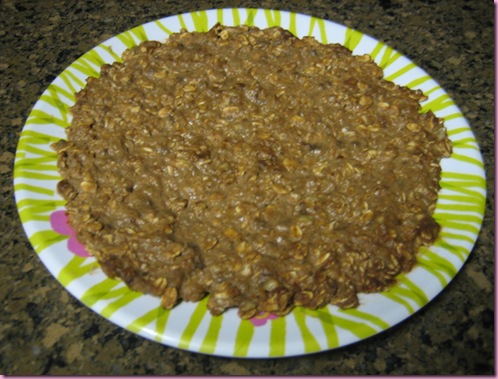 (don't you wanna dive in?!)
A BREAKFAST COOKIE!!!!
This one had brown rice protein, 1 small nanner, 1/3 cup oats, splash of hemp milk, Stevia, cinnamon and sea salt. Pure cookie bliss right there. Since I've been doing the raw until dinner thing, I've missed my breakfast cookies with all of my soul. I'm glad to have them back in my life 😀
After bfast, I walked the puppies and then hit up the gym for some iron pumping action.
I did 20 minutes on the elliptical followed by shoulders, chest, triceps and abs. After that, I went to Target and the health food store –and actually managed to stick to my lists! For the most part. Heh- and then came home for some lunch.
I made one of my favorite salads ever: Suddenly St. Tropez salad by Natalia Rose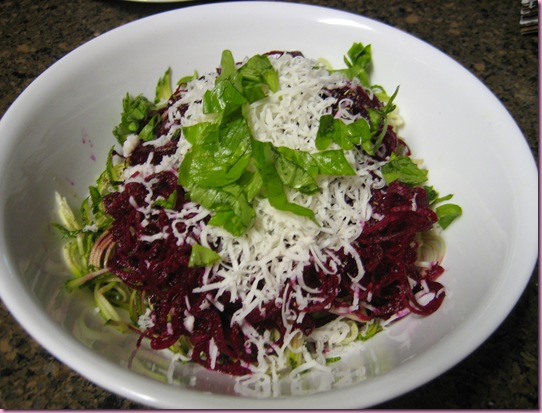 This version had spiralized zucchini, spiralized beet, balsamic, Italian seasonings, sea salt, goat jack cheese and fresh basil.
With a side of eggplant bacon: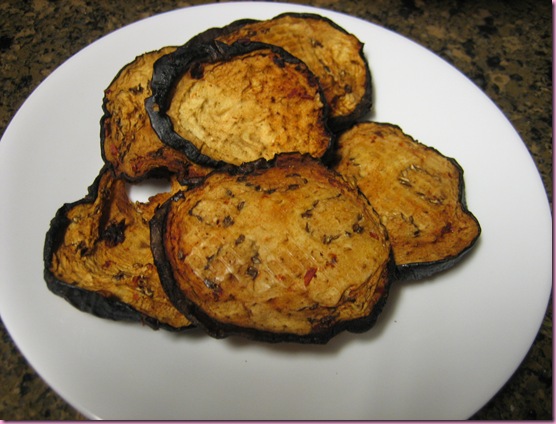 I was happily munching my salad beast when I realized it was missing something: grape tomatoes! So I ventured into the kitchen for some and that's when disaster struck.
Viesa ATTACKED Bella 🙁 One second, they were barking at the leaf-blowing man in the backyard, the next second they erupted into horrifying fits of growls and the next thing I knew, Viesa had Bella by the neck and had her pinned to the floor. Of course, I went RUNNING into the living room as soon as I heard what was going on and no kidding had to pry Viesa's fangs from Bella's neck, and Bella was bleeding and shrieking like the dickens. I picked Viesa up, put her in the bathroom and closed the door, and went to check on Bell who couldn't even cry—a hiss sound was coming from her mouth and she was shaking. One frantic phone call to the vet and then we were off to the animal hospital- Viesa stayed at home in her kennel.
The rest of my salad sat on the counter: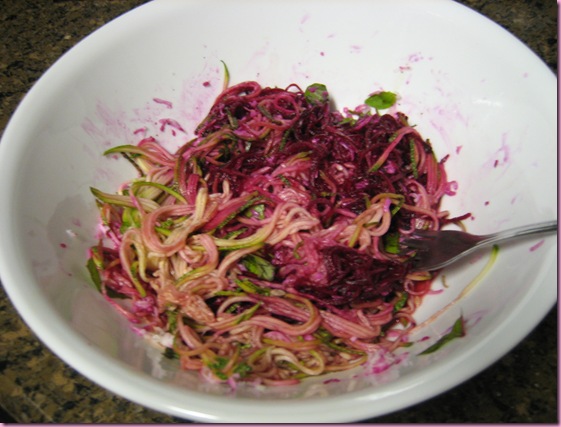 The vet cleaned Bella's neck out, gave her antibiotics and anti-inflammatory vaccines and gave me medication to give to her for the next 10 days. I also have to heat pack her neck and clean it with hydrogen peroxide for the next couple of days.
The puppies are still separated –I'm giving them shifts.. one puppy can be out for a half hour while the other one is in the kennel, and then they switch- and tonight the pilot and I are supposed to talk about everything and figure out what we're going to do.
This isn't the first time this has happened, but it's the worst it's ever been. Viesa has always been dominant and after serious training for the past two years, we thought she was finally over her "phase". Guess we were wrong. I really, really, really don't want to give her away but it might be what we have to do.  We're worried about having crawling babies around and her snapping again. This is especially important to me, because when I was 4 years old, I was attacked by a dog. I have stitched on my chin from the event and never want to see it happen to anyone else. I'm just hoping we can find her a good home in a no kids, no other pets household.
I'm still a little shaken up about everything, but I know we'll figure it out. Just have to let the adrenaline settle. Usually in times like this, I'd go for a run, but I need my energy for spin later tonight.
Sorry leave on such a down note. It's very unlike me 🙁 I'll be back to myself tonight, promise.
Enjoy your day <3
G
Coming tonight: Weight lifting 101 😀