Hiii friends! Happy Monday! Thanks for stoppin' by the blog today. How was your weekend?
Ours ended up being productive and relaxing, with some pool time mixed in there. It was perfect.
The weekend fun started off Friday morning when I met up with Lindsay to shoot some workout photos. We've been taking lots of pics for upcoming blog posts (like tomorrow's workout and giveaway!) and I've had a blast shooting with her. Not only are her photos gorgeous, but she's a blast to hang out with.
Anyway, whenever we take multiple workout pics, I'll usually change in my car, hoping no one can see an undressed girl trying to sausage herself into a workout outfit in a very tiny space. It's pretty comical, but it's NBD; gets the job done. BUT on Friday, Lindsay brought a pop-up tent for me to use to change outfits. (It's like this one!) We were laughing our faces off while I changed in a tent in the middle of downtown Valdosta. As hilarious as it was, it was also a game changer. NEXT LEVEL. haha.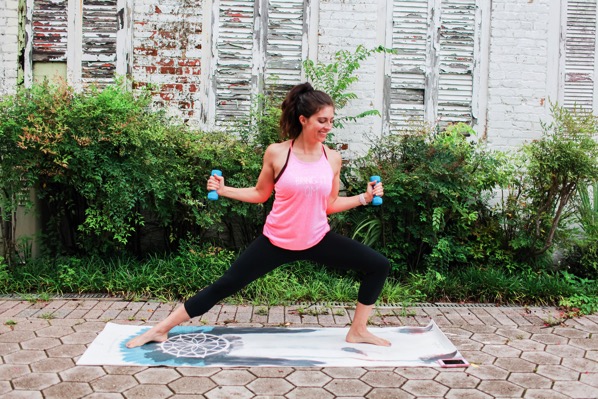 (Yoga strength on the way! Tank is from Lorna Jane)
After pics, I grabbed some bfast to-go, then rushed home to pick up P, pick up Liv from superhero camp, and bring the girls home for lunch and naptime.
The Pilot had to work later, so we made a quick dinner here at home, and I was a Friday party animal and went to bed SUPER early. All of the events from the week + staying up reading The Nightingale had caught up with me, and by Friday, I was toast.
Saturday we relaxed around at home, and then headed out for our Donut Saturday tradition. We still hadn't found a a dream donut in Valdosta to blow us away -we got really spoiled with a Dunkin' like .25 miles from the house we rented in Tucson- but that was before we knew about Dixie Cream.
You guys.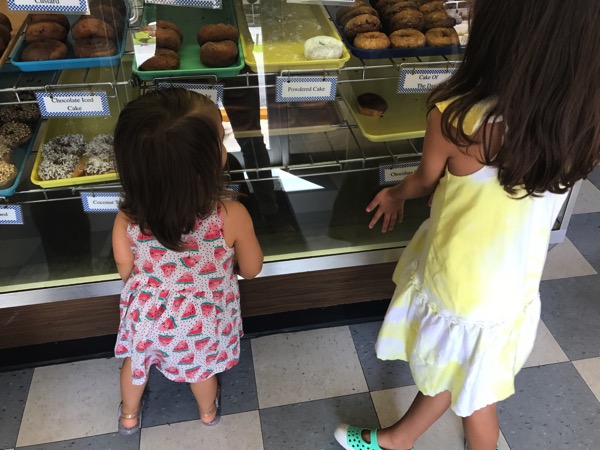 Dixie Cream is the real deal.
A kind woman named Joan makes the donuts fresh each day, and there are always different flavors. Apparently they sell out EARLY too, and when we got there at 11, a lot of them were gone.
They were so fresh, and so, so delicious. The texture was like the most perfect cake, they weren't fake-tasting or greasy, and the girls LOVED them. Needless to say, we'll be back soon. (We'll probably just roll up earlier in our jammies.)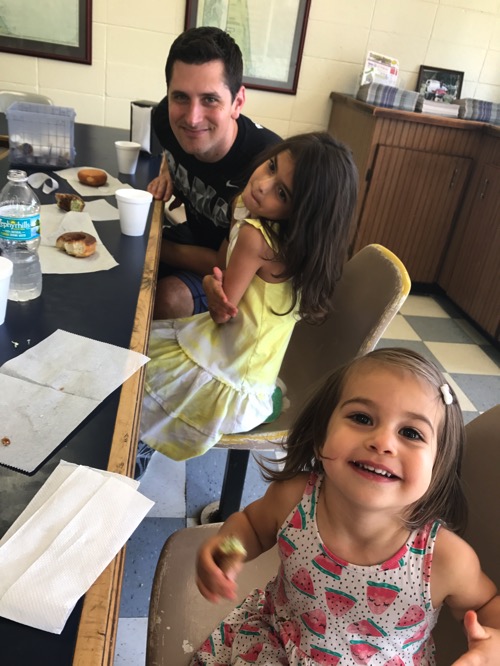 Saturday was also pool day! We packed up the girls for an afternoon of swimming. Liv got to practice using her mermaid tail, and P floated around with me in her little life jacket. At the pool, they have a full snack bar with appetizers, and cocktails… so the Pilot and I got a delicious Tito's and cranberry creation.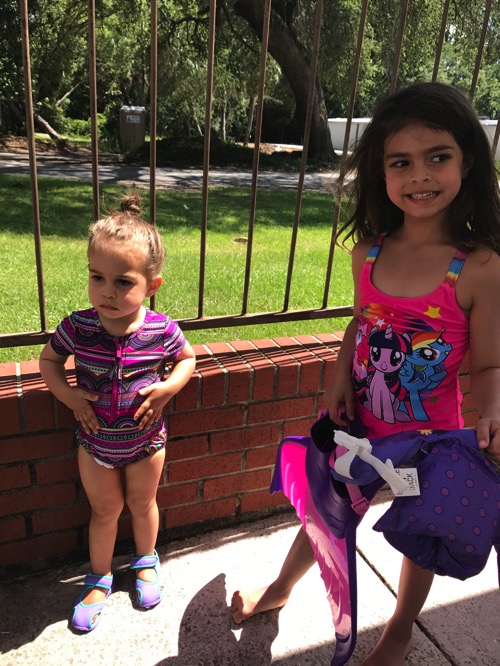 We came home for nap/ rest time, and while P was crashed, I headed out for a short workout. I've finally been hit with some fitness FOMO here in Valdosta -I'm really missing taking barre classes, and Orangetheory- so it's been challenging to motivate myself for my workouts. I told myself to give it five minutes and I'd feel better, and it was true. I worked up quite a sweaty total-body circuit and felt awesome when it was over.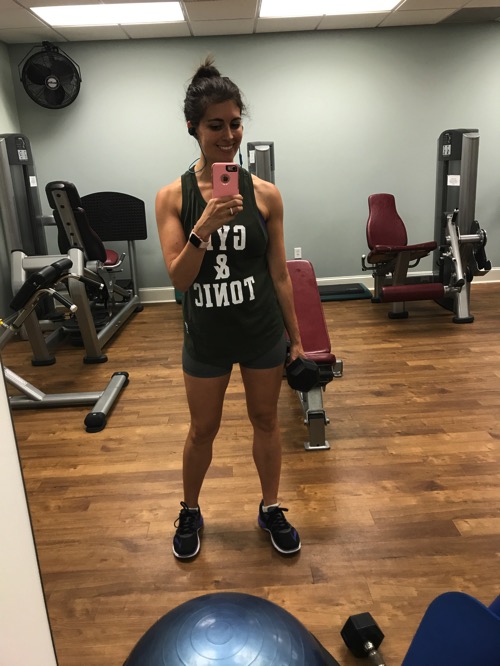 For dinner, we ordered takeout from Steel Magnolia's, which has an insane cheese board.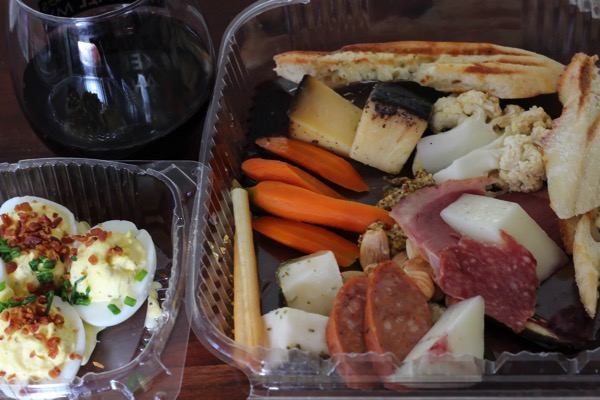 I could just eat that for every meal.
We poured some wine, and enjoyed deviled eggs, cheese board, and our entrees (I got the chicken). We capped off the evening watching the Handmaid's Tale on Hulu. To be honest, I don't know why I keep watching it. It's super intense and well-done, but freaks me out!! I've read the book, and it made me feel the same way.
Sunday was breakfast at home, power yoga in the afternoon,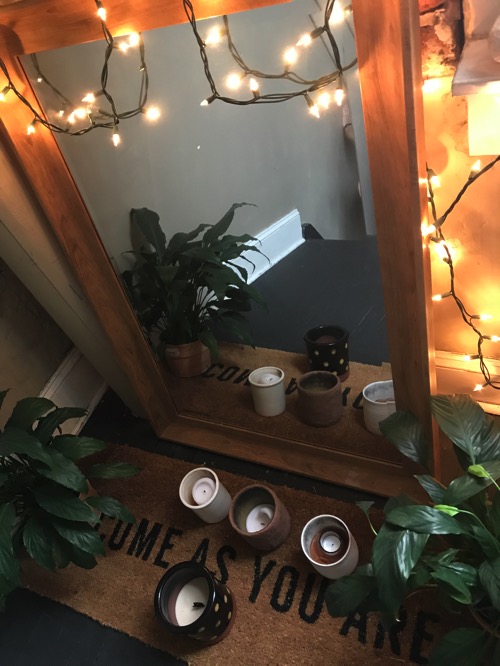 and lots of chores. We're finally making headway in unpacking the garage (<— not the most fun to unpack/organize), and refilled our sad fridge situation.
Holding my *tiny* baby: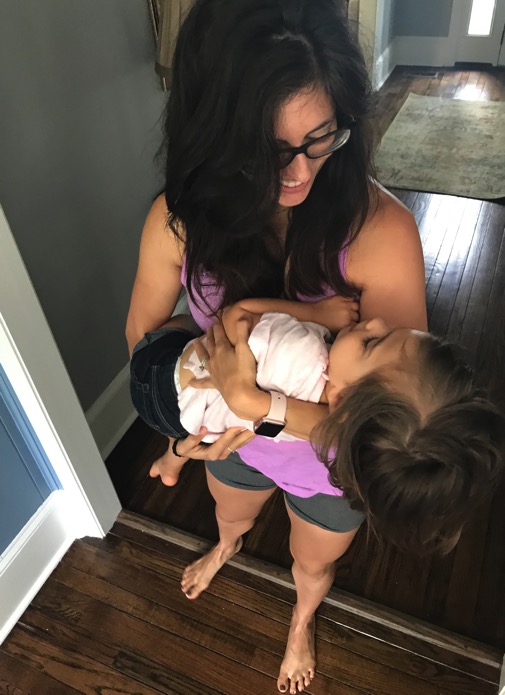 Dinner was return of the Harney Cobb: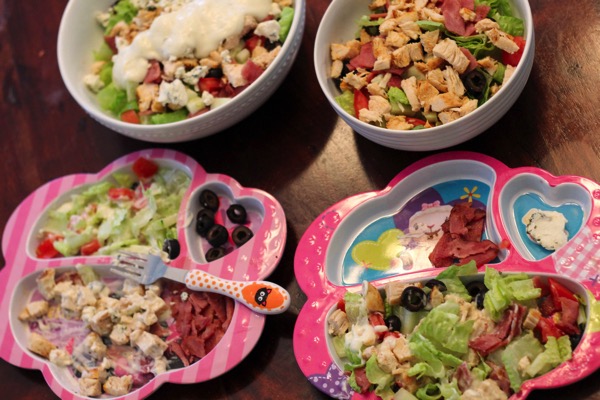 This week it's back in the swing of things! Liv is doing a half-day camp, and if the rain holds out we can pick some blueberries.
Have a great day and I'll see ya soon!
xo
Gina
Looking for a workout? Here ya go!