celebrating the man of the house
We took him out for burgers and the restaurant (Slater's 50/50) gave him a bacon rose, so I think it was a win? 🙂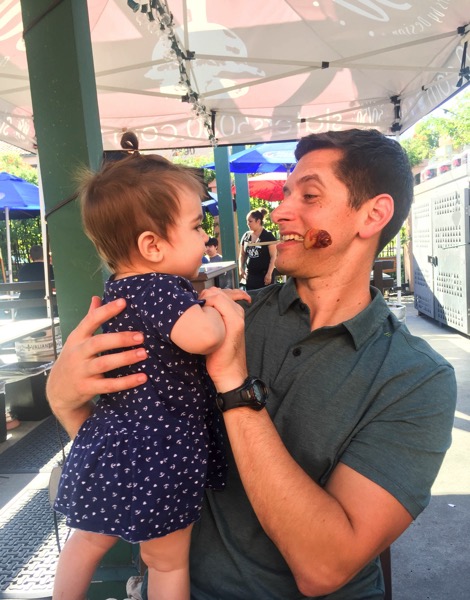 Hi friends! Happy Monday! Hope you had a wonderful and relaxing weekend. Ours was a lot of fun. We spent time with friends, the Pilot and Liv went on a daddy-daughter camping trip, and we celebrated Father's Day yesterday.
Friday afternoon, we relaxed at the house: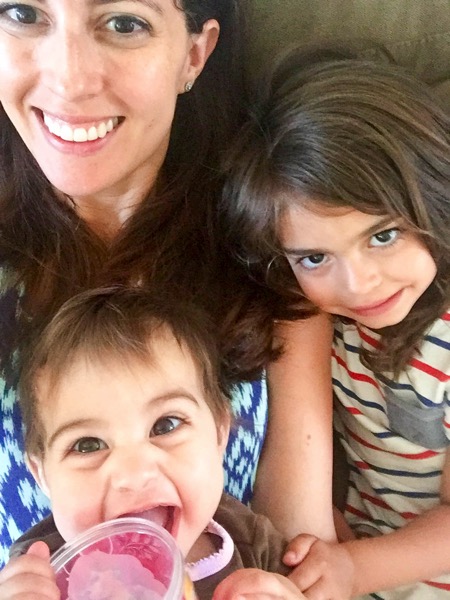 and then met up with our cousins in Old Town for dinner.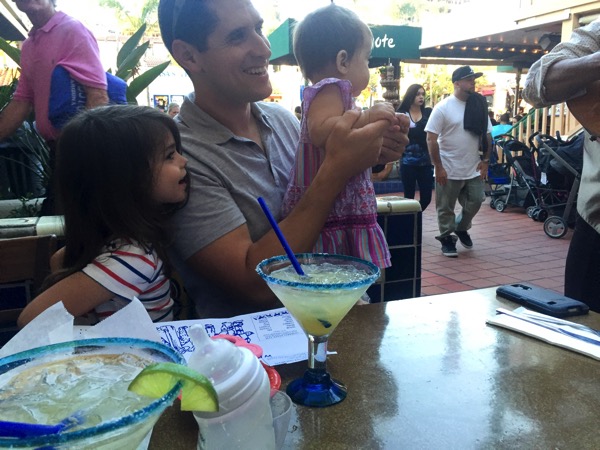 (Gotta love the bottle on the table of giant margaritas haha.)
We hit up Liv's favorite spot, Cafe Coyote, and I ordered the "usual" which is the protein bowl without cheese or sour cream. It's packed with Mexican rice, black beans, chicken, guacamole, pico de gallo, and lettuce. SO GOOD.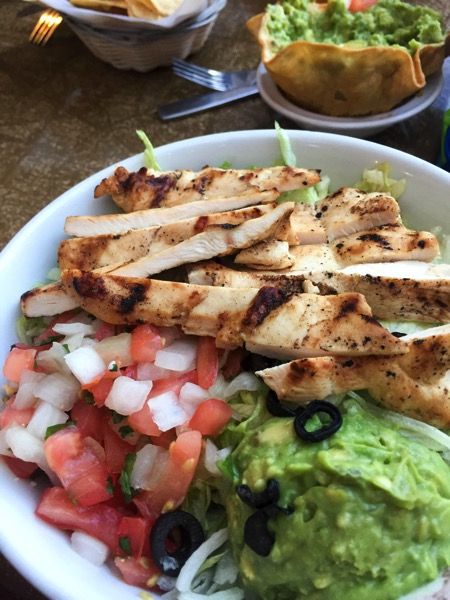 We had a blast catching up with the cousins; it's so nice to have family here in town. <3
Saturday was ballet, donuts, and my return to Orangetheory. It killed me in the best way possible. I had to modify a little bit, and walked/ran the cardio portions, and was drenched in a puddle of sweat when I left. Being back made me realized how much I really did miss it, and verified that it is indeed one of my favorite workouts ever.
On Saturday, the Pilot and Liv took off on their first daddy-daughter camping trip, and it Liv's first time camping. We have some friends who do this annually, and all of the dads take their daughters camping for a weekend. Last year, the timing didn't work out, but this year, it was perfect. They had such a blast together enjoying camping food (grilled dinner and pack + egg breakfast, went on a scavenger hunt, roasted marshmallows, and slept in tents. (It was Liv's first time sleeping in a tent and she absolutely loved it.)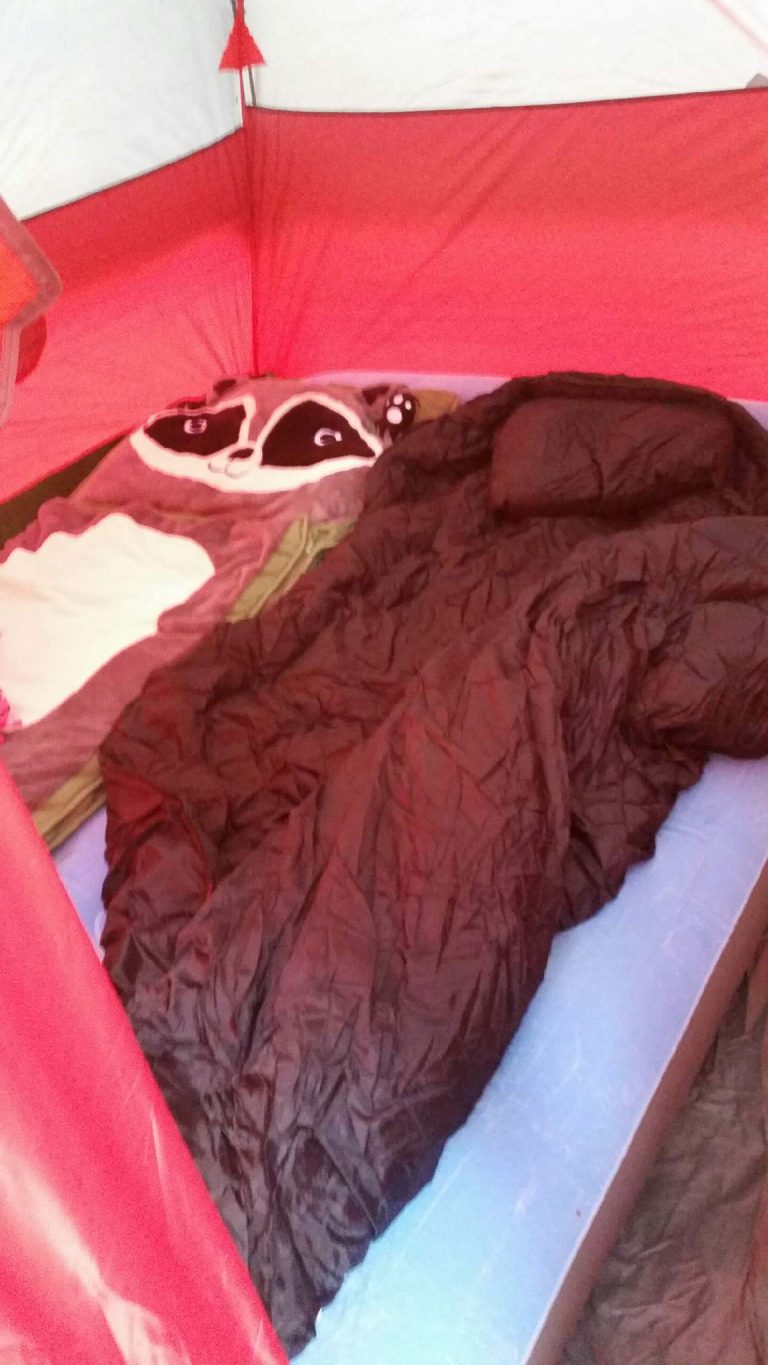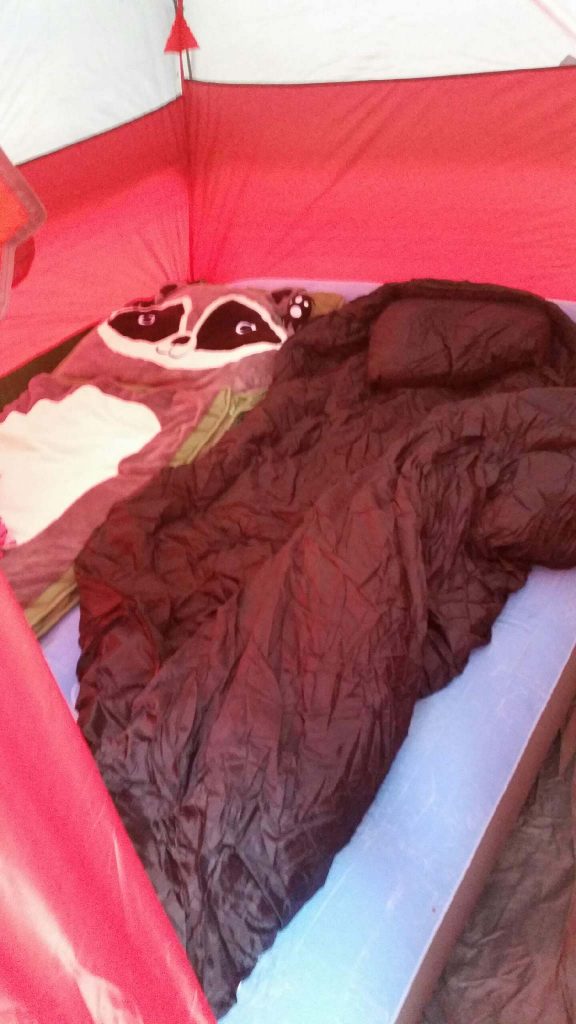 Turns out that Liv is a huge fan of hiking. They set off on an adventure, and she went crazy over all of the hills, pine cones, and gorgeous scenery. I think we'll definitely be making a trip as a family.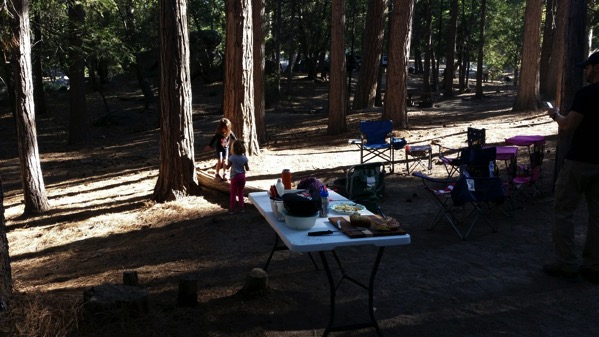 Since the Pilot and Liv were gone, it was just P and myself over here. We enjoyed a lunchtime picnic at the park, went to the mall to pick up Father's Day gifts, and after she crashed for bed, I enjoyed watching super girly movies and a dinner no one else in the family would enjoy.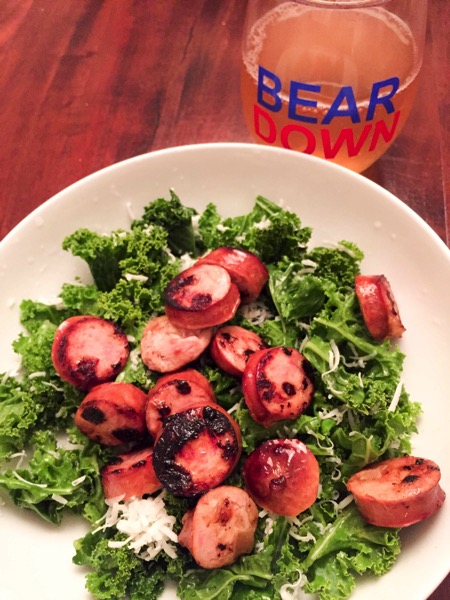 (Massaged kale salad with goat gouda, sautéed chicken sausage, kombucha… and some wine)
Also, even though I read The Fault In Our Stars and totally knew what was going to happen, I still cried my face off.
Sunday morning, I taught Zumba, Miss P and I hung out at the house, and Tom and Liv were back in time for an early Father's Day dinner at Slaters 50/50.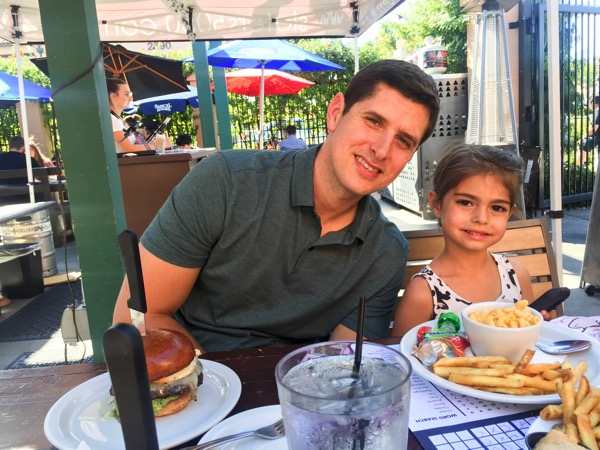 (Picked up his polo at lulu. It's super soft)
We're huge Hodad's fans, but we've received so many recommendations to try out Slater's, especially since they mix their meat with bacon and have unique burger creations. We started off with deconstructed guacamole (which was DELICIOUS. I think I Snapped it but forgot to take a real picture),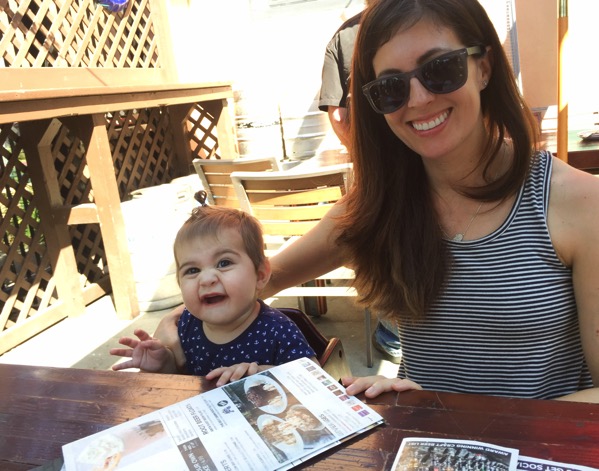 (her crinkle nose has been cracking us up)
and for my entree, I rolled with the turkey burger on a gluten-free bun + sweet potato fries.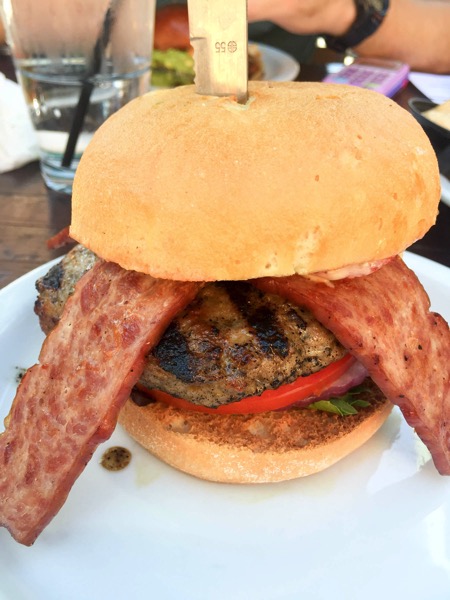 (How do you even eat a burger that giant? I had to separate it into sections. #noob)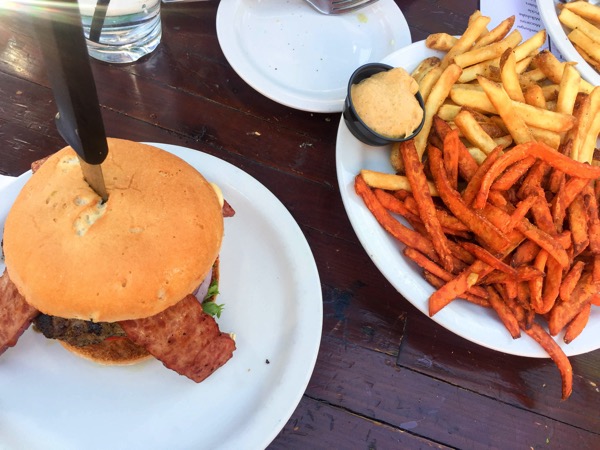 We all shared a Pop Tart milkshake for dessert. 😉
The burgers were enormous, and delicious. As good as everything was, we still think Hodad's is #1.
I booked the Pilot a Zeel massage and spent the evening catching up on some things around the house so we're ready to tackle the week. It's going to be a short one since we're headed on a roadtrip this weekend. YASS.
So tell me friends: anyone else reunited with a workout love? Am I the only weirdo who separates giant burgers and sandwiches as I eat them?
Hope you have a very happy Monday and I'll see ya later this afternoon!
xoxo
Gina