Hi guys 😀 How's your day going?? Mine has been bueno- today has been a little frantic because I'm making dinner for the commander's familia.
The menu:
-Mexican fruit and veggie salad (cucumber, strawberries, pineapple, jicama, bell pepper, tomato, red onion, lime juice and cilantro)
–Chipotle-style Basmati rice with lime and cilantro
–Chocolate chip gooey butter cakes with ice cream
For realz 😀
Check out who can smell the chicken roasting already: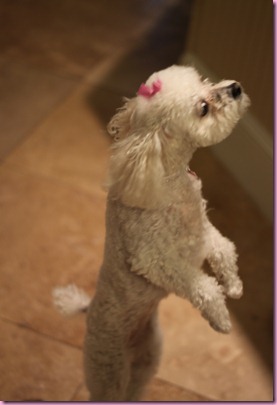 Doesn't she look like a crazy obsessed chicken fiend?? Goofer 😀
I started off this morning with the usual bfast cookie dough cereal (skip the mashed banana, add more milk):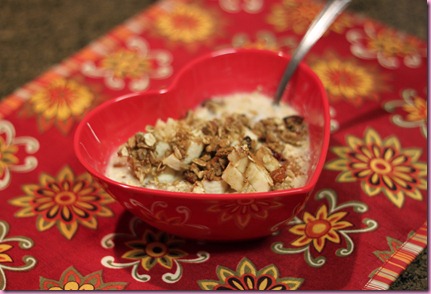 The star of the show was 1/2 a crumbled AllieBar that I traded some macaroons for at the Summit 😀
Those things are GOOD. Love that they're a little salty, chewy and not too crumbly.
After bfast, I made the pilot some huevos and toast and went to Wizzle to fight for my sanity.
When I got back to the casa, I decided to break into these bad Johnnies: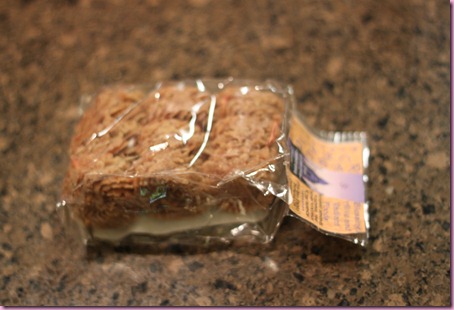 Raw Chai Raweos!
I've had these before in Tucson, but couldn't wait to try to try them again.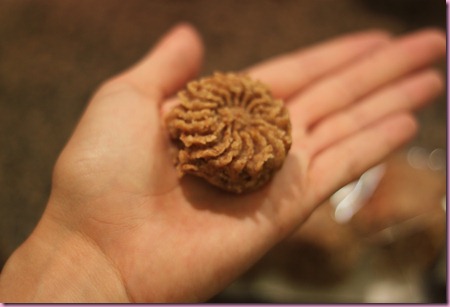 Like a supersoft blonde Oreo, with a creamy filling and strong chai flavor. Lurve.
I'm off to get crack-a-lackin on the cooking for tonight, meet the girls for a smoothie, get my workout face on, train two clients and then take dinner over to the commander's familia. I think I'll save some for the Pilot, too 😉
Have a wonderful day!
xoxo,
Gina
My thoughts on Eat, Pray, Love: After a glorious dinner at Bleu Pub last night with the girls, we went to go see Eat, Pray, Love, which I've been anxiously awaiting all summer. The verdict? It was really good, but not as fab as I thought it would be. I LOVED the book, but even with the beautiful scenery and perfect casting, it was missing something. I don't think I've ever seen a movie that's as good as the book, though 😉 Does that even happen??
Today's workout jam: Please help a girl out on this one 😀 My iPod needs some sweet new songs- what are you loving right now??