Clean eating sweet potato casserole
Here's the sweet potato casserole you need at your Thanksgiving table.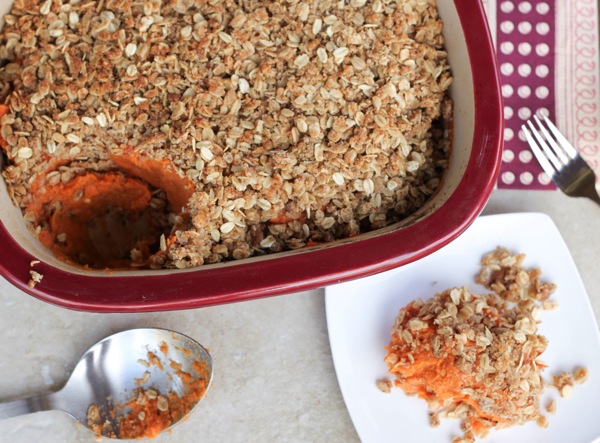 Livi and I were planning on going to squadron Thanksgiving on Friday afternoon. She ended up being awake all night Thursday night -teething is the worst- so after playing with friends Friday morning, we came home for naptime. Since she didn't sleep well the night before, she napped until 5:30! We ended up missing squadron Thanksgiving (which started at 5)… there was no way I was waking her up. So, we had 15 baked sweet potatoes that weren't about to go to waste.
I think we can handle them 😉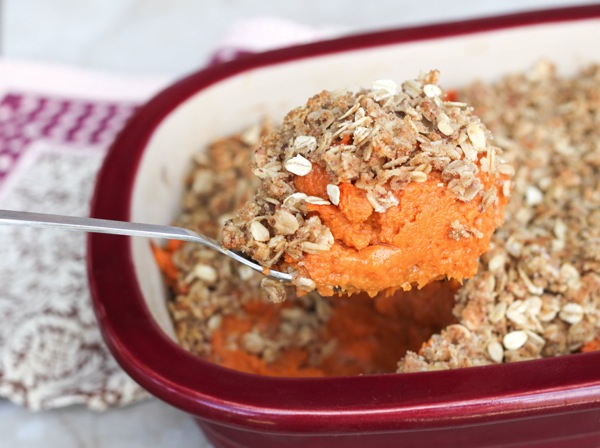 Healthier Sweet Potato Casserole
This is another one of my favorite clean Thanksgiving recipes. I don't mean "clean" in the sense that it's devoid of butter and loaded with Stevia, but rather a lighter option than the usual fare, using all homemade ingredients.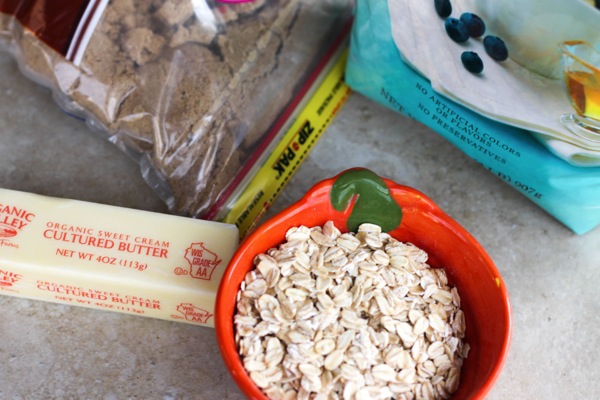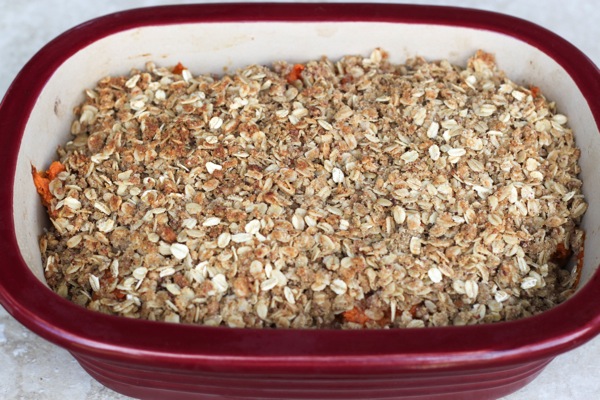 Sweet potato casserole is one of my all-time favorite Thanksgiving foods. Ok, so I love all Thanksgiving food, but this casserole always has a special place in my heart… and the largest dedicated plate space 😉 Even though I do like the ones with the marshmallow topping, I really love this crumble variation. The crumble adds a nice complementary texture to the creamy taters. You could also add some dried cranberries or mini marshmallows for a festive flair.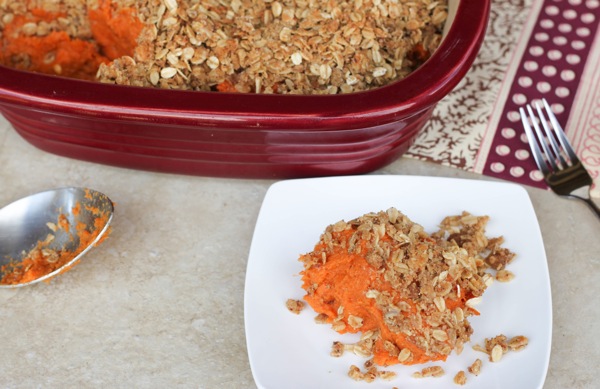 Here's the recipe:
Sweet potato casserole
A gluten-free variation of a beloved holiday favorite. Feel free to add in some dried cranberries or mini marshmallows, too!
Prep Time:

75

Cook Time:

35

Total Time:

1 hour 50 minutes
For the sweet potatoes
12

–

15

sweet potatoes, depending on size

2 tablespoons

melted butter

2 teaspoons

sugar

1 teaspoon

vanilla
pinch sea salt

1/2

–

1

cup almond milk or milk of choice
For the crumble
1 cup

oats (can use gluten-free)

1/2 cup

almond meal

1/2 cup

dark brown sugar, packed

4 tablespoons

melted butter

1 teaspoon

vanilla
pinch of sea salt
Instructions
1. Preheat the oven to 400. Wash the sweet potatoes, poke them each a few times with a fork, and bake on a cookie sheet for an hour until soft.
2. Let the potatoes cool slightly, peel them, and place in a mixer, along with the butter, vanilla, milk, sugar, salt and vanilla.
3. Mix well until smooth. Spread the potatoes evenly in a deep baking dish or casserole dish.
4. Prepare the crumble mixture in a separate bowl by mixing all of the ingredients.
5. Top the sweet potatoes with the crumble mixture, and bake for 35 minutes.
Notes
Feel free to use any butter or sugar substitutes that you love. Coconut sugar and Sucanat both work well instead of brown sugar.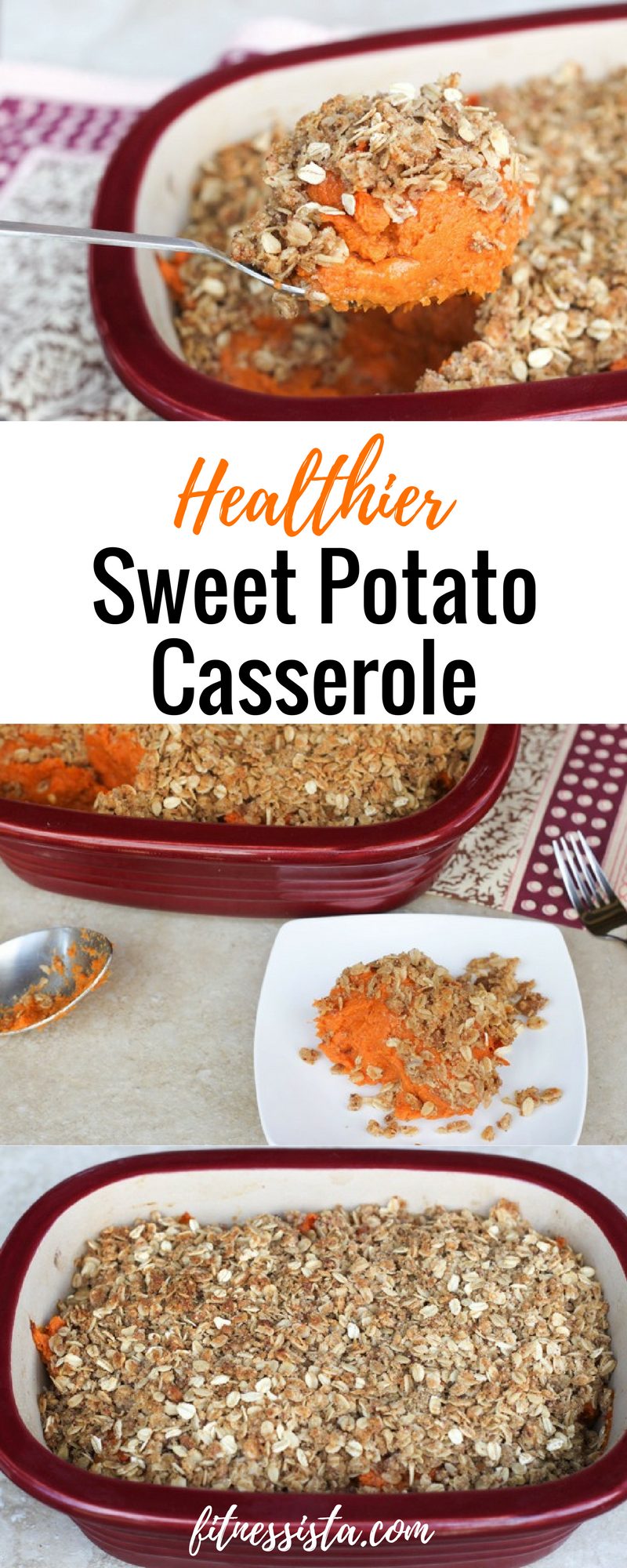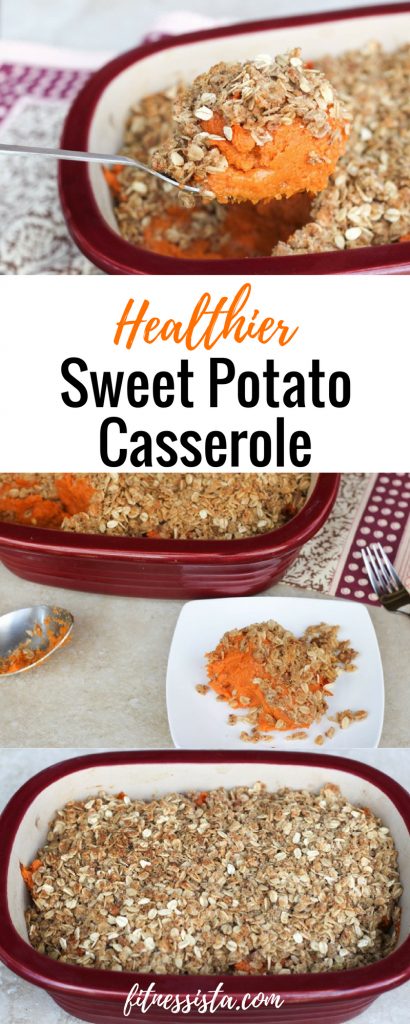 Are you cooking for Thanksgiving this year? What are you making?
We're doing the usual lunch/dinner with my dadoo's side of the family, then everyone is coming over here for nighttime dessert party. I'm thinking of making peppermint brownies, slow cookie hot cocoa, white chocolate cranberry cookies, and buying pumpkin pie from Costco (<– the best).
As far as the weekly meal plan goes, we're keeping it pretty simple this week.
I'll chop veggies to have on hand for salads, make some cranberry amazeballs (obsessed with these right now) and make simple dinners leading up to the holiday.
Lots of fun stuff planned for the blog this week! A 20-minute Tabata/strength video (it's killer! and minimal equipment so you can add it in during the holiday craziness), all of my holiday gift guides, a custom shoe giveaway, and some fun new recipes. We're also going to be running a Black Friday/Cyber Mondy Soli Beat flash sale, so keep your eyes open for it 🙂
Hope you're having a wonderful weekend!
xoxo
Gina
More clean Thanksgiving recipes:
The BEST vegetarian green bean casserole