Deck the halls with fear and bells
Today's big adventure involved putting a very cute little red dress on an even cuter little girl to get her Santa picture.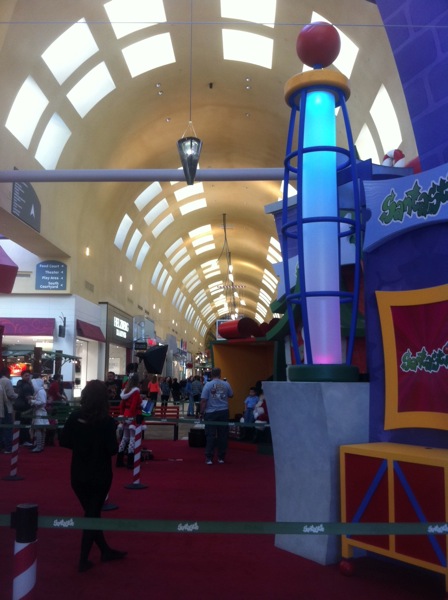 I felt awful, as she's not a huge fan of the man in red, and she was so happy leading up to the event itself. My mom and nana met us at the mall and we changed her into her dress, tights and shiny shoes, then walked over to the Santa area. This particular mall is huge on the Christmas pomp and circumstance, complete with a letter-writing area, magical mailbox, legit Santa (with a real beard!)… and scary elf workers.
Liv was doing so well, and I backed up to Santa so she couldn't really see him. The plan was to place her gently on his lap and scurry away so they could snap a quick photo, with madre and nana to make faces and help her smile. It was quickly foiled when the scary elf lady took her from my arms to place her on Santa's lap.  She took one look at the elf lady, one look at Santa and it was all over. They took a few photos and at least we got it over with. Poor girl.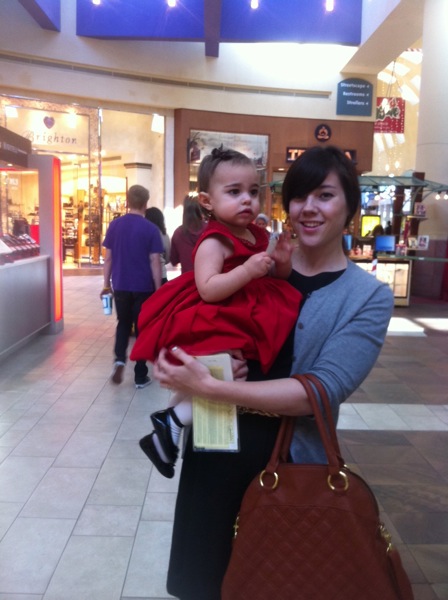 (met up with her Auntie Meg afterwards!)
Santa handed me this when I thanked him for the photo and for being so great with Liv: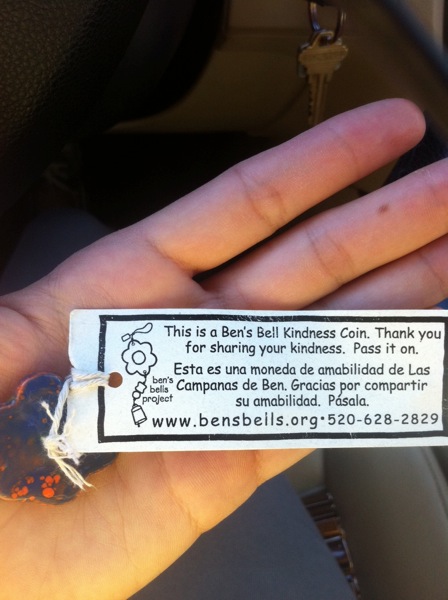 (don't worry, no photos while I was driving- just took a parking lot pic before I forgot)
a Ben's bell.
I can't even tell you how excited I was to see this.
Ben's Bells is a Tucson charity, created by a mom when she lost her son Ben to a sickness when he was only 3 years old. Along with some friends, they started creating bells that they had designed in his memory and made them out of clay in their backyard. It had a therapeutic effect for them to make the bells, and they decided to give hundreds away as a token of kindness to others. The initial distribution of the bells had a ripple effect and since then, they continue to be made and distributed by volunteers in Ben's memory. It's a beautiful cause, and one that I'd like to become more involved with as my friend Lisa has volunteered with them a few times. They have an online store, too, if you'd like to pick up some of your own kindness coins to share <3
Some eats:
Newest snack love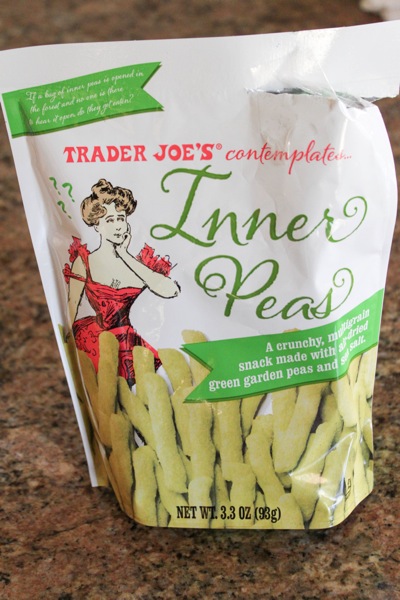 (woman on the bag says, "shall I eat the whole bag? Why yes, yes I should")
oldest snack love: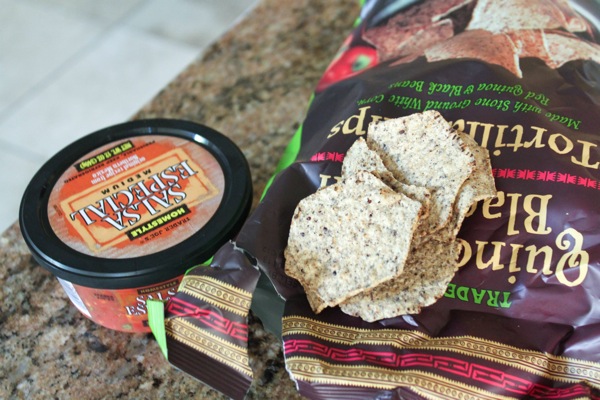 and maybe the best beast to grace our table with its presence.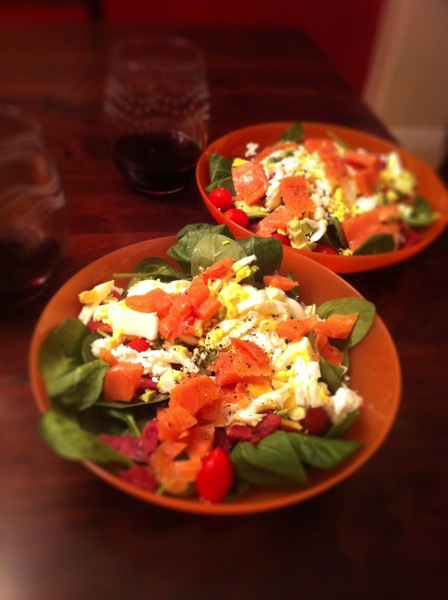 The smoked salmon cobb (thanks M-Stew) with tomatoes, spinach for the lettuce, turkey bacon, and almond milk instead of buttermilk in the dressing.
+ shiraz = pretty much the meal I dreamed about during my entire pregnancy
Tonight we're watching Ted (pretty hilarious) and going to call it an early night. I took today off from the gym, so I'm refreshed and ready to hit it hard in the am!
See ya then 🙂
xoxo
Gina
Something to read:
Best celebrity weight loss stories of 2012
Peppermint bark with coconut butter!