I'm pretty sure our baby hates Santa Claus. 
She's going through a big-time stranger danger thing. Pair that with a giant red suit, surly beard and she's not a fan.
Last weekend, they had an awesome squadron kids Christmas party on base.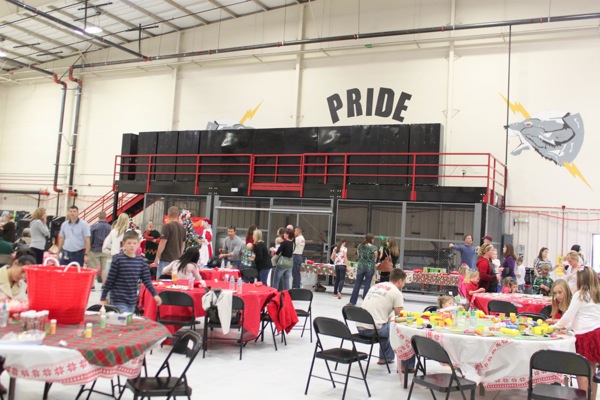 Lots of activities: a jumping castle, cookie decorating, ornament decorating, face painting and food.
Santa taxied in flying the A-10, then read a story and gave gifts to each of the children.  It was the magical time between Livi's second nap and bedtime, so I figured we'd have quite a while on the happy camper clock. She had a blast playing with the other kids, especially in the baby ball pit (her fave!) and of course, Tom and I were so busy chatting with friends we didn't hear Santa call our name.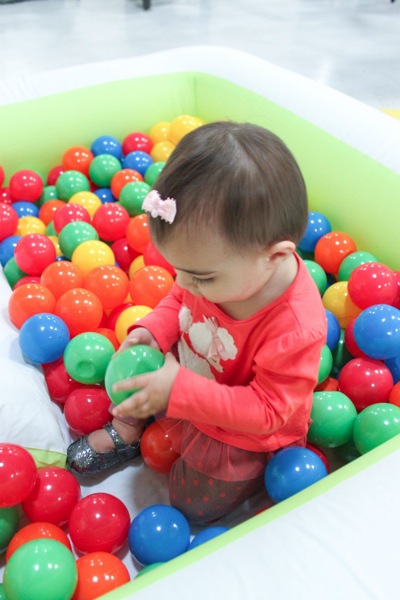 Tick, tock.
Instead of being in the middle of the Santa list, we then were moved to the very bottom and dead last for Livi to get her gift and photo with Santa.
By this time, she was ready to eat dinner, get a bath and get ready for bed… not sit on a stranger's lap for a gift and photo.
I snapped some pics anyway, but in them Liv is holding a wrapped candy cane and screaming. They won't be posted here, but you can imagine the mixture of heartbreaking and hilarious that is an angry kiddo on Santa's lap.
The whole ordeal lasted about 5 seconds, and I know she doesn't remember it, but I feel badly taking her to the mall to get a "real" Santa picture <– the standard "baby in holiday garb with Santa" photo you can frame.
However, that wasn't really the case with our friends who got photos with Santa recently. They were all smiling, their dogs were in the photo wearing Santa hats, their baby looked happy, but Santa? He was scowling. Apparently he didn't know "pet day" was in his contract and had to spend an entire day with animals. Apparently, he's deathly allergic to pet dander. Poor guy.
Anyway, I'm off with Liv to get a Santa photo. I thought about skipping it, but in the end, figured we'd regret it if we didn't. She may be happy, she may absolutely hate it, but either way, we'll have a photo to smile at for years to come 😉
How long did it take your kid to LIKE Santa Claus? I'm hoping by next year, when she understands that Santa brings you gifts, she won't be afraid. 
Any funny holiday or Santa stories to share? I'll never forget the time our cat knocked over the Christmas tree… hilarious.
xoxo
Gina