ICYMI: Meals and fitness for the week is up here!
Hey hey! Happy Monday! How was the weekend? Hope you had a great one. We enjoyed some of our favorite weekend activities: adventures with the girls, a date night,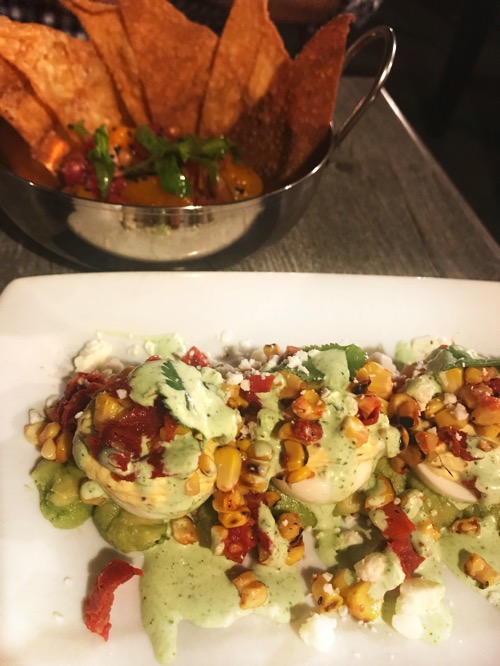 (deviled eggs with roasted corn and guacamole, which sounds totally bizarre, but it was so good!)
catching up on chores,
movies,
and sleep. All good things. 🙂
We had an awesome dinner at Steel Magnolias, which has quickly become our Valdosta date night spot. After swimming in poke bowls and extraordinary restaurants for 8 days in San Diego, we came back to the same 5 places we go all the time. Even so, they're our favorites here for a reason. The food at Steel Magnolias is always good, and they just released their spring menu with more classic Southern comfort food with a modern twist. We shared the above deviled egg appetizer + poke to start, and I tried the new cabbage slaw salad with blackened shrimp.
We had sweet and summery pound cake with rum drizzle and pineapples for dessert. It was amaaaazing.
Saturday morning, we all slept in, and then took P to gymnastics before breakfast at Birdie's. While we were checking out the market, we picked up an ENORMOUS cheese board. It's going to take them to the next level. We're having a get-together in April and I can't wait to use it!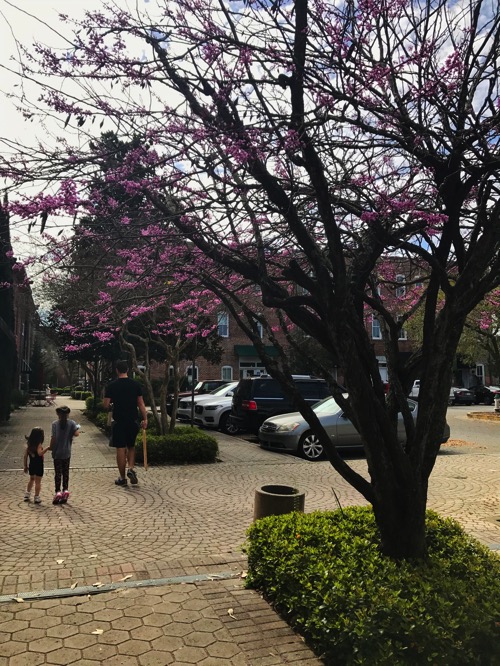 For Birdie's breakfast lately, I've been ordering the sweet potato fajitas with an over easy egg on top.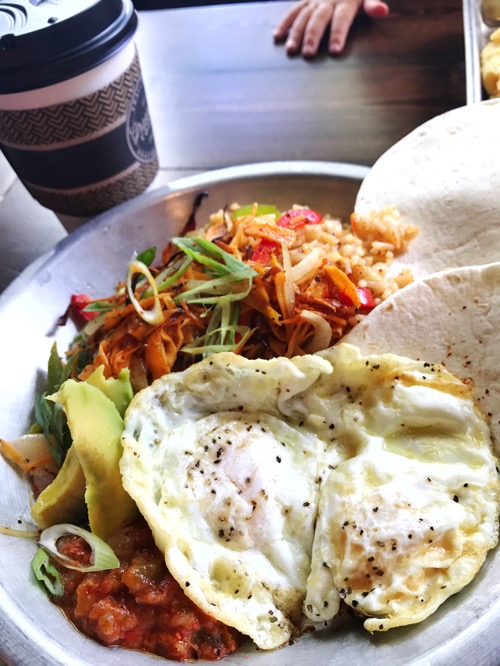 We brought the girls home and I rode the spin bike while they rode their scooters and Power Wheels around, and then we came inside for P's nap. After nap time, we decided to head out on an adventure and decided to check out Raisin' Cane again. Online, it said they closed at 6, so we had a couple of hours to see the animals and explore the farm. Turns out the general store is open, but the rest of the farm is closed except for September – October. Fail to us. We got some chocolate-covered pecans and Liv got a rubber chicken (??) and we decided to get pho for dinner. When we got to the pho place, we found out it's permanently closed. Fail #2. After that, we went to Woodstack for BBQ, and it was so insanely busy, our food took 90 minutes (which is a LONG time with the kids, but they were little troopers and totally happy coloring at the table).
Not a fail: froyo at Menchie's.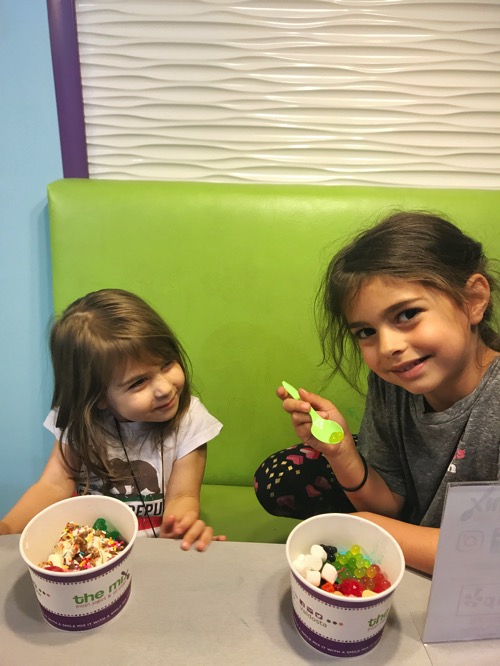 (I posted the pic on IG stories and a girl wrote back and said, "P's face! What a cheeky lil pickle." and it made me laugh because she totally is.)
We watched Coco until the girls fell asleep, and then stayed up wayyyy too late watching the Arizona basketball game. I have SO MANY THOUGHTS on the NCAA basketball scandal, but alas, this is a fitness blog. But I will say that I think Washington's coach cursed us haha.
Sunday morning, we had breakfast at home and the girls played outside until it started to rain. Having a *real* backyard is one of my favorite things about where we're living; it's so much fun to just let the girls run around. For a while the other day, I watched them play while I read a book on the iPad, and it felt positively luxurious. When P was a baby, the thought of them playing together and being little friends seemed SO far away. Now that it's here, it's even better than I could have imagined. They're so cute and funny together.
For dinner, we ate a cheese board. It wasn't really the plan because we were just going to snack on it while I made dinner, but we ended up so full from it we called it a meal.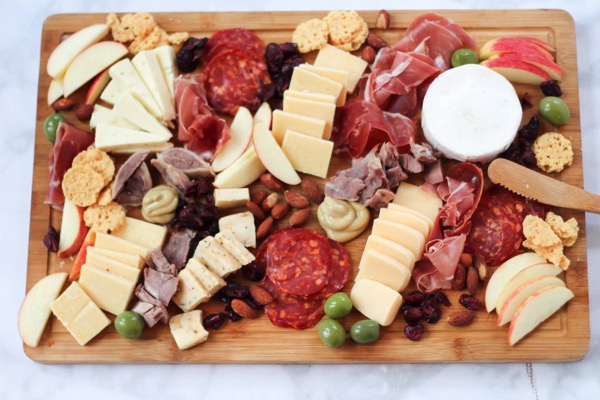 This one had 5 different types of cheese (including a new truffle one I picked up at Birdie's), duck breast, chorizo salami, prosciutto, apples, parmesan crisps, dried cranberries, almonds, and calvetestrano olives. We get a kick out of watching the girls pick at the cheese board; they appreciate it just as much as we do. 😉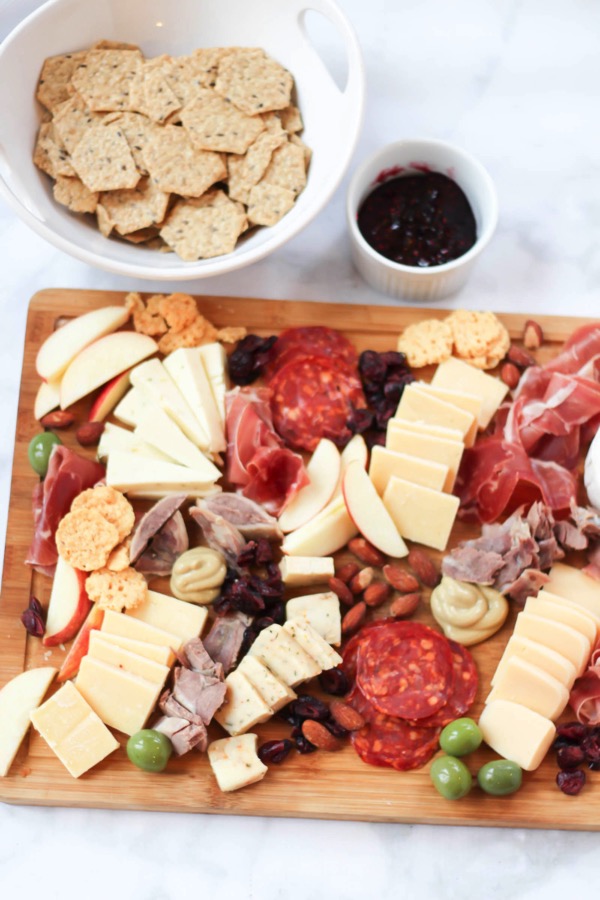 After the girls were snoozing, I enjoyed The Bachelor dramas. So stoked for tonight's episode!
Today, it's back in the swing of things. I'm teaching Zumba and hopping on a couple of conference calls this am.
What's on your workout plan today? Any fails this weekend?
xo
Gina