Easy ways to update your home gym
Hi friends! How's the morning going? Ours has been good so far. I'm making some cupcakes with Liv -I can't believe she'll be 3 tomorrow!- and have some teaching and a training session today.
Since I know many of you are upping your fitness game in the new year, I thought it would be fun to talk about home gyms and ways to update them.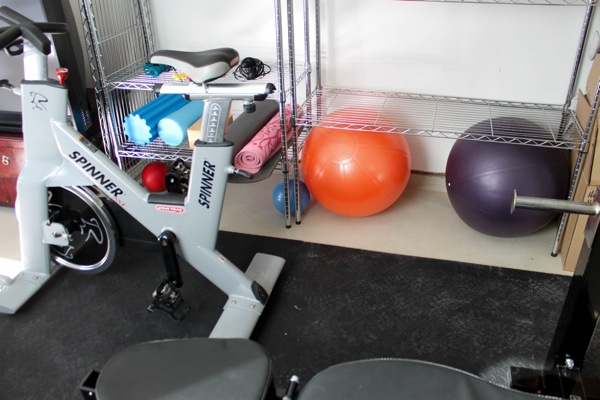 One of the Pilot's goals for the new year is to work out more often at home. Since his schedule is volatile, it's more challenging for him to stick to regular gym hours and a routine. Also, since he has a freakish metabolism, he can eat alltheKrispyKreme and the only thing he gains is another ripple in his 6-pack. Life isn't fair sometimes. The good news is that even though he looks great no matter what, he's focused on the health benefits of getting in a solid fitness plan; he knows that he'll feel better and protect himself from the negative effects of a sedentary lifestyle.
He wanted a weight bench for the man cave/gym, so Santa delivered.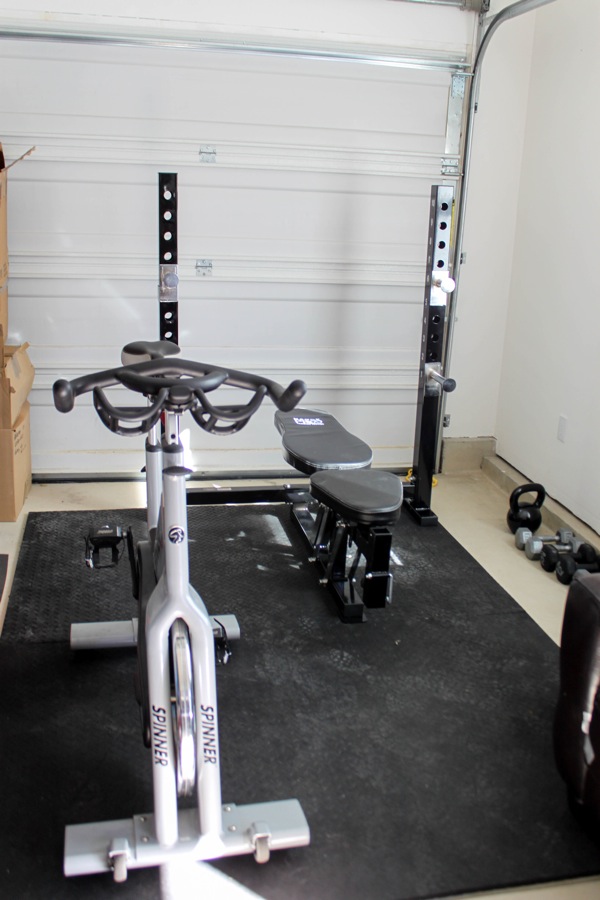 Now, we're going to pick up some barbells and flat weights, and our little home gym got an awesome upgrade.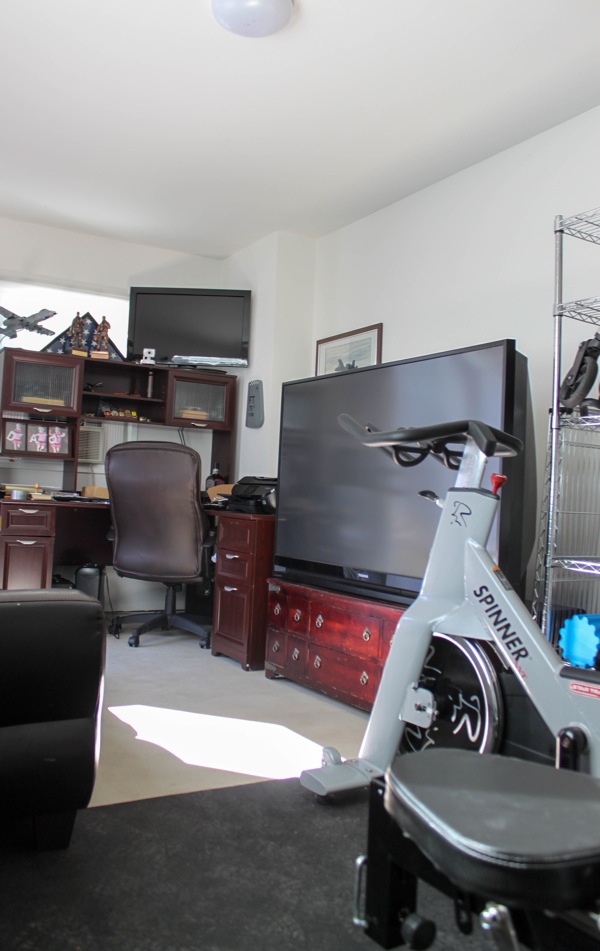 (Love catching up with Scandal on the spin bike.)
There are so many ways to add some oomph to your home workout routine, and many of them are inexpensive additions.
Here are some ideas if you're looking to work out at home more often in 2015. For each category, they range from lowest cost to higher cost, and you can easily shuffle to accommodate your budget.


-Cardio:
Your own body weight. There are no excuses for this one! You can get in an awesome strength and cardio workout, using your own body weight. All you need is a little motivation and a little space! Here are some of my favorite bodyweight strength and cardio workouts.
Gymboss timer. This is a great way to add in some intervals during your workout. I especially love using my Gymboss for Tabata rounds at home.
Jump rope. This is a wonderful and inexpensive option to get in a cardio workout. One of my favorite jump rope workouts: 15 seconds on, 15 seconds off x 30 rounds (15 minutes total).
Treadmill, spin bike or rowing machine. This is where it gets a little more expensive, but can be a valuable investment if you're going to use it (instead of using it as a bonus clothing rack). We have a spin bike in our little home gym, and I've used it so many times, especially when I want to sneak in a quick naptime workout. I would love to add a water rower eventually!


-Strength:
Resistance bands. These are lightweight, compact, and perfect for strength training. I'm also a huge fan of the resistance band loops, which can be used for a variety of exercises.
TRX straps. I've always been a fan of TRX, but have really started to implement it in my own routine in the past year.
Dumbbells. I recommend two sets: light and heavy. For women, light can range from 3-10 lbs, and heavy can range from 10-30 lbs, depending on the exercises you'd like to do.
Barbells. These are more expensive for a home gym options, but can be an effective way to change up your strength training routine. Bonus: there are a TON of BODYPUMP workouts on YouTube, which you could do at home with your barbells. (I like to practice BODYPUMP with a pair of dumbbells, which still works well!)
Kettlebells. If you enjoy training with kettlebells, these can be a great addition to a home gym. Once again, I recommend a light and heavier bell.


-Flexibility:
Stretching strap. You can a strap to assist yourself in stretches and avoid over-stretching.
Mat. Not totally necessary -carpet works, too- but can be an inexpensive addition. You can find a yoga mat anywhere from $20-100.
Foam roller. These run about $20-40 and can help to reduce tight muscles from the buildup of fascia.
Rumble roller. This is the foam rollers' evil cousin; it works deeper into the muscle and is a more intense option for those who are used to foam rolling and need more pressure.
DVDs or full workouts:
Youtube. The beauty of YouTube is that it's FREE! There are a lot of fantastic workout channels, including Sarah Fit, Zuzka Light, Tara Stiles, Purely Twins, Fitness Blender, and Melissa Bender. I post workouts on my channel, too and will be included Winter Shape Up videos (plus bonus videos) this year.
Fave fitness DVDs: DVDs or digital downloads will contain full classes, or are segmented into smaller classes. Some of my all-time faves are here.
Monthly online memberships. Daily Burn, Physique 57, Barre3, and Bar Method all offer online class options. They're usually around $30 per month, which is less than an average gym membership.
Do you work out at home, or do you prefer the gym atmosphere? What's your all-time favorite YouTube fitness channel or workout DVD?
I thrive off of the energy of others, and tend to get distracted easily, which is why I prefer to work out at the gym or take a class. In a pinch, though, it's great to have options here at home, especially if the Pilot is out of town and I'd like to get in a quick workout.
Hope you have a lovely day! See ya later with some adventures and a veggie dip I've been loving.
xoxo
Gina
These are all products I think would make awesome additions to a home gym. Affiliate links are included, and as always, I am sincerely thankful for your support! <3