Focus On: Barry's Bootcamp
After all of this time, I finally took a Barry's Bootcamp class. I'm not sure what I've been waiting for, as it's something I've been wanting to try for years. I was really excited when we found out there was one in San Diego, but I've been so happy in my Orangetheory bubble that I didn't feel the need to do much experimentation in the bootcamp world. Finally, I decided to go for it.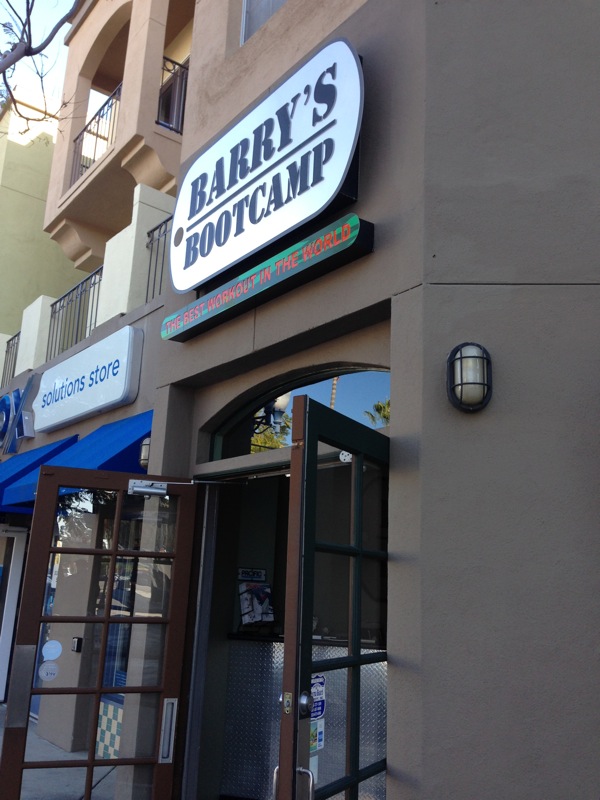 It. Was. Amazing.
During the first round on the treadmill, I thought, "Maybe I can save my hair today. Maybe I won't sweat that much." If you've taken a Barry's class, you have full permission to laugh at me. I left in a puddle of sweat. I staggered around Trader Joe's grabbing groceries afterwards; I dropped two things (thankfully, they were not breakable items), and had this dazed half-smile on my face. 
What is Barry's Bootcamp?
From the website:
Since 1998, Barry's Bootcamp has been delivering The Best Workout in the World®  to a legendary following, including A-list celebs, models—even Olympic athletes. Our signature hour-long workouts include 25-30 minutes of interval cardiovascular treadmill routines and 25-30 minutes of strength training utilizing free weights, resistance bands, medicine balls and other equipment. Trainers, muscle groups and even workout segments vary throughout the week so that no one class is ever the same.

Our innovative technique works to "shock" the body in the most efficient and effective way to improve your cardiovascular system, lose weight and build muscle. Our world-class trainers are the best in the business and promote a positive, supportive environment that will help you break past your own personal boundaries. Come discover why Barry's Bootcamp has been voted "The Best Celebrity Workout" by Allure, Los Angeles Magazine and many others. Regardless of skill level, you can burn 1,000 calories in just one hour. You will see and feel results right away in a thumping music-filled environment where every class feels new, fun and exciting.
What to expect for a first class:
To sweat. A lot. I started off on the treadmill (I usually like to get it over with first), and during the strength rounds, I had sweat dropping off my face onto the floor. By the end of class, the floor was covered in sweat. It's crazy. 
To be pushed to your personal max. Since the rounds are fairly short, you know you'll be changing up the exercise or treadmill speed soon; I find that it's easier to push myself during the cardio rounds when I know they're short-lived. The cardio speeds and exercises are constantly changing, which makes the class fly by. 
To get a killer workout with fantastic music. The workout was awesome, and was complemented by a killer playlist, which I talk a little bit more about below.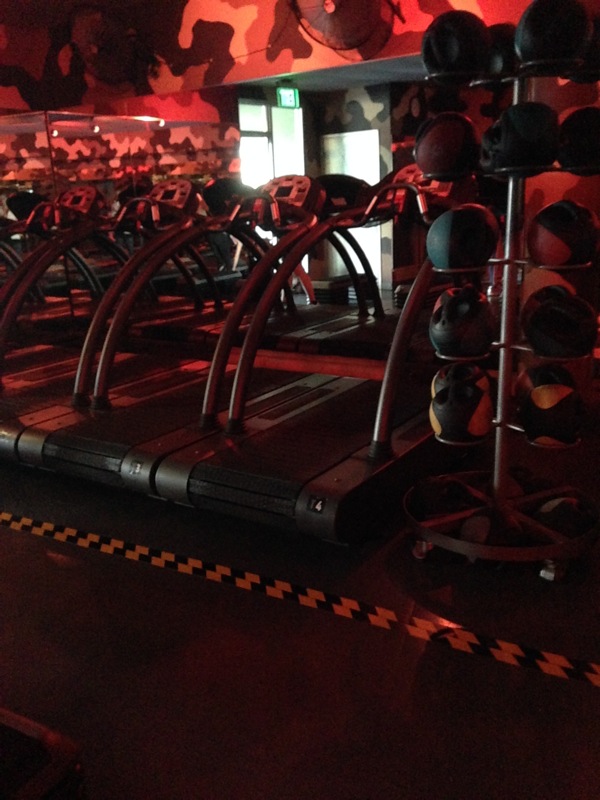 Pros:
Amazing workout. I went on a full body day, and was wondering if I'd be cheated with any muscle groups. We really did work the entire body, with cardio blitzes in between each set. This is my absolute favorite style of mixing strength and cardio, and how I prefer to structure my personal workouts. For this total body workout, the work rounds were split into 6-minute segments. On the treadmill, we did sprints with varying inclines. For the floor, we did planks, renegade rows, walking lunges, burpees, pushups, triceps dips, squat and biceps curls, and dumbbell snatches. Each strength segment was either 30 seconds of 1 minute, and muscular endurance style: you completed as many reps as you could within that time block. 
Strength splits. I LOVE that they segment each day by muscle groups, so you know in advance what you'll be working. This is kind of a tricky aspect of Orangetheory for me, before I never know what we'll be working, and sometimes end up working the same muscle groups on consecutive days (which isn't ideal, since they need time in between training days to repair and recover).
AMAZING music. Our instructor played the Posh Podcast (which I'd never heard before) and it was club remixes of top 40 music. I have to start downloading this ASAP. I could definitely see myself downloading something like this for a long run.
Extremely clean. The studio is fully cleaned in between each class, which is nice because a LOT of sweat happens. 
The treadmills. I am obsessed with Woodway treadmills. They are so much easier on the joints, and I find that I can run farther and faster on them. I also like that you are creating the speed, instead of the treadmill doing it for you. There is a Woodway treadmill on base in Tucson, and I never thought I'd see one again. As you can imagine, I was pretty stoked. 
The website. I can always appreciate when a boutique fitness studio doesn't take themselves too seriously. The verbiage on the website was very casual and approachable. There were some funny zingers in there too, and it was a great first impression of the studio. 
Cons:
Not a lot of cueing or set-up instruction. Our instructor flew through the treadmill commands and the strength portion. I could see how a "regular" would enjoy this (as your heart rate doesn't drop while you're listening to set-up instructions and exercise how-to), but if I were new to these types of workouts and training style, I would have felt lost and intimidated. Even though I told them it was my first time, I wasn't given any pre-class instruction or asked about injuries/considerations. This was interesting to me because at my current studios and previous gyms, it's standard policy to check on newbies and provide set-up and modifications for the exercises. This type of guidance might have prevented the poor form I noticed a couple of people using during the walking lunges. A little extra time to set everyone up for a safe workout is always worthwhile, even if heart rates drop a little in between sets. 
Expensive. At $22 a class, it's not a cheap workout option. The memberships and packages make it more feasible, but it's still an expensive class. I could see it being worthwhile if it's all you do, but as someone who's all over the place (Zumba, spinning, BODYPUMP, Barre, Orangetheory), it wouldn't make sense for me. I'd love to take an occasional class as a special treat, however.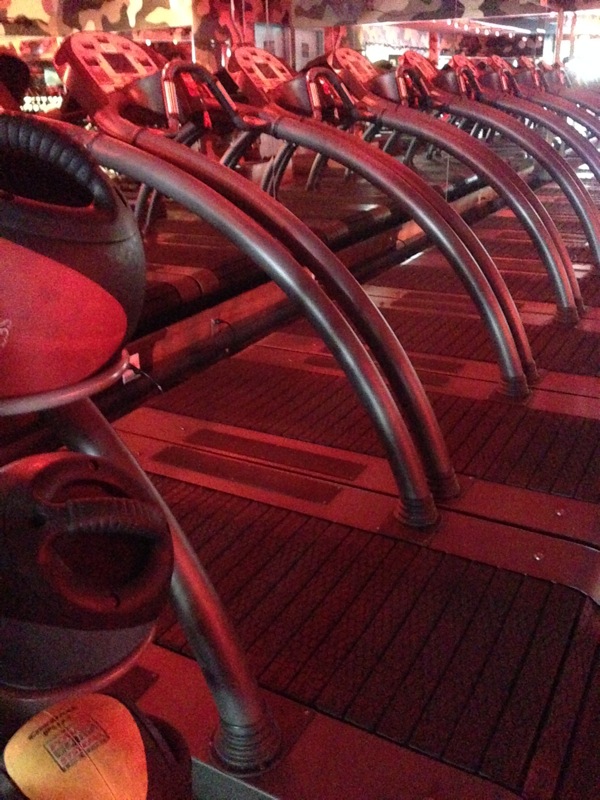 Pro-cons:
The environment. The studio is dark, it doesn't have any windows, the music is loud, and you can focus and do your thing. It doesn't have the same warm and fuzzy "team vibe" that some studios have, which can be a pro or a con, depending on your preferences. I like to take group classes for the energy, and while the energy was different (it came from the music and the dark room), I still wanted to push myself and really enjoyed the workout. 
Not a ton of equipment variety. There are medicine balls, dumbbells, resistance bands, benches and mats, and the treadmills. I like to play with a variety of cardio and strength equipment (depending on my mood and the class), so this can be a pro or con depending on how much equipment variety you like, or if you like to stick with the classics. 
As always, I'm sure that the experience has a lot to do with the instructor, so I'm excited to try out some different class times and instructors.
Have you taken a Barry's Bootcamp class before or anything similar? What was your experience like?
xoxo
Gina