Hi! How's your day going? Thank you so much for all of the kind comments about the house so far. I have to admit I was a liiiittle afraid of the paint color -we jokingly called our last house the everything-brown house- but have fallen in love with how cheery and crisp the white walls makes it feel. It definitely feels like home already 🙂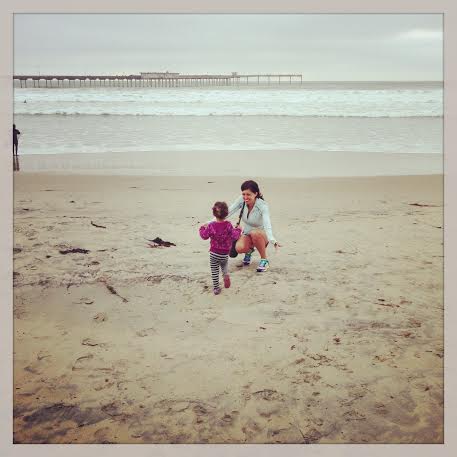 One thing that I haven't managed to get into the swing of yet: planning, prepping and actually making food. I think the Pilot was shocked the other night when I said dinner was cooking in the slow cooker. I made some chili and we didn't even end up eating it that night… we were out by the beach and Pizza Port was right there, and then this happened: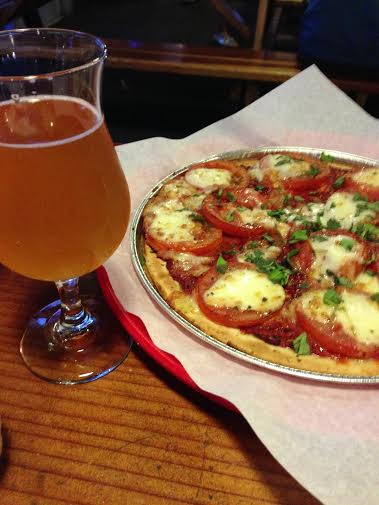 (Mead with gluten-free margherita pizza. It was my second time trying mead and even though it's wicked sweet, it's pretty tasty)
I should have taken a pic inside Pizza Port because it's such a cool and casual place. They have an awesome beer and wine selection, variety of pizzas, wings, and a kale salad that is TO DIE FOR. The seating is family style with picnic tables and we were surprised with how fast the food was ready. We'll definitely be back! 
(Random: I have decided that if a restaurant has "port" in the name, I like it. Tiki Port and Pizza Port are now two of my favorite things.)
We finally ended up eating the chili I made last night -tons of veggies with tomatoes, spices and chicken sausage- but we definitely still feel like we're in vacation mode. I'm committed to getting back on the wagon this week, prepping ahead and making more dinners here at home. It has been fun to go out and try new spots, though 🙂
More on the to-do list:
-Take bags of clothes to Goodwill and Buffalo Exchange
-Find a teaching job (in progress! I'm kind of nervous about tonight's Zumba audition)
-Find a preschool for Liv. It's super competitive here and there are about 1408283 schools; I feel a little overwhelmed.
One thing that has been surprisingly easy has been getting in solid workouts since we got here. There are so many options and great choices, and while I don't have an official gym yet, I feel invigorated by new options and changing up my routine.
Here's what I'm loving for spring: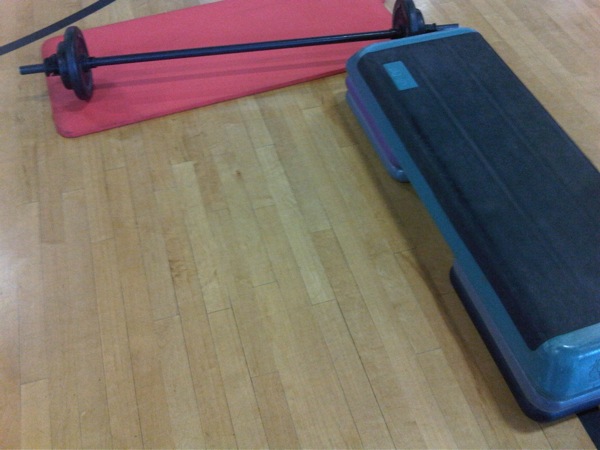 -RUNNING (<– say what?!) I did 6 miles on Sunday, and it.was.glorious. I think the weather has a lot to do with it, and somehow the Today's Hits station knew I needed an awesome lineup. There were a lot of unique um, aromas, but it was a great one.
–Orange Theory. I'm stoked to take more classes!
-Barre3. I've taken two classes since we've been here and adored them both. I'm excited for this to become a regular part of my routine, and am thankful for all of the classes I took in Kate's garage in Tucson 😉 It helped to teach me the format and basic moves, so I was pretty comfortable jumping into a studio class. Stay tuned for a Barre3 workout this week, too!
-BodyPump. This is going to become a regular part of my life because I'm getting certified to teach BodyPump. It's my first Les Mills format, and I feel like it's a good match for me since it's so music-driven. Any BodyPump instructors out there with tips for certification? 
-Still haven't found a yoga home here and have only taken one class. I've heard mixed things about CorePower but there are a ton of studios here to check out. Maybe I'll try an intro pass at a couple of studios to see if there's a good fit?
How many different types of classes or workouts do you do during the week? Do you tend to stick to the same things, or are you a little all over the place (like me)? 
Hope you have a lovely afternoon <3
xoxo
Gina