Why I'm excited for a little man
Thank you so much for all of the kind comments, tweets and emails about finding out the sex of our now-avocado 🙂 It's been a blasty to share this experience with all of you- I'm loving every second <3
So, whenever we tell people we're having a boy, the first thing they ask is:
"Is Tom SO excited?!"
"Yeah, we're both thrilled!"
The thing is, most people automatically figure that the dad would want a boy more and the mom would want a girl more. Not usually the case. We would have been just as thrilled –and I would have cried out of happiness after the ultrasound in the car either way- but were just so stoked to find out. The number one concern was happy and healthy, boy or girl didn't really matter.
I knew that if we were going to have a girl, she would have Tom wrapped around her little finger and I would know exactly what to do with a girl. With a little boy, even though I have no idea how to play pirates, cars or dragons, there are a lot of things to look forward to.
Here are a handful of the things I can't wait for, now that we know little nugget is a "he":
1) Dressing him in cute little outfits. There are so many fun little boy outfits and it seems like there's more color and pattern variety.
I'm scary excited for beanies with the ears on them. You know what I'm talking about.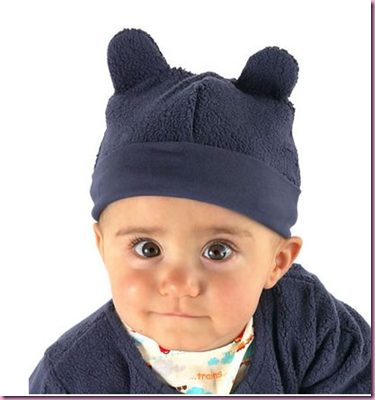 Source
2) Saturday morning sports. I love going to my bros' athletic events (soccer, lacrosse, basketball, volleyball, etc) and it will be so much fun to take Bella with us to our little guy's sports events, if he chooses to play sports.
3) Watching the Pilot teach him about "guy things." He's especially excited for playing in the yard, getting dirty, making model airplanes and making breakfast together.
4) I can't wait to see his facial expressions and sense of humor. I know if he looks like Tom, it won't be a bad thing, either 😉
5) Little boys always love their mamas 🙂
6) Enjoying him as a baby, without regard to "boy or girl"- a baby is a baby 🙂
One of the guests at work gave me amazing advice. She said "let your child be young as long as possible. Let him keep his youth because kids are exposed to so many things and grow up so fast." It really made me think because right now, parents have worries that our parents never had, especially with the internet, types of song lyrics, movies and video games that are out there. I'll definitely keep her advice close at heart.