Hi! How's the day going? So happy to see that you're excited about the Juil giveaway! Get ready for tomorrow's.. it's a prize valued at $700. Crazypants!
You guys. My legs. My abs. It's been two days and the intense soreness has officially set in.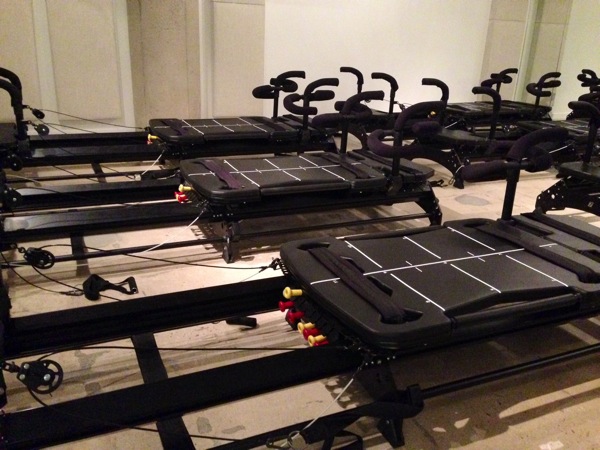 Sunday was my first time taking Core40, and I was really excited to try it for a couple of reasons:
1) I hadn't taken a Lagree fitness class (and my friend Nicole teaches and loves the method).
2) There are SO many cool studios here, and while I love life in my Orangetheory and teaching cave, I really want to get out and explore some new things.
When I walked into the studio, I instantly felt like I was in NYC. It was upstairs in a warehouse building, and had the chic open and clean vibe of some of my favorite East coast studios.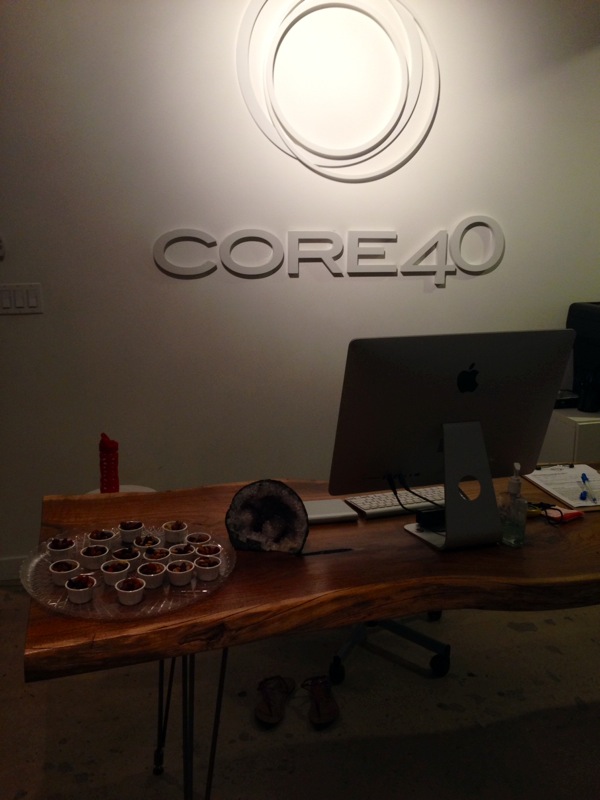 One thing that couldn't be missed: these Megaformer M3s. They appropriately look like torture devices.
I signed in, and briefly talked with Mabel, the Regional Studio Director for San Diego. She gave me (and another first-timer) a quick introduction to the machines before class started. They have multiple pieces; the resistance can easily be adjusted, and while they look intimidating, I felt much more comfortable using it after her intro.
I'm not sure why I thought the Megaformers were only used in the supine position (on your back), because there is SO much you can do on them, especially standing or in a plank position. We started off class in a series of lunges, with one foot on the front of the device, and the back part on the moveable carriage. It was very much like gliding disc movements: you slide your foot back to get set up for your lunge, sink down to lunge, and squeeze to bring the carriage (using all of the muscles in your leg) back to center. I LOVE movements like this because they challenge difference muscles than the standard lunge (especially the inner thighs; mine are KILLING me today). We also did a series of squats (facing sideways) with inner thigh pulses, planks, pushups and lunge series on the opposite side.
After lower body, we did an intense core workout using plank, small pulses and pikes (by moving the carriage in and lifting our hips). After that, we went to the back of the machine and grabbed the resistance bands for lat work, biceps, shoulders, and triceps dips. We finished off the workout with a 1 minute plank on the other side, so we had to activate our core to keep the carriage still.
The class was only 40 minutes, and I don't think I could have gone a second longer! It was that challenging.. and I loved it.
A little bit about the Megaformer M3 (from this site):
Lagree Fitness™ is the most innovative and aggressive approach to full body conditioning. Moving effectively out of the borders of conditioned stimulus, this workout integrates the key elements of resistance and counter-resistance in a sequence that allows for periods of zero gravity at peak muscle contraction. The composition of this method is significant in that it encourages maximum exertion while allowing for low risk of injury. The Megaformer™ workout strengthens the body, tones and elongates the muscles, improves endurance, jump-starts the metabolism, burns fat, increases flexibility and postural alignment, and restores the body's natural balance. The client, at conclusion, is left with a lithe and powerful body, resistant to the everyday stresses of work and life.
Some pros, cons and tips for first-timers:
Pros:
-You can go at your own pace. I loved that the exercises were slow, controlled, and focus on good form instead of speed. Mabel gave us an exercise, set us up with proper form and alignment, and each participant did the exercise at her own pace until that time block was complete and we moved onto something else.
-Easy to modify. Since you're working on your own machine, it's easy to switch the resistance to make the exercises easier or more challenging, and many of the movements could be modified.
-Always something different. I've only taken one class, but from talking to a couple of ladies, I learned that the exercises and routines are constantly changing. This is fantastic because it keeps things exciting and also helps to prevent plateaus.
-Very low impact. The exercises we did were extremely challenging (and many increased my heart rate) without joint impact, making it a good option for those who are looking to minimize impact.
-40 minutes!! For someone who always enjoys quick, yet effective, workout options, this was right up my alley. Class was from 8:40am – 9:20am and when I got home, the Pilot and Liv were just waking up! Perfect.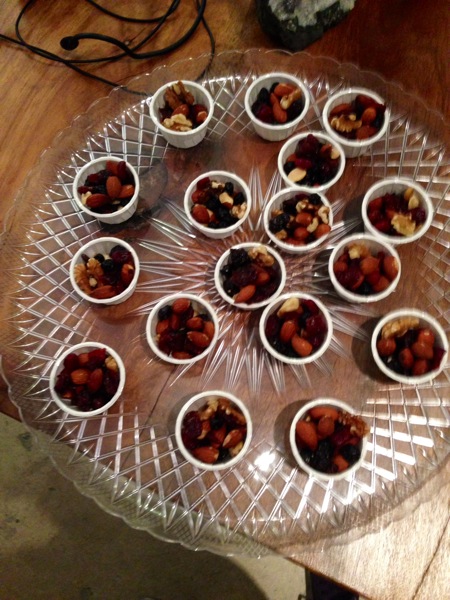 (They also had cute little snacks out, too! Love when studios add special touches like this.)
Cons:
-Parking. It's unique to this location, but even on a Sunday morning, I found parking kind of tricky. There is a paid lot in the building, but if I can find a spot where I don't have to pay (or only need to pay a meter) I'll usually go for that. I drove around a couple of times, and found a spot a couple of streets over.
-Low cardio. This is a strength and muscular endurance based workout, but they also offer spin/Core40 combo classes so you can get cardio and strength benefits in one. I'm excited to explore one of these in the future!
Tips for first-timers:
-Bring a water bottle, towel, and wearing comfortable athletic clothes you can move in. For class itself, it's no shoes; you can do it barefoot or in sticky socks.
-Let the instructor know that it's your first time, so he/she can help get you set up and familiar with the machine.
-Be patient with yourself, and don't be afraid to modify. You will likely have to modify some of the movements at first, but I anticipate that like anything, you'll become stronger and more comfortable over time.
Have you take a Lagree Fitness class or Core40 before? I'd love to hear your thoughts! Are there any studios or classes close to you that you've been wanting to try??
xoxo
Gina
More Focus On posts: