Focus On: Chalean Extreme
Hey guys,
This Focus Post is pretty exciting to me because it's a workout that I've been wanting to try for quite a while. I couldn't find it in myself to purchase a set of weights -it seems unnecessary when you move often and have a gym membership. It may be something I could try with resistance bands, though… 
Anyway, this workout is taught by one of my all-time favorites (and girl crush) Chalene.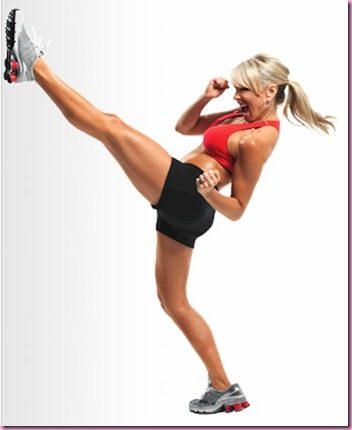 Here's
Ali
with the details:
Hello all you lovely Fitnessistas!!
It is Ali here, comin' at cha from my little space in the interweb 
www.urbanfruitbat.wordpress.com
.  I have been a loyal reader of dear Gina for the last year and a half, and I am proud (embarrassed?) to say that I have never missed a post, and I am sofantasticallyuberexcited to be here!  
While Gina and I may have some pretty drastically differing views when it comes to food, she likes her proteins and fats, where I am a dedicated fruit muncher, there is one thing we most certainly see eye to eye on, and that is that fitness is so important for your physical and mental health, and that
 Chalene
 Jonhson is our workout hero.
Which leads me to my reason for being here.  I want to tell you all about Chalene Johnson's  Chalean Extreme program!
You may know Chalene for her "Turbo" programs like TurboJam and TurboFire.  These programs are focused primarily on cardiovascular exercise, with little attention given to weight training.  Chalean Extreme on the other hand, focuses almost exclusively on weight training.  This is due to the concept that muscle burns fat, increases your metabolism and makes you look leaner.
The program is broken down into three one-month sections.
Month one is called the "Burn Phase"  During these workouts Chalene encourages you to lift weights that are heavy enough that you reach muscle fatigue by your 10-12th repetition. (Meaning you really could not do another rep after that last rep) All these phases come with a guide book so that you can track your weight progress as you get stronger.  She will then mix it up every third or fourth exercise by adding in an "extreme set" where she will give you a ten second rest, and then have you do three more repetitions of the exercise you just completed.  There are three "Burn phase" routines, and you do each one once a week, on non-consecutive days.
In the second month you are in the "Push Phase."  The set up is almost the same as month one, only in this month Chalean pushes you to lift weights that are heavy enough for you to reach failure on the 8-10th rep.  I was doing 80 pounds squats in this month, just to give you an idea.  She still throws in those "extreme sets" every couple of exercise here, and boy, oh boy do you feel the burn!
In month three, called the "Lean Phase," you are back to using weights that get you to muscle failure by rep 10-12.  The challenge this month is that she adds an "extreme set" after every move.  You.will.beg.for.mercy.
She also has videos to add a fourth day of working out, which she calls "fat burner" workouts.  These consist of 1-2 minutes of high intensity cardiovascular training, followed by 1-2 minutes of muscle endurance work.  Here she will have you lift very light weights for many repetitions.
So what are the pros and cons?
1)Short work outs – most are 35-45 mins
2) Most moves are compound movements, meaning you are working more than one muscle group at a time.  This is awesome because it means that you are burning more calories with each movement, building more muscle with each movement, and it cuts your workout time way down.
3) Chalene gives awesome cues and is uber motivating.  I always wanted to push myself.
4) She dispels the myth that women should lift light weights to avoid bulking up.  The truth is that woman have far too little testosterone to bulk up the way that men do.  You are either lifting heavy enough to build muscle, which is what you want, or you are not.  Simple as pie.
5) Lifting heavy weights makes you feel powerful!  It really does something wonderful for your brain, like you can do anything you want!
1) It can be costly to buy enough weights to have varied enough resistance for upper and lower body, as well as getting enough weights to keep you challenged as you increase strength.  I suggest getting resistance bands for this (she offers resistance band modifications for every move.)  They are less costly and can be used for longer before you need to up the ante, so to speak.
2) There is risk of hurting yourself, because she is really pushing you to push yourself and lift heavy.  Make sure that you are really paying attention to her form cues, as well as looking at yourself in the mirror every once in a while to make sure you are staying on point.
I hope you are inspired to check out this work out program.  She has had some AMAZING results among her workout devotees, and I am a firm believer myself in adding muscle to your body!  You will burn more calories in a day, even at rest, as well as just feeling and looking awesome!
Thanks again Gina, and I hope yo see all you lovely people again soon!
<3
More Beachbody reviews:

Thank you again, Ali, for the awesome Focus On post!
Would you try any of the Beachbody programs? Which ones have caught your eye? 
Head's up: I'm only going to mention once or twice, but exciting things (literally) to come next week 😉