Hi friends! How's the day going?? Nana is here (!) so we're loving having her around. P has been snuggling like crazy, and Liv is always happy to have another friend to play dollies and read with her. Later today, I'm putting together a new workout for ya for the holiday season, and am heading out on another trip to the post office to ship the remaining lotus tanks! If you haven't received yours yet, it is on the way. <3
For today's Focus On post, I thought we could talk about BODYSHRED, a fun and INTENSE total body workout.
This past summer while I was at IDEA, I had the chance to take this class from the creator and master herself: Jillian Michaels.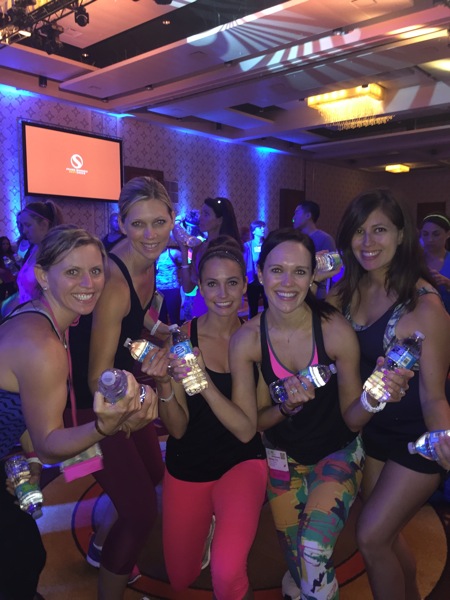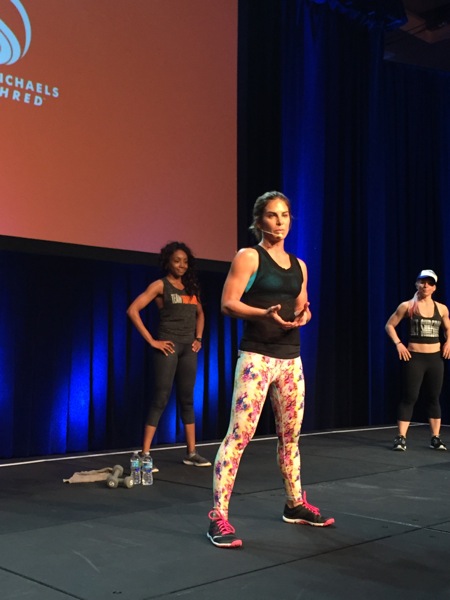 While I've heard a lot about BODYSHRED, it was my first experience with the workout. It's a full-body calorie scorcher, and the intervals make it go by extremely fast.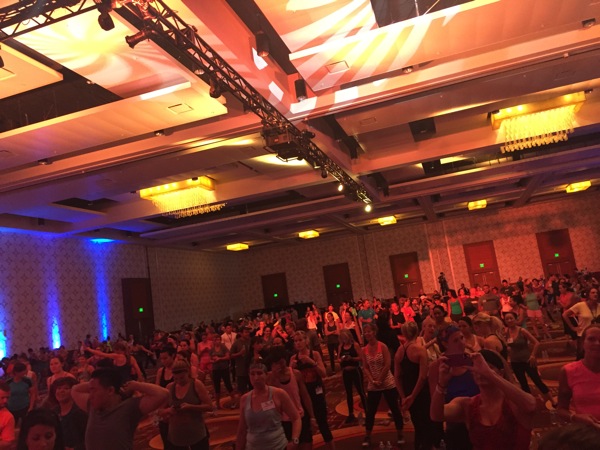 What is it?
BODYSHRED is an high-intensity endurance based 30-minute workout. It's high intensity because you're working at your full capacity the entire time, and emphasizes endurance because you don't stop moving until the 30-minute block is over. The "SHRED" part of the acronym stands for Synergistic, High Intensity, Resistance, Endurance and Dynamics. According to the website, the workout consists of Jillian's 3-2-1 formula: 3 minutes of strength, 2 minutes of cardio, and 1 minute of abs. When we did the workout, I didn't really pay attention to how the moves were set up; we switched exercises every 30 seconds, and while it was definitely a mix of strength, cardio and abs, I'm not sure if it was 3-2-1 exactly. I was too focused on Jillian's awesomeness and what I needed to do next.
Sadly, I didn't get to stay for the entire workout -I missed the last 10 minutes because we started a bit late and I needed to move my car from the metered spot from where I'd parked. Fail- but the 20 minutes was just enough to give me a taste of the style and workout. I can't wait to try it again!

(Source)
What to expect:
To SWEAT. I love this style of training because you are moving quickly from various types of movements with no rest in between. By doing so, the heart rate remains elevated (= higher calorie burn), you get in a great sweaty workout, and the time goes by quickly.
To work to your personal max. Because there isn't a set amount of reps during each 30-minute block, you do as many as you can. I prefer this because it enables participants to work at their own pace.
Pros:
-Scalable. I loved that Jillian demonstrated all of the exercises before we began, and also gave progressions and regressions if you needed to modify. There were also modifiers on stage, so you were never at a loss for options if you needed to take it down a notch or wanted to power it up!
-The timer! This is GENIUS. She had a little beep in the music at the 20-second mark of the interval so she could demonstrate what was coming up next. You were meant to keep working and watch, so when the timer beeped again you could go straight into the next exercise and know what to do. I'm totally going to use this method in my own classes -I love the Class Tamer and Tabata Pro apps- which would enable me to do the same thing. It's great to know what's next without having to wait around for more instructions.
-It's short! 3 cheers for 30-minute workouts, because if you work hard, that's really all you need (if you make a point to remain active during the day). I feel like this is very attainable, especially since sometimes the hour-long classes can hinder busy potential participants.
-The balance of the exercises. I love that the core and strength work could be used as a small "recovery" in between the intense cardio drills. I felt like all of the exercises we did were functional -and there were some new ones in there!- and safe.
-It's always changing. They use 250+ exercises so you'll never get the same workout. This is an excellent way to keep the body guessing and prevent plateaus.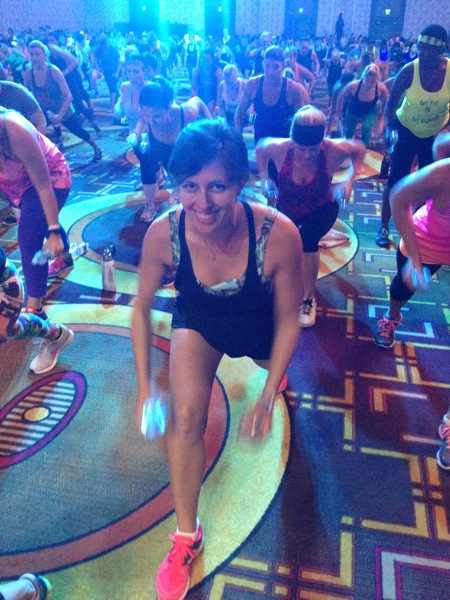 Cons:
-It is an intense workout, but you can take it down as much as you need to, so I'm not sure if I would call this a "con." If you don't love calisthenics and interval training, it may not be your cup of tea.
-It's not available everywhere. Here in San Diego, we have a lot of amazing fitness classes, and I haven't heard about BODYSHRED offerings. Here is a list of the locations.
Have you taken a BODYSHRED class before or tried any of the DVDs?
What's your current workout love that makes you work the hardest?
xoxo
Gina
More Focus On posts: