Happy weekend to you! Mine started off in the best way possible: a night hanging out with the girls 🙂
I brought a bottle of red from TJs,
and stopped to pick up a tostada from Renee's Organic Oven to eat on the way since I was so hungry from teaching.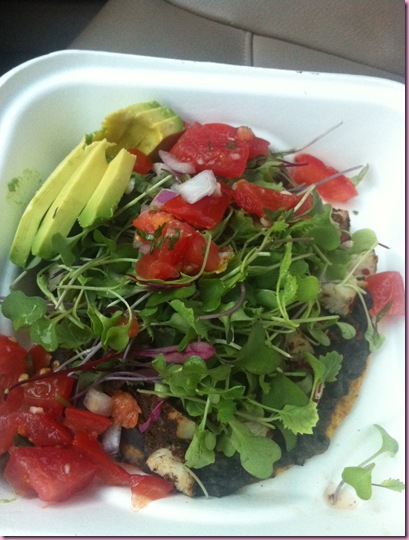 I also had a salmon dinner with everyone, but was able to eat it politely instead of like a ravenous beast 😉
There's been a lack of Focus On posts lately on the blog because it feels like I've written about most of the workouts I love and have tried –there's a hefty list on the Fun page! Until I take new classes or trainings for work, I don't feel comfortable trying to write about things I haven't tried or don't know much about. Instead, I've been putting the word out to see if there are other bloggers or readers who would like to write about the workouts or eating plans they love.
Recently I put the call out for Nia- a workout that's intrigued me since my Dance Trance days. At the studio I was renting, a Nia class would finish up before the Dancer Trance-ers would take over. It looks so peaceful and beautiful- something I think I'd love.
Here's a great post from Julie, all about the Nia technique 🙂
Do you have a  favorite workout or eating plan that I haven't featured yet? Want to write a Focus On post? Send me your ideas (and a sample of your writing or blog link) to fitnessista at gmail dot com (subject "Focus On"). I can't guarantee that I'll be able to use all of the awesome ideas that will be sent my way, but hope to post as many as possible. I love learning about new workouts!
Hope you have a great day and I'll see ya later on the Family page <3
xoxo
Gina
__________________________________________________________________________________________
I'm Julie from Julie Goes Healthy and want to thank Gina for asking me to tell you about Nia. My battered body is also grateful.
I took my first class in Asheville, North Carolina. For those of you who haven't visited, Asheville is known for the plethora of yogis, outdoorsmen, and hippies. For six years, I found self-love (whoa, that's very hippie) through TurboKick, Zumba, yoga, weightlifting, and alternatives like Nia. I took a class with my favorite Pilates instructor was also certified in the Nia Technique and surprisingly taught at our local gym.
In preparation for this post, I searched for a class here in Southern California. Nia is relatively unknown – I only found a handful of instructors in my area!
What It Is:
NIA, or Neuromuscular Integrative Action, is a standing mind-body practice. The motto, "no pain, all gain," appealed to me after years of beating up my body with cardio and weight training.
The practice is a combination of dance, Pilates, martial arts, and tai chi. What a mouthful! I had tried them all but knew it was time for something gentler. The background disciplines were easy to distinguish too and not just thrown in to give the technique more credibility.
Because it draws from so many disciplines, Nia incorporates flexibility, strength, mobility, agility and stability. My favorites: balancing poses!
There is no specific choreography. The instructor picks movements from her repertoire that feel right for the song.
Nia is practiced in a darkened room. I found myself disregarding my flaws and staring at my flowing figure. Nia also asks participants to imagine themselves in another place.
What to Expect:
-Looking at your body not the mirror. Your gaze is on the body part in motion.
-Losing yourself. You're forget where you are and sometimes you're asked to put your mind elsewhere.
-Yoga standing up. That's my personal definition especially as I recall the focus on breathing with each move.
-Hip swinging, arm swirling, and carefully executed kicking! Anything goes, but it's all within reach.
What to Wear:
To go with the vibe of the class, wear something loose. I picked cotton pants and a t-shirt or tank top. That's it! No shoes, no problem. You can wear sticky socks if you'd like.
Pros:
-No experience needed. Nia is easy to follow. Moves typically have three steps.
-Free of fear. I've never been scared to go to a class. TurboKick and yoga may scare me sometimes, but Nia is 100% therapeutic.
-Vibe. The music and instructors seem earthy and have calming voices. My instructors are silly and exaggerate moves to vanquish feelings of embarrassment.
Cons:
-Hard to find. I drove 30 minutes to a class, and I live in [metropolitan] Orange County!
-Not sweaty. Don't expect to burn a ton of calories. The workout is more meditative.
-Can't increase difficulty. The moves are doable for most people. Keep in mind that Nia is about the connection between the mind and body.
Find Nia classes here.
Have you tried Nia? Do you think it's something you'd enjoy?