Hi lovelies 😀 How has your day been? As always, thanks for your fabulous comments this morning. I'm so thankful to have y'all hanging out with me <3
I thought it would be fun to do some spontaneous posts featuring more obscure workouts and classes. When I put the call out on Facebook, Pole dancing was a quick and popular request 🙂 This should be a good first one in the series because it's a class I have experience with and really enjoyed.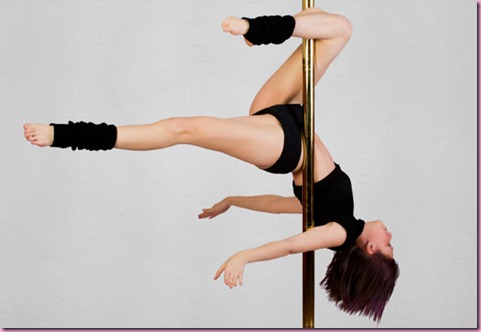 Source
When I lived in Valdosta, I took weekly pole dancing classes with a friend at a small studio, which has since closed down. Our instructor had a lot of real life experience, so it was interesting to say the least, but we always looked forward to this class. It was an intense workout and a lot of fun.
What is it: Pole Fitness. There are a variety of types out there, from Pole Dancing, Pole-altes, Pole Aerobics, etc. but the premise is pretty much the same: you'll spin and dance your way to a toned body and most likely really enjoy yourself. It's one of those rare gems of a workout that doesn't feel like you're working out.
What to expect: More of a "club-like" feel, with dim and colored lights, loud music and ladies only. Most likely, you'll have an Intro to Pole class before you start with Beginner level classes, just to become more familiar with some basic moves and how it all works. I was really surprised at my first class to discover that the pole actually spins—for some reason I thought it was stable and you had to make the spinning happen yourself. The fact that the pole rotates makes it a *little* easier, but it still takes a lot of strength.
Usually, you'll learn a few combos and put the moves into a dance. Pole dancing has a little bit of a stigma attached to it, but I promise that it's extremely tasteful and a legit workout. It's more empowering than anything and I didn't feel self-conscious or embarrassed to take class.
What to wear: Skin sticks better than fabric –and you'll want a little traction- so the best bet is to wear tighter fitting shorts (my fave are lululemon boogie shorts), a tank or sports bra and sneakers. Some studios may prefer you to be barefoot, while others will encourage you to bring heels. I may or may not have purchased 7 inch clear heels with a sparkly pink butterfly on them, just for classes 😉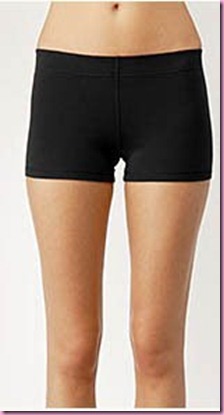 Source
The pros:
-You will be sore, in a good way. I've lifted weights consistently for the past 5 years or so, and pole dancing made me sore unlike anything else. It helped to target my arms (especially my biceps), and my thighs (including the hard-to-target abductors and adductors).
-It's a great way to meet new friends. I LOVED the group of girls who took class in Valdosta. They didn't take it too seriously and were super encouraging when my friend and I went to our first class.
-Often, you can arrange personal classes for birthday parties and bachelorette parties
The cons:
-You'll be bruised up. I had crazy bruises all over my arms and stomach. Thought they'd go away or happen less often the more I took class, but they didn't.
-As with any type of group fitness, the class depends on the instructor and the music. Our instructor was a pro (literally), and while she was super sweet and fun, she didn't know how to teach fitness. We learned some awesome spins and tricks,but  she had a difficult time putting class together. Obviously, I still went and had a blast, but preferred the classes I took in Orlando.
Want to learn more? My friend Meghann did an awesome video about Vixen Fitness in Orlando.
Have you ever taking pole classes before? Would you? If you have, what was your experience like?
Hope you guys are enjoying your day!!
See ya later tonight <3
xoxo
Gina