Something about trying a new fitness class makes me so excited.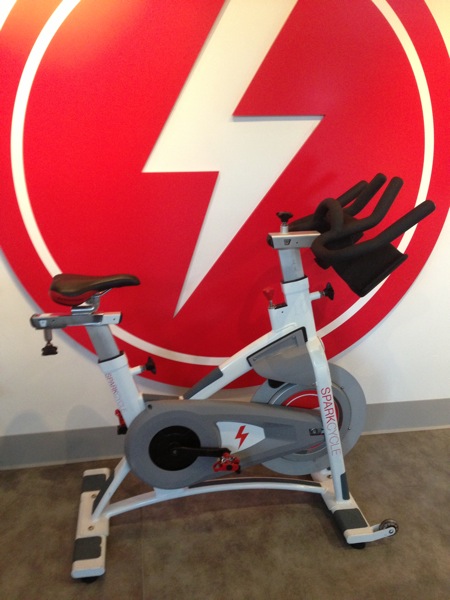 And sore.
This is almost always the case, and my legs are still screaming with victory cries after last night's Sparkcycle class. Indoor cycling is one of my favorite workouts -you can get in an intense cardio workout without joint impact- and one of my favorites to teach. Needless to say, I was pretty stoked to try out a class at Sparkcycle.
What is it?
A 45-minute cycle class with fun lighting, powerful club music and strength on the spin bike. At this particular studio, you can bring your own clip-in shoes or rent them. Since it was my first class, I was able to rent a pair for free. While this could easily elicit creepy bowling shoe vibes, the shoes were new and felt very clean.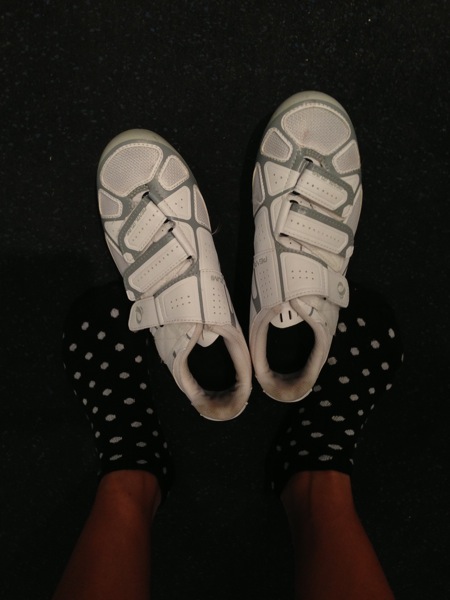 What to expect?
To SWEAT. Often 60 minute cycling classes feel too long for me. I liked the fact that class was 45 minutes; the increased intensity made up for the shorter duration.
Something a little different: upper body movements on the bike. Instead of the classic hills, jumps and speed drills, you're also doing pushups on the bikes (classic and triceps), moving forward and backward (awesome for the core), oblique leans and figure 8s (which was very dance-y and fun). There's also a strength portion on the bike at the end of class using lighter dumbbells (2s, 3s, 4s or 5s).
An entire experience. The lighting and music took this class over the top. It gave me the chance to really get in the zone and push myself, as it was a dark club-like atmosphere with flameless candles and colored lights.
Pros:
-It's a total body workout. When I left, I felt like I'd worked my entire body, instead of mostly my legs which is the case on the spin bike.
-You can modify according to your fitness levels. This is one of the many beautiful aspects of cycling: you push yourself according to your needs and preferences. You can always decrease your speed or resistance if you need a break, or crank up the resistance and pedal your heart out if you want to challenge yourself.

Cons:
-Not an ideal choice for those with a history of injuries. Usually for cardio workouts, the main hip, knee and joint considerations are something to keep in mind. For this type of workout, there's the added can of worms for current or previous shoulder injuries. For the pushups, you're transferring your weight to your wrist and shoulders, and if you have any type of shoulder or wrist injury, I'd find this a tough one to modify. (Of course, you could just skip the pushup aspect, but I thought it was worth mentioning.)
-The dumbbell portion. I enjoyed the strength set, but the exercises emphasized shoulders and mine were TOAST from all of the pushups we'd been doing. I would have liked more biceps, triceps, back and chest exercises.
-It's pricey! This is the case with many specialty fitness classes. If you can commit to a membership, it's easy to make it worth your while, but if you're like me and like to try every workout under the sun, it can be expensive to do on a drop-in basis.
Final thoughts:
-Sparkcycle is a gorgeous studio and they work to make it an awesome atmosphere. The lobby has a shopping area with fun lightning bolt "Sparkcycle" apparel and the facility is extremely clean. The bikes are also brand-spanking-new. Something that I appreciated and thought was an awesome touch: they give you a cool eucalyptus towel at the end of class. So lovely!
-They do donation-based classes each month with 100% of the proceeds to benefit a local charity. The minimum to ride is $1 and they have a collection bin at the front desk during these classes. I love to see studios giving back to the community, and it also provides an opportunity to enjoy class at a lower cost.
-My class was $10 because I registered online -first time at a new studio often has a deal- but I found out last night at the studio that if you enter "SPARKITUP" at checkout, your first class is free.
How often are cycling workouts in your weekly rotation? Have you tried Sparkcycle, Flywheel, SoulCycle or something similar?? Best "special touch" that your local fitness studio does for you? I love that Uplift studios in New York has coffee and little snacks for guests to enjoy after class.
xoxo
Gina
Ps. Don't forget to enter this week's Skyscapes giveaway here! (<– click to comment) You can enter every day from now until Sunday!
More Focus On posts: