Creating habits you can, and want, to keep
Hi friends! Happy humpday! Are we halfway through the week already?! So happy you're excited about our Squatember challenge. 🙂 I did the barre burner last night after teaching, and the legs are a liiiitle sore today. New post up on the Family page here!
So lately, I've been sucked into the "Check out this article!" type posts on my Facebook feed. I'm convinced that Facebook gets into your brain, because it somehow shouts out certain purses or tops I'd been looking at (tricky, tricky), and also knows we're expecting a little one. I've ended up reading quite a few "Worst parenting advice ever" and "Best parenting advice" themed articles, especially lately. I'm definitely curious to learn about what has worked for other parents, fully knowing that it's different for everyone. I'm still curious. In one of the articles about surviving with a newborn, the author said something like, "If you can't do it forever, don't start." This is so true, because if you turn bedtime into this crazy multi-step ritual, the baby is going to expect it after a certain amount of time, and when certain pieces aren't there, the world crumbles apart.
It's very similar for health and fitness:
"Create habits you can, and want, to keep"
This was something that took me a long time to learn, because back in the beginning of my fitness journey, I was the queen of crash dieting and setting up asinine workout schedules. There was a point where I strength trained almost every day -lifting the same wimpy weights and doing the same exercises- and would spend at least an hour doing cardio, unknowingly allowing my body to catabolize any muscle I'd tried to build. After educating myself, attending trainings/workshops, and becoming involved in the fitness industry, I was able (and excited!) to change my ways. Over time, I created an effective, fun way of living and sweating that would be attainable to maintain for the long term.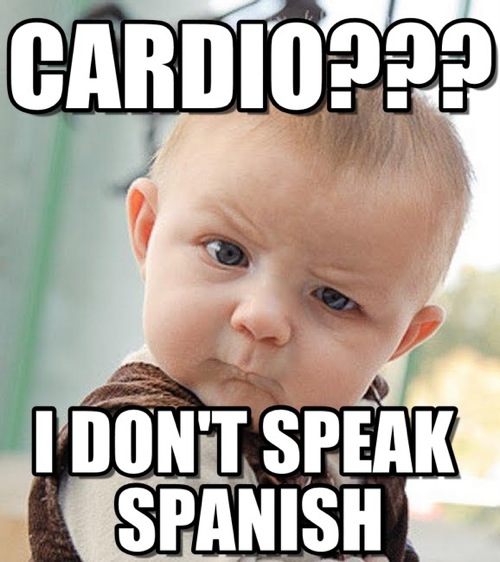 (Not super relevant to the post but makes me laugh)
This is something I'll usually ask potential clients about when I check in with them. How's the eating going? What are you doing for cardio right now? And I'll try to gauge if they've been following something that they can stick with, and try to get ideas of creating habits they can, and will want to, maintain. Your body gets used to same demands over time. Just like the tiny baby, who wants you to sing "Twinkle, Twinkle" 40 times and do a dance, then bounce them gently to sleep, then turn off all but one light, etc. your body, will start to expect the same routine, and will produce similar results. If things change through routine (or burnout from doing too much) the results from the extra rituals could start to diminish or change entirely. After I stopped doing so much cardio, I got my body fat percentage checked, and noticed that I was gaining MUSCLE. I was no longer eating away my strength training work. (Reason 3829374 why the scale doesn't paint the full picture.) Also, if you're not creating habits that can be followed as a lifestyle, it's a quick recipe for burnout.
I guess the point of this post is just a little pep talk! It's always a good opportunity to take a look at your routine and see if you're setting yourself up for long-term success. Can you do it forever? If you do, would you be happy?
Hope you have an awesome morning. <3
xoxo
Gina