I like to write Focus On posts for classes that aren't available here, like a bit of a fitness daydream. Physique 57, Grit, Buti Fitness, etc. etc.
Anyone know of an awesome Shockwave class in San Diego?!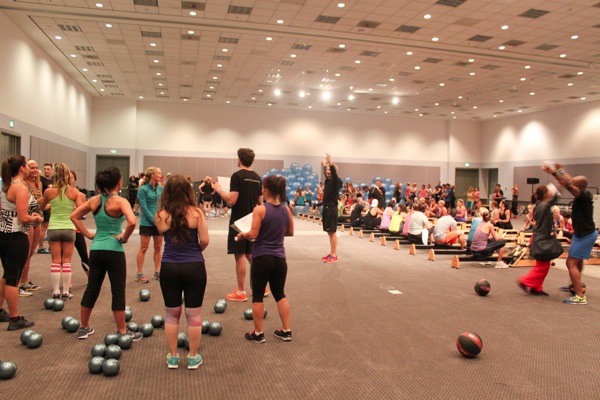 This is  a class I had the opportunity to try once, and I've been thinking about it ever since. While we were recently in San Francisco, Julie and I hit up an Equinox before the day's events -thank you for the guest pass, Lauren!- and there was a Shockwave class going on. I wanted to run in there so badly, but alas, I didn't want to be the late girl who didn't know what was going on.
I first had my taste of Shockwave at the IDEA conference: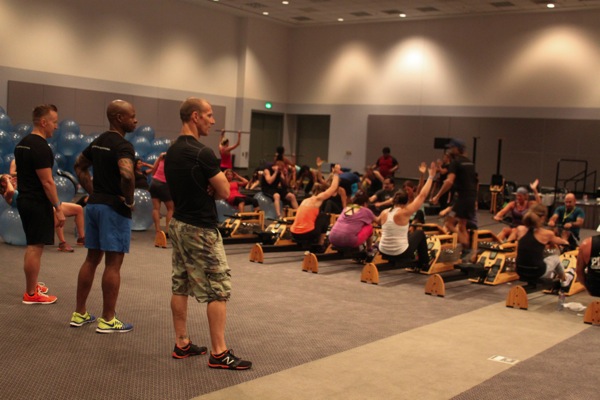 Even better: the session was led by the two creators, Jay Blahnik (celebrity trainer and fitness expert) and Josh Crosby (world champion Ironman and ultra-endurance athlete).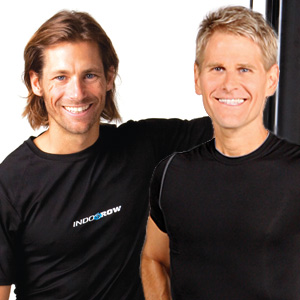 (Source)
What is it?
Shockwave is a circuit training class utilizing every muscle in your body, plus an intense cardio blast from WaterRowing segments. (You can check out my Focus On post for the indoor rower here)
Here's a video:
Participants move from each station in a circuit: one upper body, one core and one lower body (<– many of the exercises are compound movements, working multiple muscle groups at once), with a rowing station after completing the three strength rounds. For example, you may do a lunge with lateral raise, then plank on a medicine ball and a squat overhead press for the strength rounds before heading back to the rower.
Here's the kicker: you can't move to the next station until EVERYONE at the rowing station has completed their specified distance. For this reason, there's a fun competition aspect. When you're at the rowing station, you're rowing as fast as you possibly can! The beauty of the rowing station is that each time you have to row, the distance is decreased. This gives a fun burst of energy to think that you don't have to go as far as you did last time, and motivation to row even faster, even when you're tired.
Pros:
-Always exciting. The stations change each time you take the class and by constantly rotating, there's no time to get bored.
-Cardio from the rowing machine. I love the WaterRower for a thousand reasons, but especially enjoy the fact that I can get a killer workout while working the muscles in my arms, which can often be neglected in cardiovascular activities. The rower is also low-impact and is also fantastic for core strength.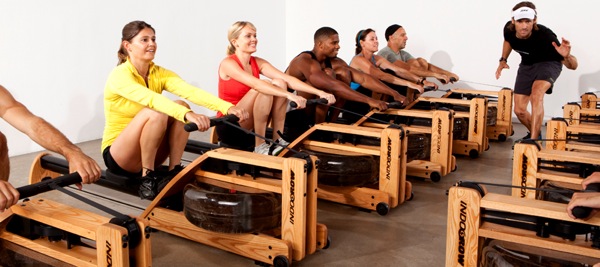 (Source)
-Blended training at its best. When you're blasting your heart rate through cardio intervals, this helps increase your calorie burn during the strength sets and even after class is over. This is caused by higher EPOC (excess post-exercise oxygen consumption), when the metabolism is revved to bring the body back to a recovery state. 
-Team spirit, competition and camaraderie. Since the rowers have to finish their round before you can move to the next station, there's a lot of support and cheering happening from all of the non-rowers (especially when you're stuck in a plank and praying for it to be over). You feel like you're in a team with your little circuit pod, and I think the team spirit can help push everyone to work a little harder. A little friendly competition at the rowing station is fun, too– at the IDEA conference they wrote the best rowing times on a white board and everyone in the room was trying to beat it.
Cons:
-You shouldn't do it every day. Since the class includes high-intensity intervals as well as total-body strength, I'd recommend alternating it with recovery days or easy, steady state cardio. This will give your muscles (including your heart) the chance to rest and recover. 
-It's not offered everywhere! Womp wompppp. I can't wait to take a class again.
Have you tried Shockwave? Does it sound like something you'd like? 
How often do you do interval training or circuit-based workouts? I love them because you're able to burn more calories in a short amount of time, and frequently changing the exercises keeps things exciting.
xoxo
Gina
ps. For this morning's post, I forgot to add a giveaway end time. It will end Thursday night at midnight EST, and I'll announce the winner this Friday!