Focus On: Weight Watchers
I'm heading back to work this morning, so in the meantime, I wanted to bring you a Focus On post that I didn't feel quite qualified to write. When I first tried to lose weight, my stint with Weight Watchers was very short-lived, since I really didn't know how to choose healthy foods at the time. I would blow my points on a few Krispy Kreme donuts 😉 It didn't work for me, but I know that it's a sensible plan that has been successful for many people.
Here's Racheal with the deets and I'll be back later today! Here's hoping I remember my Zumba dances 🙂
_____________________________________________________________________________________________
Hi Fitnessista Readers!
I'm Racheal from Running with Racheal and I am super pumped / honored / excited to be writing a Fitnessista guest post.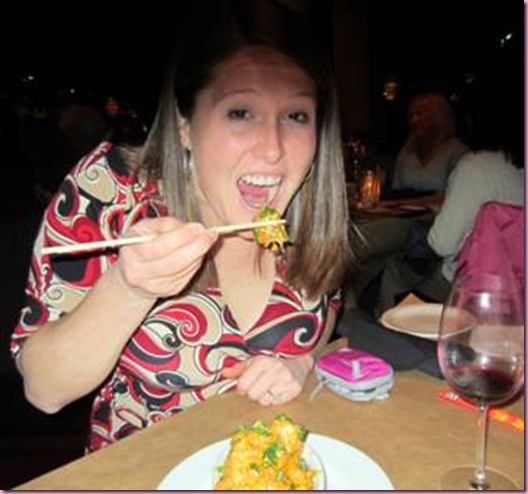 Just like you, I am inspired daily by Gina's food and fitness ideas and always look forward to trying one of her new recipes or workouts. In addition to reading healthy living blogs and running, I also follow the Weight Watchers program in an effort to lead a healthier lifestyle.
I have enjoyed reading the recent discussions surrounding other ways of eating and thought it would be interesting to throw Weight Watchers in the mix.
I know, I know – an image of Jennifer Hudson singing her heart out while calculating how many points are in a sandwich just popped into your head. But, before you write Weight Watchers off as a scheme built for a company to make money, hear me out.
(I should say that I am not in any way affiliated with Weight Watchers. What is written below is a direct result of my personal impression of and experiences with the program.)
The Plan
The current Weight Watchers program is based on three basic principals – staying within your points target, following the good health guidelines, and attending weekly meetings.
1. Points
Simply put every food item is assigned a points value based on its amount of fat, carbohydrate, fiber, and protein, with the exception of fruits and most vegetables, which are 0 points. (You better believe I load up on these – at least 8 servings a day.) (Note from Gina: you can figure out how to calculate the point value of a food by using this formula)
Every day I eat my target points amount, which is calculated based on my height, sex, and weight.
I can earn extra points by physical activity – which is calculated by my body weight, duration of activity, and level of exertion. You are also allowed extra weekly points to use or not use throughout the week, as necessary.
The end of the day should look something like this:
Daily Points + Activity Points – Eating Points = 0
All the calculations may seem a little complicated, but Weight Watchers provides you with multiple resources to make tracking a breeze.
2. Good Health Guidelines – in addition to tracking your points, Weight Watchers encourages a balanced diet by following the following guidelines (source)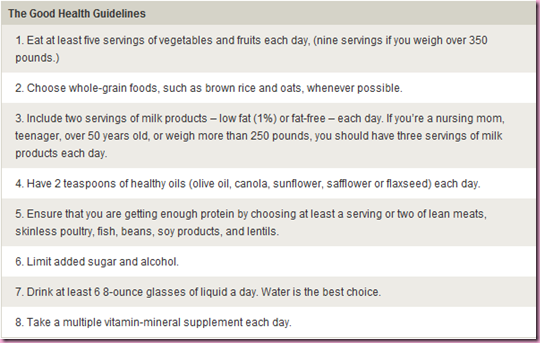 3. I attend weekly meetings to discuss challenges and successes and to encourage others on their weight loss journey. Each meeting also has a focus topic – like staying active, eating out, portion control, etc. This part of the plan is completely optional – Weight Watchers can be followed completely online and there is an enormous virtual support group through their message boards and other websites.
The Good
Weight Watchers is an extremely balanced and flexible plan that allows me to eat whatever I want – just not however much I want. It has taught me portion control and to eat more of the good-for-me things and less of the not-so-good-for-me things.
I realize that their plan isn't rocket science and that to some, eating less and exercising more is the obvious way to stay healthy. In a perfect world I would just know what I should eat and what I shouldn't eat, but the world isn't perfect. I have tried multiple diets on my own only to fail days later. This is simply an area of my life where I need help and this combination of fellowship, accountability, and tracking really works for me. I rarely feel hungry and instead feel completely in control of my health and happiness.
I have also trained for and ran my first half marathon at the Disney Princess Half Marathon while following the Weight Watchers program which allowed me to safely fuel my body during the entire process.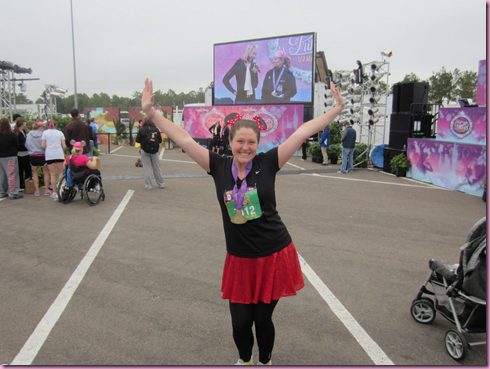 The Bad
A few complaints I have heard about the program:
· "Calculating the points is always such a hassle." I agree that punching numbers into the computer can get a bit old, but after a while it is just another part of everyday life. I started to learn how many points values my normal foods were and looked up anything new I thought about buying. Taking the time to meal plan once a week also keeps this stress down to a minimum. If this still isn't your thing, Weight Watchers also has a plan called Simply Filling which does not require much tracking / calculating and instead focuses on what they call power foods, but that is for another day.
· "I hate paying money to lose weight." Agreed. Parting with that $40 a month is painful. I hate paying taxes too, but some things must be done. The good news is that once I reach my goal weight I get LifeTime member status and don't have to give them another cent as long as I stay at goal. I also think of it has spending money now to save money on the high cost of poor health later. Or a bigger jeans size.
· "Talking about my weight loss problems in front of other people is weird." Although I can't personally relate to this (for some reason I can't stop talking about it), I understand how others could be a little shy about the whole meeting process. I think that online is the way to go in that situation
· "This isn't something I plan on doing for the rest of my life." This is completely false in my case. I fully intend to follow this plan for the rest of my life – and l look forward to every single flavorful, fun filled day of it.
If you are interested to see how I make the plan work on a day to day basis, check it out over at Running with Racheal.
What do you think?
Have you ever tried Weight Watchers? If so, what did you think?
If you haven't tried Weight Watchers, do you know someone who has? What did you think about the program before reading this post? After reading this post?
____________________________________________________________________________
Thank you for the informative post, Racheal!
For more info on popular eating styles: