Focus On: The Raw Food Diet
Raw food is sexy.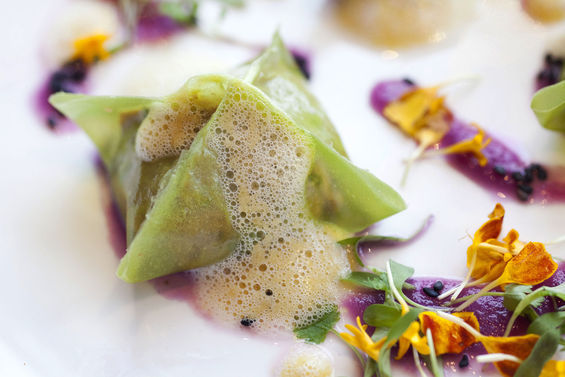 There's really no other way to put it.
Even though I've strayed from my mostly-raw ways of the past, it is a lifestyle that I enjoy and (for the most part) support. In this post, you'll find more details about a high-raw life and why it didn't really work for me.
What does it mean to eat raw? The basis of the raw food diet is that the nutritional value of food decreases when foods are heated past 105 degrees (some will go as high as 118 degrees). By consuming food in an uncooked state, they are getting a higher density of nutrients, while utilizing only plant-based, whole foods. Upon hearing this description, you may visualize simple raw foods such as pureed raw veggie soups, chopped salads and smoothies, but a variety of cooking methods are used, including fermentation, dehydration, sous vide and sprouting.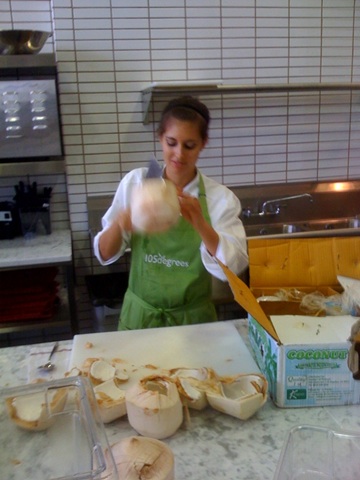 (And coconut hacking.)
It's fairly easy to get fruits, veggies, nuts and seeds to mimic the conventional or animal-based foods many of us consume. Mandolin slicers transform squashes and root veggies into "pasta,"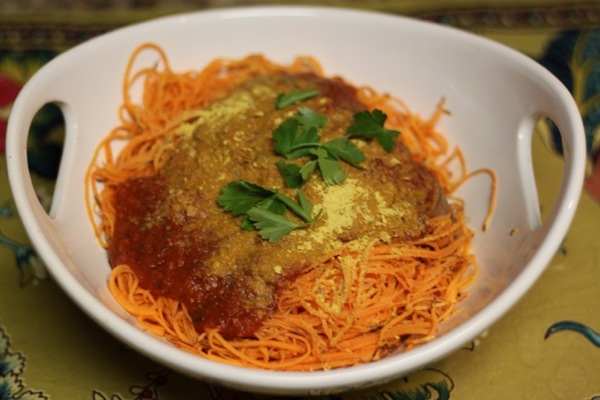 cashews are soaked and blended with nutritional yeast and spices to resemble cheese, and hearty mushrooms can serve as the proverbial meat.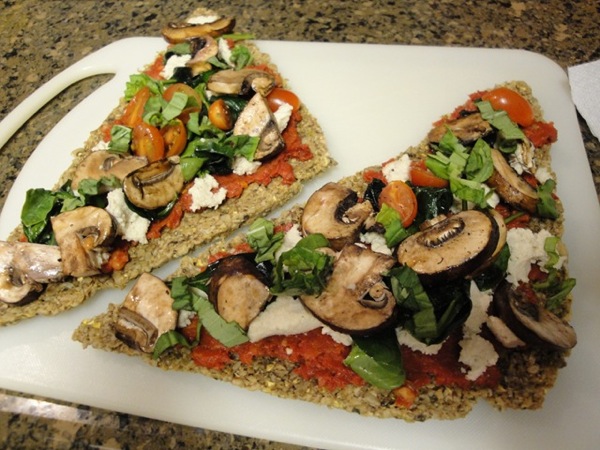 (Totally raw pizza I made for a client)
As I mentioned above, raw food can be strikingly beautiful, as the vibrant colors and textures of the foods are showcased instead of squandered. At the same time, it can also be a brownish green bowl of pureed salad 😉 Some of my all-time favorite meals and treats are inherently raw.
Here are some of the pros and cons I experienced while learning more about this diet, which was about 3 years ago:
Pros:
-Energy and vibrance. When I was following an almost entirely raw diet, my skin looked the best it's ever looked. I felt energized and really enjoyed experimenting with all the new-to-me foods, like sea veggies and Thai coconuts.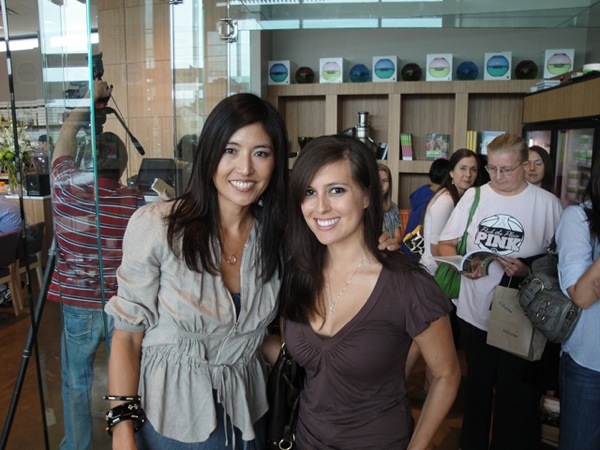 (The awkward moment when all I could say to Ani Phyo was that I love her donut holes.)
-Improved digestion. Unprocessed foods are much easier for the body to digest, so it can take what it needs and get rid of the rest with considerably less difficulty. Improved digestion can lead to weight loss (which I didn't experience), and less bloating or stomach issues. This may be TMI but sometimes I was extremely bloated from eating so many fruit and veggie servings.
-It can be fairly simple. Just like anything, if you have a plan in place, you can prep and make it happen. The basics of raw food (green juice, robust salads, pureed smoothies and soups) can easily be implemented into a busy lifestyle.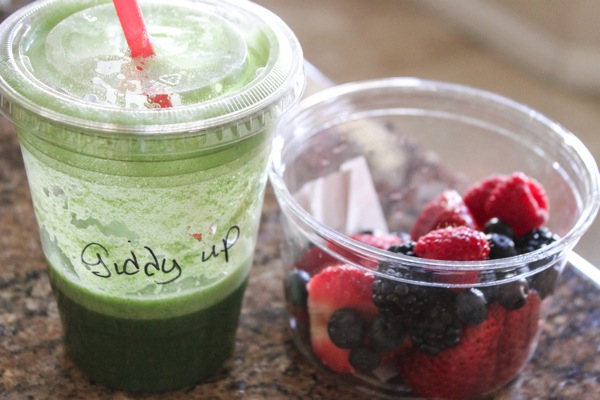 -It helps to restore the body's pH balance. Raw foods are alkalizing and by consuming them in an unprocessed state, many of them are highly bioavailable, meaning the nutrients are quickly absorbed into the bloodstream.
-It can contribute to a green style of living. When you consume less animal products, it can have a positive impact on the environment from less waste and pollution. Even if you roll with organic produce, it's also beneficial to be mindful its source, as organic produce with a long transport contributes to pollution.
Cons:
-Some foods have more nutrients when they're cooked, such as tomatoes. Some foods also just taste better when they've been cooked. Many raw foodists follow a mostly raw diet, eating either raw until dinner, or adding in some cooked grains or steamed vegetables. I find that it's easier to follow as a lifestyle that way, as you're getting the best of both worlds: nutrient-dense raw foods + the cooked foods you enjoy.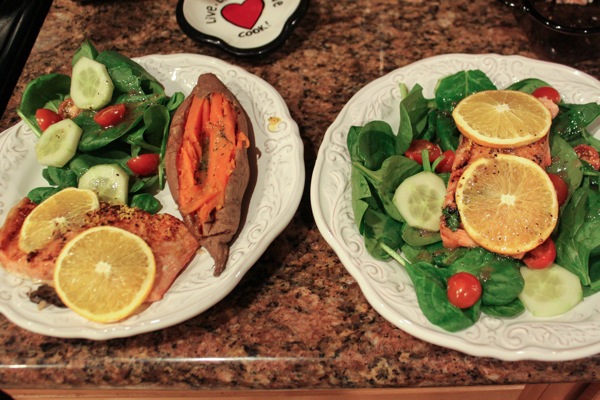 (This is also a good option for those who don't want to fully commit to a vegan lifestyle, but would like to include more plant-based meals)
-Too many nuts and sugars. This was just a personal problem that I experienced with the raw food diet. Instead of emphasizing the basics, I was always trying to get fancy and replicate other dishes, hence using way too many nuts, seeds and sugars. I eventually gained weight and started to feel sluggish (which is what any high-fat high-sugar combo will do you you) and the intense preparations complicated my experience. I determined that it wasn't something I could sustain, or wanted to commit to, in the long run.
-It is very possible to get all of the nutrients you need from a raw style of eating, but in order to do so, supplementation (or thorough nutrition knowledge and research) could be necessary. I would not advise going totally raw (ever), but if you want to add more raw foods into your diet, that could be a good thing. If you're skeptical or curious, talk to your doctor or a local RD.
At first, the raw food diet can seem to be a severely restrictive style of eating. No animal products, and no cooked but otherwise totally healthy foods? There are some raw food diehards out there, but I don't personally align with their beliefs.
Instead of thinking of raw foods as restriction (the things you CAN'T have), it's preferable to focus on increasing the amount of raw foods in your diet and the things you want to ADD, not take away. Have a chopped salad with your lunch, a morning green juice, a fun raw dessert and you'll get some benefits of the raw lifestyle without taking the staples out that you love.
Thank you to the Pilot for all of the raw dishes you consumed on my behalf. I'll never forget when we ate at Pure Food and Wine for the first time. His beet "ravioli" was gone in about one bite, and while he liked it, he was starving after dinner. We stopped for pizza on the way back to the hotel.
Favorite recipes:
Resources:
The Raw Food Detox Diet
Ani's Raw Food Essentials
Everyday Raw
How often do you incorporate raw foods in your diet? What's a raw recipe or combo that you enjoy? An easy, lovely snack: a medjool date with a smear of almond butter.
xoxo
Gina
More Focus On Diet Posts