Hi! Happy Sunday! How was your holiday weekend? Ours was perfect with lots of beach time, some great workouts, relaxing, s'mores and fireworks. I even got the chance to catch a couple of movies with a glass of red.
Whenever we PCS (permanent change of station), I'm always super stoked that we get ALL of the movie channels with our new cable setup. Of course, I usually forget to cancel them by the time the free trial wears off (derp), but it's fun to scroll through and have allthemovies to choose from. Except for the fact that there is never a movie on that we want to watch. Does that happen to anyone else? Very few movies are in my "worthy to re-watch" category (Bridesmaids, Dirty Dancing, Romy and Michele, Pitch Perfect, How to Lose a Guy in 10 Days, any classic Judy Garland movie…), but for the most part, if I've seen it, I don't really care to watch it again. And then there's the random movies that were really overhyped until they were actually released and never heard of again. Don Jon, I'm looking at you. The purpose of this very long story is to say that I saw What to Expect When You're Expecting and cannot recommend it. Two hours of my life that I'll never get back, but I kept waiting for something (anything!) to happen. Spoiler alert: it didn't. So, the second night of weekend celebration, I decided to download a documentary to watch on the iPad (Forks Over Knives) and absolutely loved it.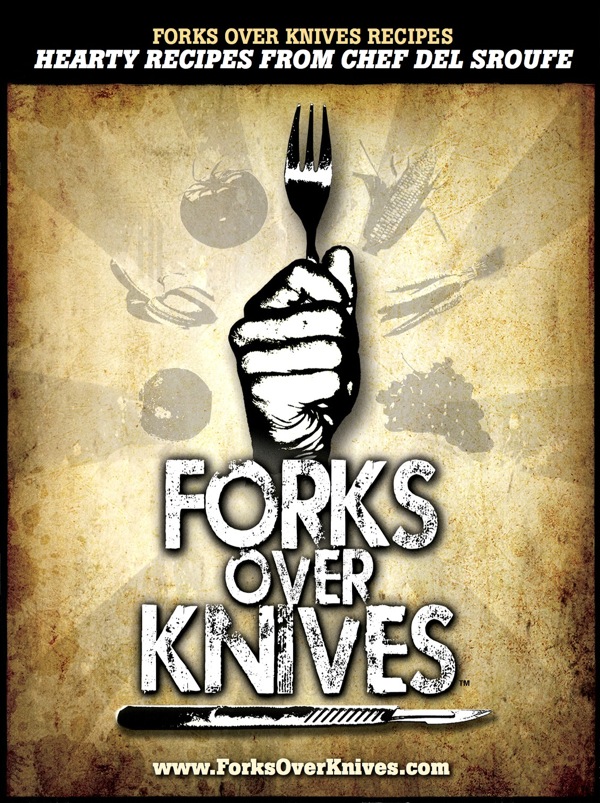 (source)
I'm definitely a little late to the party with this one, but if you haven't seen it, it's definitely worth a watch. It's right up there with Food Inc. and while fascinating and enjoyable to view, it was also extremely informational. I tend to take all documentaries with a grain of salt, as they're intended to prove a point and can be biased, but this one has a simple message that anyone can follow: eat plant-based, whole foods. Unlike some of the other documentaries I've seen in similar categories, I appreciated that this one didn't utilize fear tactics and horror movie-esque footage of animals. It let the peer-reviewed studies, science, and experiences of the featured individuals speak for themselves.
Forks Over Knives discusses the impact that our food choices can have on our overall health, and the possibility that many degenerative diseases could be prevented or reversed through dietary changes. Two doctors, Dr. T. Colin Campbell and Dr. Caldwell Esselstyn, have extensively studied the affects of animal-based products on disease and overall health. (Dr. Campbell is one of the primary authors of the famed China Study, which examines the connection between nutrition, heart disease, cancer and diabetes.) While I'm not going to break down all of the studies that were included in the film -it's definitely worth a watch- I will say that it inspired me to include more plant-based foods in my diet.
As someone who already enjoys and incorporates a whole foods diet, with lots of fresh organic produce, this movie (in conjunction with recently reading Gena's book) made me reconsider my intake of animal-based products. I've been on and off with vegetarianism, tinkered with veganism, and know they're not the right fit for me; but, I can still eat plant-based for the most part and choose sustainable and organic animal products in moderation. It's all a balance, and while this documentary didn't make me want to do a full diet overhaul, it's encouraged me to exercise caution and potentially reach for plants first.
Have you seen Forks Over Knives? Did a movie, person or book inspire your current dietary choices? Of course, I always recommend (with a doctors "ok") to experiment and find what works best for you. It may be an easily categorized lifestyle, or rather a mix and match of various philosophies. You do you. 🙂
xoxo
Gina
Similar: