Hi friends!! The weekend is HERE. Oh yessss. Is anyone else super pumped about the weekend? I get so excited for the weekends is because the Pilot is home and we all have time to chill as a family. The weeks are a scramble, and we're usually high-fiving as we switch off taking care of the girls while I teach at night. I feel like we truly get to enjoy family time on the weekends.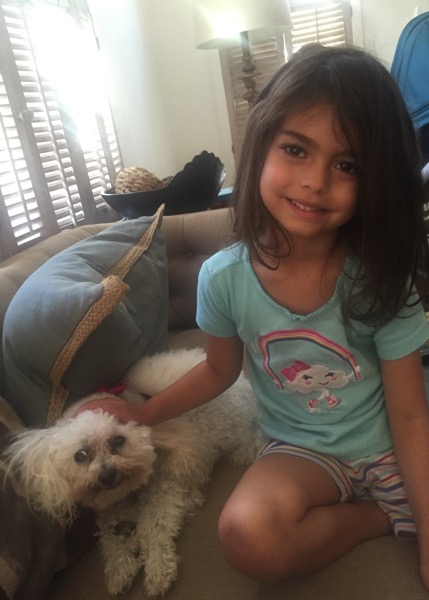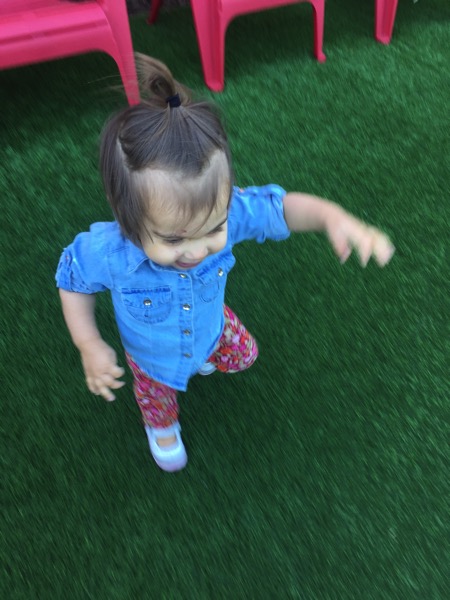 (Pretty much every picture of P is blurry right now. She is RUNNING and I'm usually trying to catch her haha.)
We don't have a lot planned this weekend. Just hanging out, a date night (wahoo!), and getting things ready for our Tucson trip next week. I'm so excited to see the fam! Also, we're getting cranking on the moving to-do list. Hold me.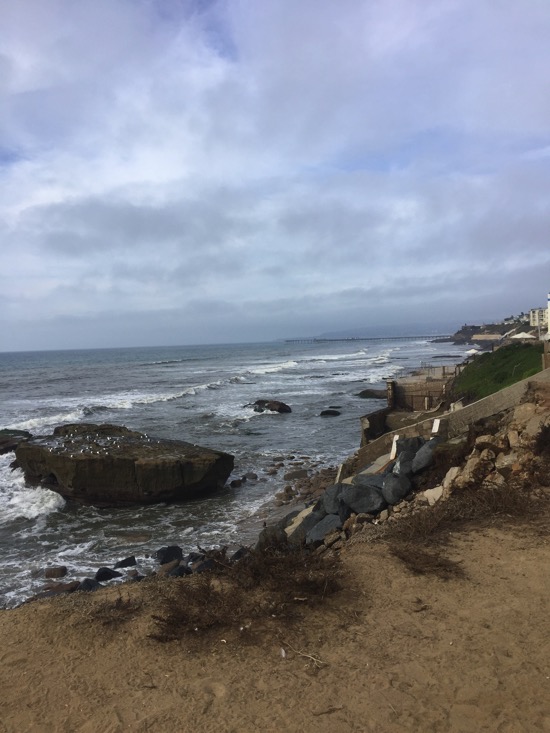 In standard Friday fare, here are some faves from the week and around the web. I have so much fun putting this post together each week, to share some of the things I'm reading, loving, wearing, watching and eating. I always love to hear what you're enjoying, too, so please feel free to join the party in the comments section!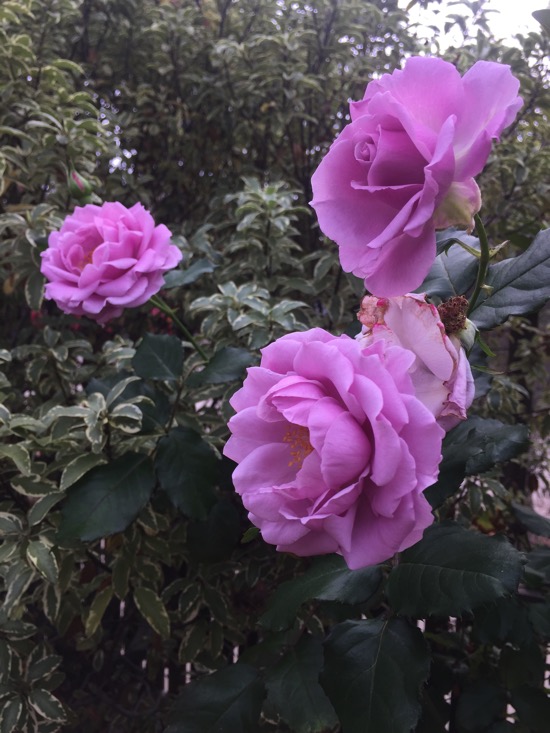 (Roses are blooming in the garden and they smell beautiful)
THE HIGHLIGHT: You guys, I saw Ina Garten. IN REAL LIFE. As we all know, I absolutely adore Ina. I love her sweet personality (I not-so-creepily imagine myself sitting at her kitchen counter, drinking tea and eating homemade biscotti), her recipes are perfect (if we're having company, I know an Ina recipe won't disappoint), and I think she's lived a fascinating life. I recently picked up her new cookbook, Cooking For Jeffrey, and it's by far my favorite since it includes small essays about their life together.
Needless to say, when I saw she was coming to San Diego, I bought tickets. I had no idea what it was exactly (Would she cook? Or just talk? Or just breeze through while everyone cheered and then leave? Don't know, don't care), but I texted Betsy to see if she was down. We drove to the Balboa Theatre downtown after my spin class, not knowing what to expect, besides being surrounded by swarms of moms carrying cookbooks.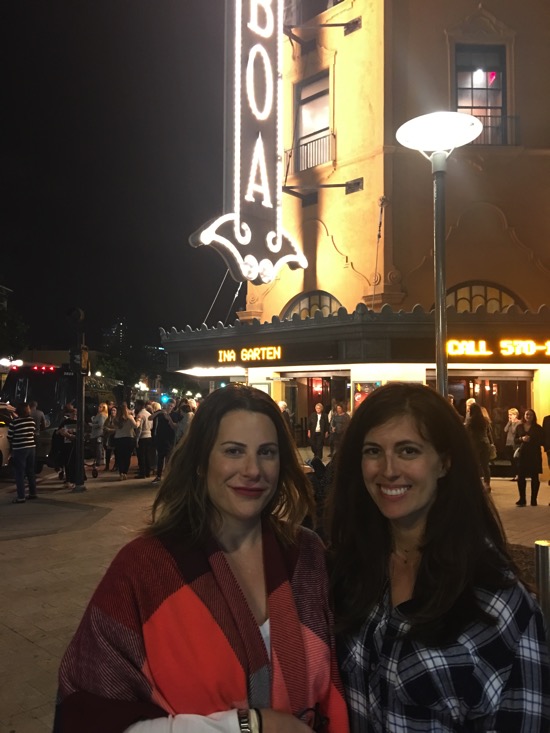 It was absolutely lovely. As expected, she was wonderful, and exactly like she is on the show. She was interviewed on stage for about an hour about her life and the new cookbook. It felt like a genuine conversation instead of straight Q&A. After the interview, she took questions from the audience, from ideas on prepping food in advance, to relationships, to advice for going after your goals.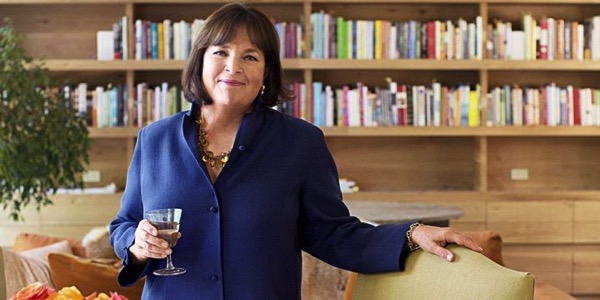 A few of the many interesting things I learned from her talk:
-She and Jeffrey have been married for 48 years (!!!) and have lived apart for a majority of their marriage. He teaches during the week, and she works, and they spend every weekend together. She said it works for them, and that when they're together, they're together. They give each other undivided attention and make sure that the other person knows that they're the most important thing in their life at that moment. (Swoon.)
-AWESOME make-ahead Thanksgiving turkey tip: Make the turkey early in the day and carve it when you're not in your party clothes. Make a large batch of gravy and spoon it onto the bottom of a large roasting dish. Place the turkey slices and drumsticks, etc., on top of the gravy, and set it on the countertop. Just before company is arriving, place everything into the oven to warm it up. She said the gravy makes the turkey taste amazing and keeps it moist, and the gravy also keeps it hot. (Instead of serving it on a platter and it gets cold immediately.)
-Ina swears. She only did once, but it was totally unexpected and hilarious.
-When she says to use a "good" ingredient, she doesn't mean the most expensive. She means the one that's the best to you! She and her team taste a variety of different ingredients to figure out the best brands to use for her recipes. They did it with chocolate last week, and found that Lindt was her absolute favorite for chocolate recipes.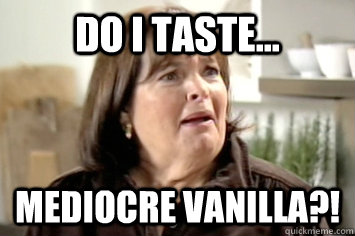 -On taking a leap of faith to do something new that you might be afraid of doing:
"I want to be as happy as I can be, and I'm willing to take a chance to do it."
She has taken a few risks in her career, which have obviously paid off. I'm a huge believer that there's no reward without risk, and it was reassuring to hear that sometimes she had no clue what she was doing, but she was doing what she truly loved, and it all obviously worked out well for her.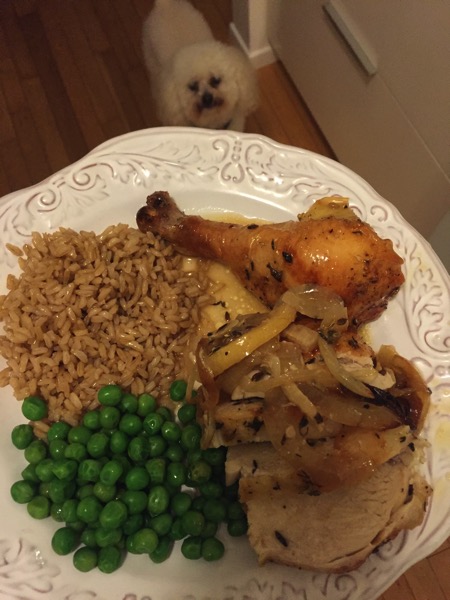 (We made her skillet lemon chicken from the new cookbook and it was life. It was by far the best chicken to ever come out of our kitchen.)
Nekter in the neighborhood! One just opened in Liberty Station and I've already been an embarrassing amount of times. Why do smoothies taste better when someone else makes it?
I get the health nut with no agave, add greens: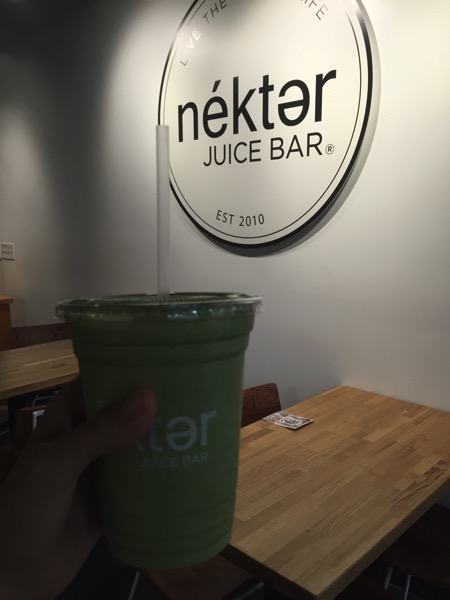 The new Beauty and the Beast looks AMAZING.
This pumpkin icebox cake will be making an appearance this holiday season.
I picked up this Tarte paintbox last weekend, and already love it. I was going to grab a palette, but the sweet sales associate told me about how much more you get with this one, and it was about $10 more than the palette I was considering. Winning! A lot of the reviews say that the colors aren't pigmented enough, but eyeshadow primer makes a huge difference. (I use this one.) This makes the look more pigmented and gives it staying power. Love all of the neutral colors, and deep pinks and plums for fall.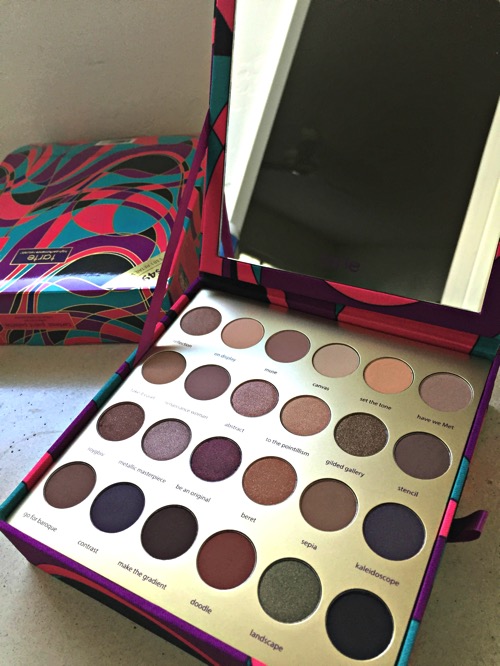 Just like falling in love, we can form friendships at first sight.
Tried and true Thanksgiving recipes.
An advanced kettlebell workout for increased strength and conditioning.
New read! I'm always trying to learn about fitness (especially regarding safety considerations for postpartum mamas), and my PT recommended this book to me. It challenges traditional views of the core -like the functions of various abdominal muscles, especially regarding the role of the transverse abdominis- and also provides safe alternatives to traditional, yet non-functional, core exercises. It's arriving today, and I can't wait to crack it open. (I like reading fiction books on my Kindle, but will usually buy hardcover versions of non-fiction so they're easier for me to highlight, earmark and skim.)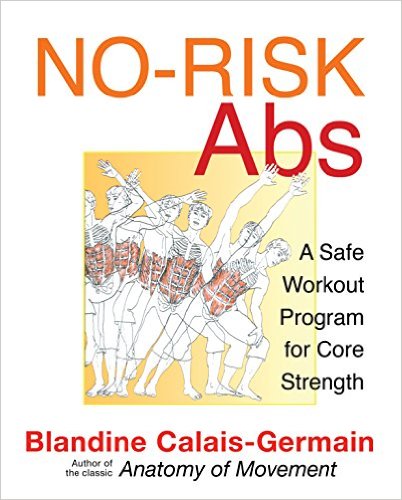 Tips for working from home with two kids.
Two more Hamilton mixtape songs dropped last night. Usher?! What are you trying to do to me, Lin? (<—when I pretend like we're friends)
8-minute HIIT workout. This is great for traveling and all you need is a pair of dumbbells.
A little pig eating pineapple.
Cranberry-stuffed acorn squash.
My friend Tina's new business endeavor! She co-founded Designed to Fit Nutrition, which creates custom meal plans according to your unique goals. She kindly sent me a free week meal plan, and while I haven't followed it exactly, it's given me a lot of new ideas and recipes. I'm excited to follow the plan during a non-travel week and see how I feel. I love that they customize it according to your schedules, goals, body composition, and nutrition preferences. I found the plan to be super thorough and well-organized so it will be easy to follow. Three cheers for blogger friends doing amazing things.

Hope you all have a very happy Friday and a wonderful weekend!
What's something you're loving this week? Who's your favorite celebrity chef? What's something you're making for Thanksgiving?
xoxo
Gina