Hi friends! How are you? Happy Friday! I'm so PUMPed (see what I did there?) that you liked yesterday's workout. Please let me know if you give it a try!
What's going on this weekend? I'd love to hear what you're up to. It's looking like the weather is going to cooperate for a little adventure, so fingers crossed we'll be heading to Orlando. I'm pretty sure that I'll never get sick of wearing Minnie Mouse ears while watching the girls have the time of their little lives. We're staying off-property for the first time since we've been here, so I'm hoping that we'll be able to head back to some old faves in the Sand Lake area.
It's time for the usual Friday Faves party! Each week, I look forward to putting together this little list of the best wears, reads, and finds of the week. Please join in the fun in the comments section; your recs and comments that put a smile on my fave.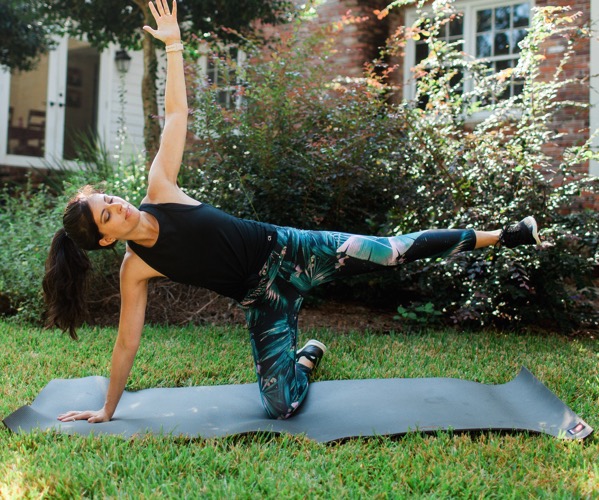 (My first [modified] side plank in… more than 10 weeks. It felt good!)
Fashion and beauty finds:
New slip-ons and Livi's TOMs. Livi was in need of new sneakers for school, and it can be tricky to find kids' shoes that will match everything. These gold low-tops popped up and they've been a huge hit. The fabric is soft and light, and she loves them.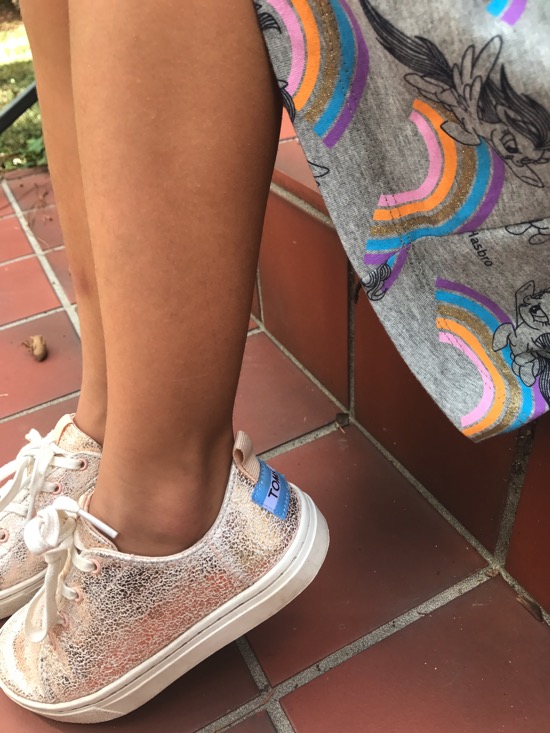 I also ordered these slip-ons after wearing my Band Aid shoes to the max this summer. I wanted something I could slip on with jeans and a plaid top or tee, or a shirtdress (#uniform). They have a slight platform which I always appreciate.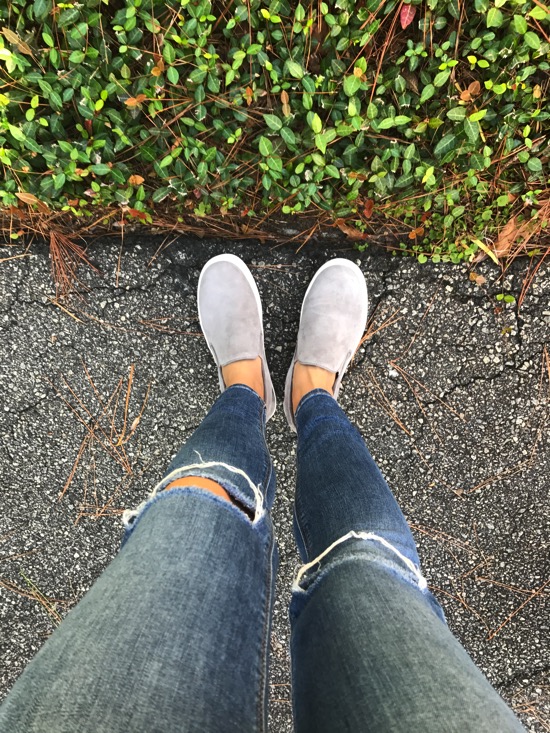 I'm seriously obsessed with this dress. It's expensive, and I have no idea what I would ever wear it for (maybe someone will get married soon?? haha), but everything about it is dreams. I'm going to keep lurking it to see if it ever goes on sale. Revolve has quickly become my favorite shopping site -they have the best dresses and it's where I picked up some goodies for our Chicago trip- so it's fun to lurk around and see what they have.
This mask. I ordered some of these from Thrive Market since I'm loving sheet masks lately, but sometimes the ingredients can be a little sketchy. I knew I could trust it if it was from Thrive Market, and may or may not have convinced the Pilot to try one with me. It made my face super smooth and bright, and they were $3.99. BOOM. I'm also still loving the Beautycounter charcoal mask, and use it about once a week.
This cargo jacket is super similar to the one I wear all the time, and only $34.
Fitness:
Taking fitness to the next level.
Let's all get up and dance to this.
How to get in your LISS workouts. (Low Intensity Steady State)
Good reads:
On feeling like an imposter and doing things that scare us.
Recipes I want to try + awesome eats:
These spooky skewers are perfect for Halloween!
Vegan Asian burger summer rolls.
Return of the overnight breakfast cookie! I had one of these blog classics a couple of times this week. They're so easy to make the night before and enjoy in the morning. I'll share a new flavor combo next week.
Speaking of cocktails, I have to share with you my latest fave. It's SO bubbly, lightly sweet, and refreshing.
Just take Prosecco in a flute glass, and top with Wild Rose liqueur from Vom Fass. (<— we got it last time we were in Vegas, but you can order it online)
Top with a single rose petal if you're feeling fancy.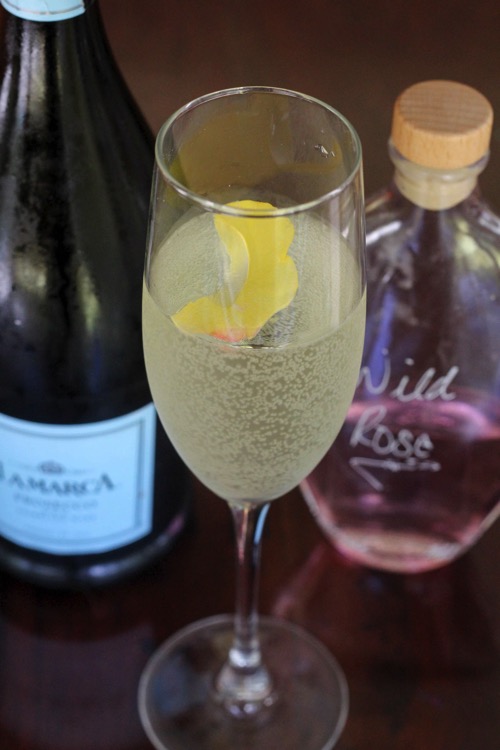 Have a happy Friday!
xoxo
Gina